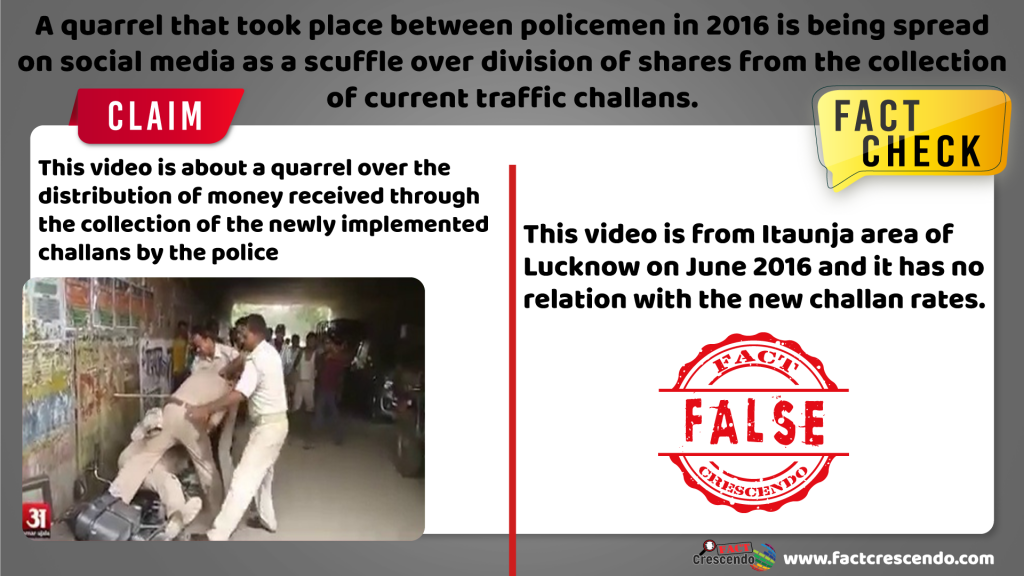 On 7th September 2019, a Facebook user named 'Journalist Punya Prasun Bajpai' shared a video on Facebook. In this video two policemen are seen assaulting each other and a third policeman is trying to stop them. In the description of this post it is written, "When the police were fighting amongst themselves on the distribution of the challan money". Through this post it is being claimed that, 'this video is about a fight that took place over the distribution of money received by the police through challans'. Is this true? Let us find the truth behind this claim.
We first conducted a Yandex images search by taking a screenshot of this video with the help of InVidTool. We found a news broadcast by IndiaTVNews on 26th June 2016. According to this news, this incident is from Itaunja area. The policeman and home guard in the video are being accused of making recoveries from the shops in the area. After this, both of them fought with each other over the money received from recovery. In consequence of this the SP of the area SP Manzil Saini suspended the police officer Virender Yadav and asked the home guard directorate to take strict action on the home guard involved in the incident.
Apart from this, we received a tweet on this matter from ANI UP
ANINewsUP/status | ArchivedLink
From this research, it is clear that the video shared in the post is from 26th June 2016 and took place in Itaunja area of Lucknow, where a home guard and a police officer got involved in a scuffle over the recovery of money from the shops. This video has no relation to the new traffic penalties that were implemented. An old video is being circulated with the intention of confusing people with wrong details.
Result of investigation: The claim made in the above post that 'this video is about a quarrel over the distribution of money received through the collection of the recently implemented challans by the police', is wrong. 

Title:A quarrel that took place between policemen in 2016 is being spread on social media as a scuffle over division of shares from the collection of current traffic challans.
Fact Check By: Ruchika M
Result: False