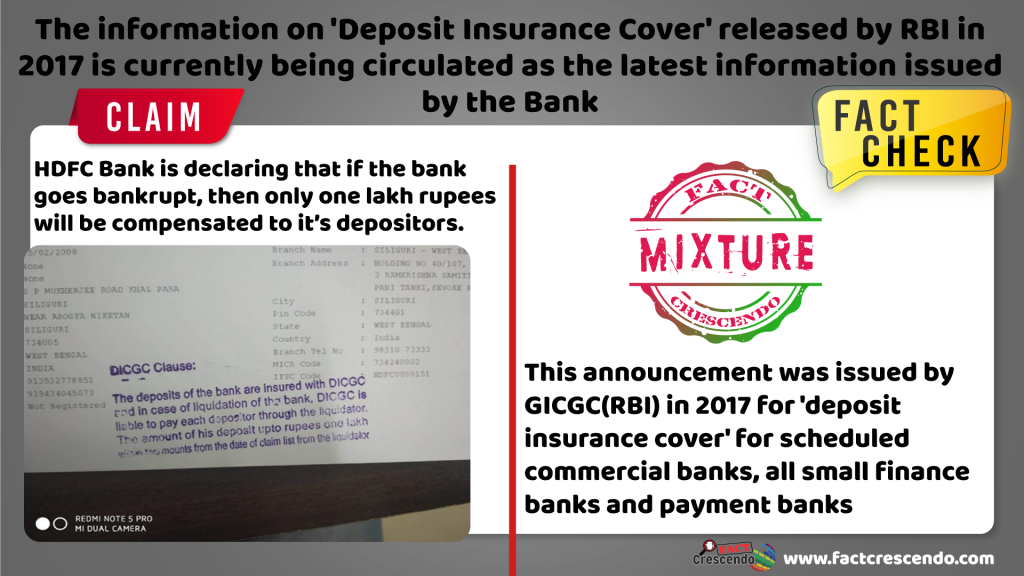 A post by 'Shabab Alam' has been shared on Facebook on 16th October 2019, showing the passbook of a bank. The description of the post states that, "HDFC bank has now started intimating its customers through a stamp on the pass book that only one lakh rupees will be paid in event that the bank goes bankrupt." It has been said – 'HDFC is declaring that if the bank goes bankrupt, the bank account holders will get a compensation of just one lakh rupees only'. Is that really so? Let us know the truth of the claim of this post.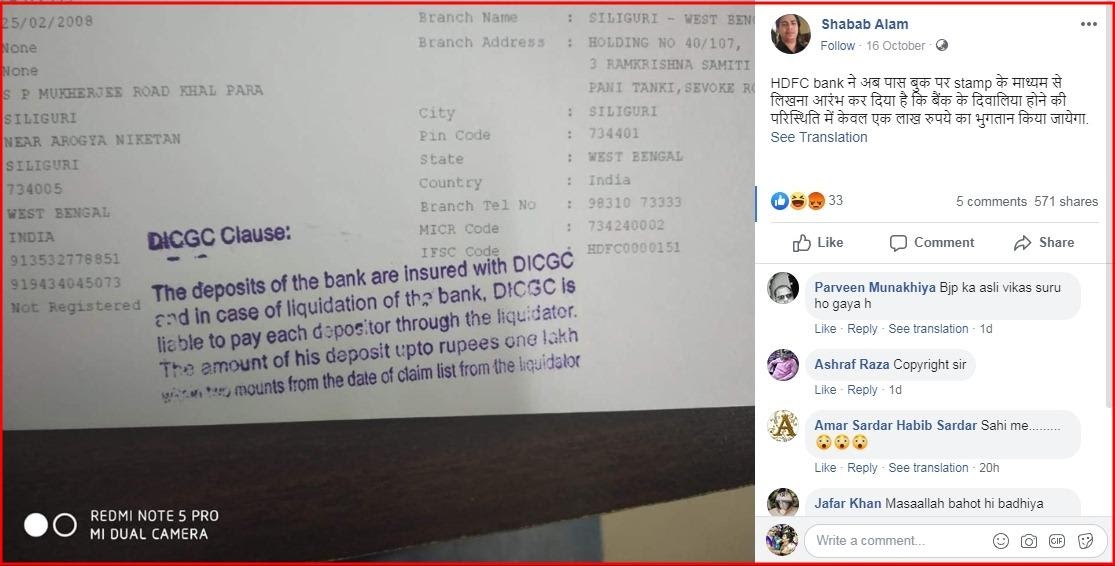 While investigating the above claim, we found another similar post on Facebook, in which a clarification letter issued by HDFC Bank along with the above picture was also found. This post was put up by a user named 'Rajesh Kumar' on 11th October 2019 and the bank's clarification letter was added to it on 14th October 2019.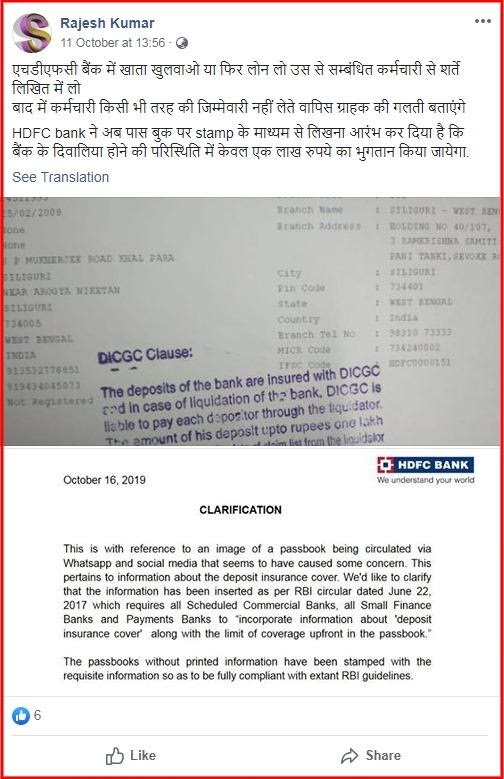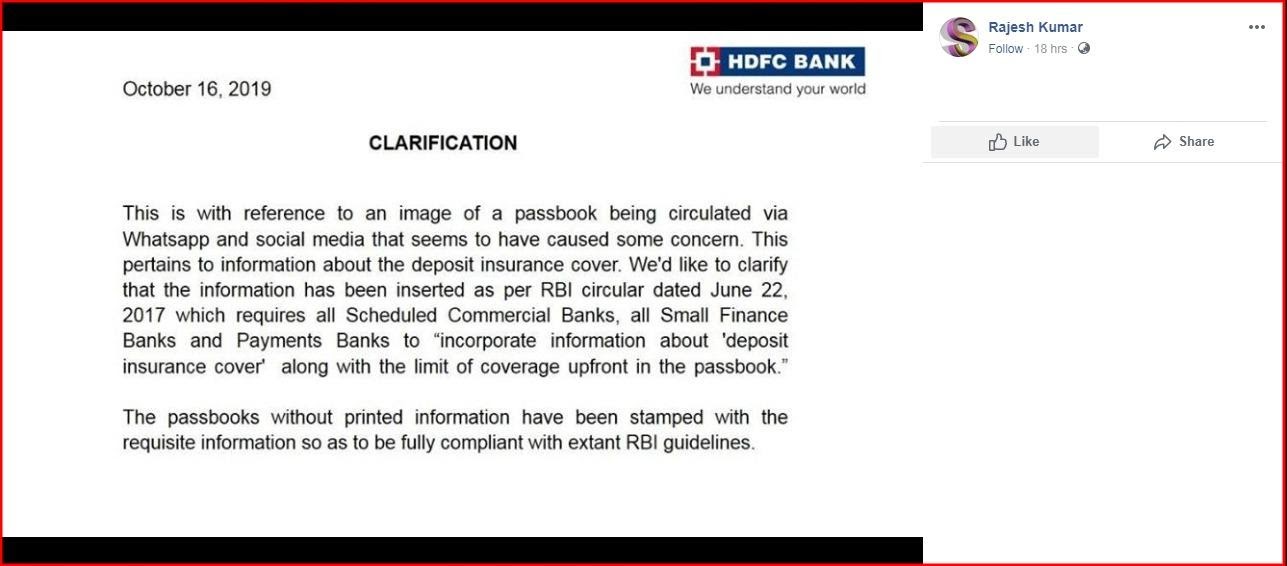 After this, we searched on Google with the keywords 'HDFC Head of Corporate Communication', so we found the name of Neeraj Jha.
During this research, we found the official twitter handle of Neeraj Jha.

On Neeraj Jha's official Twitter account, this claim was rejected and it was mentioned on 16th October, 17th October and 18th October 2019 that this information was released in 2017 for deposit insurance cover of scheduled commercial bank, all small finance bank and payment bank. And currently it is being spread to confuse and mislead people.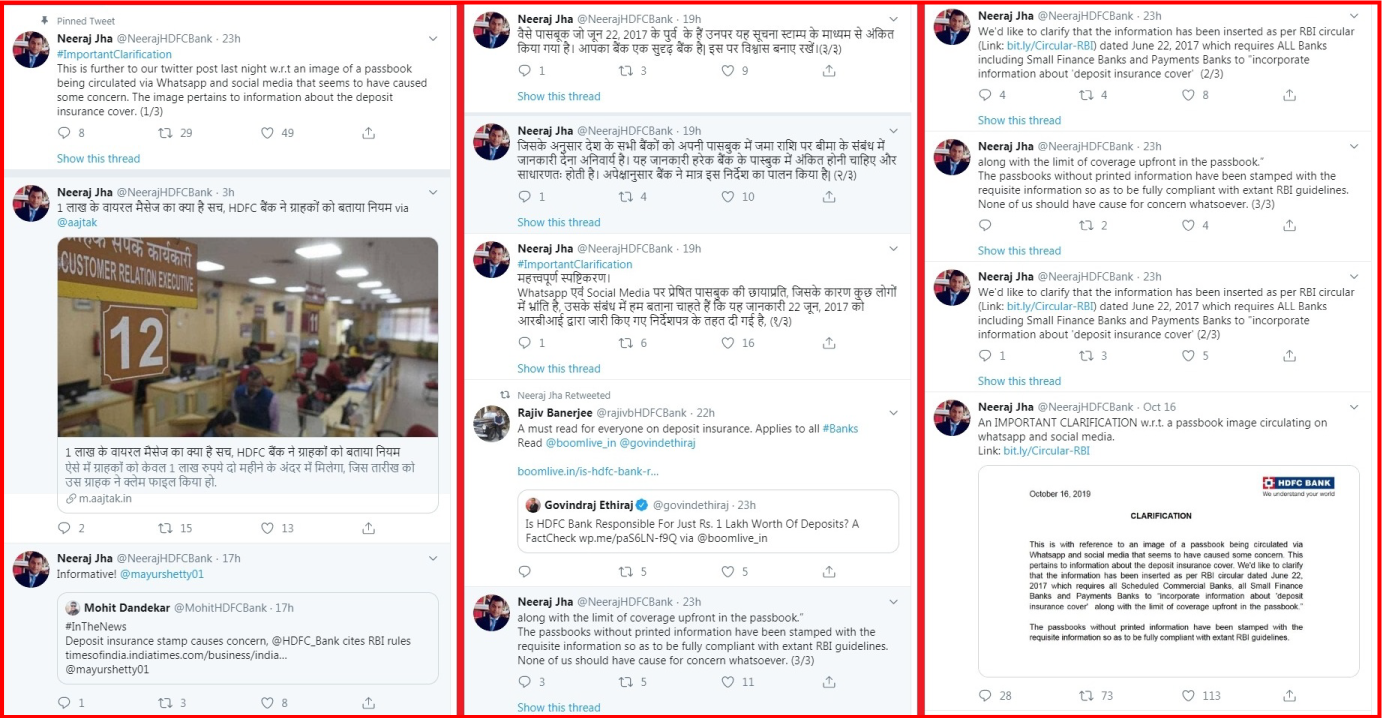 With this clarification, Neeraj shared the information released by RBI on 22nd June 2017.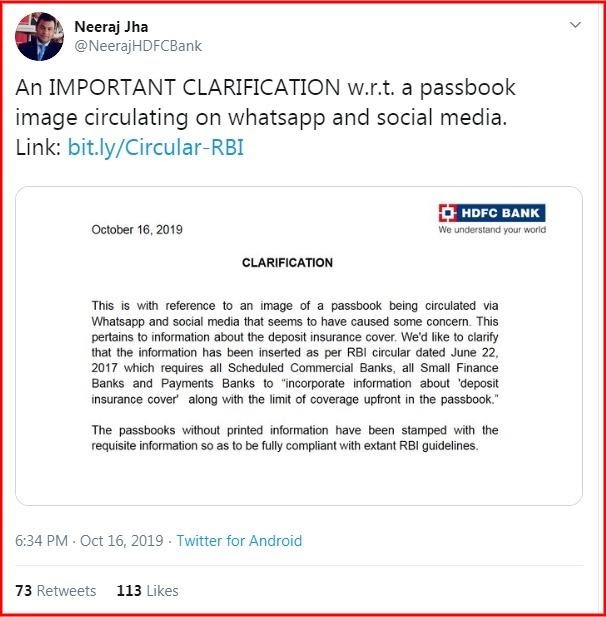 NOTI326B4C0C3FE62134C98AF3BEDF3206D338F

After that we contacted Neeraj Jha, Head (Corporate Communication) of HDFC Bank Ltd. When asked about this claim, we were told that, "After the recent PMC Bank incident, people are very upset and we can understand this. The picture of the passbook circulating on social media is old. DICGC has been functional since 1961. The DICGC rule of depositing sum insured (one lakh rupees) is a very old rule and from 22nd June 2017, RBI made it mandatory for all banks that this rule should be notified to all the bank account holders. So due to the mandatory rule by the RBI, we had to put a stamp in the passbook of all the accounts opened before 2017. This rule is printed digitally in all account's passbook, which opened after 2017. This rule is applicable to all banks. This picture is wrongly associated with the current events to create confusion and fear in people. We request everybody to read the rules issued by the RBI/GICGC and try to understand it. Do not believe in such misleading messages. These rumors are being spread with the aim of creating confusion."
From this research, it is clear that the picture shared in the above post was released by GICGC(RBI) in 2017 in relation to the deposit insurance cover for all Scheduled Commercial Banks, All Small Finance Banks and Payment Banks. This rule is being associated with incorrect details to spread fake rumors.
Result of the investigation: The claim made in the above post "HDFC Bank is printing on its passbook that if the bank goes bankrupt, only one lakh rupees will be awarded", is wrong. This rule is a very old rule pertaining to the sum insured (Rs one lakh) on deposits insurance cover, issued by the DICGC. On 22nd June 2017, RBI made it mandatory for all banks that this rule should be written in the bank account passbook for people to know.

Title:The information on 'Deposit Insurance Cover' released by RBI in 2017 is currently being disseminated as the latest information issued by the Bank
Fact Check By: Ruchika M
Result: Mixture