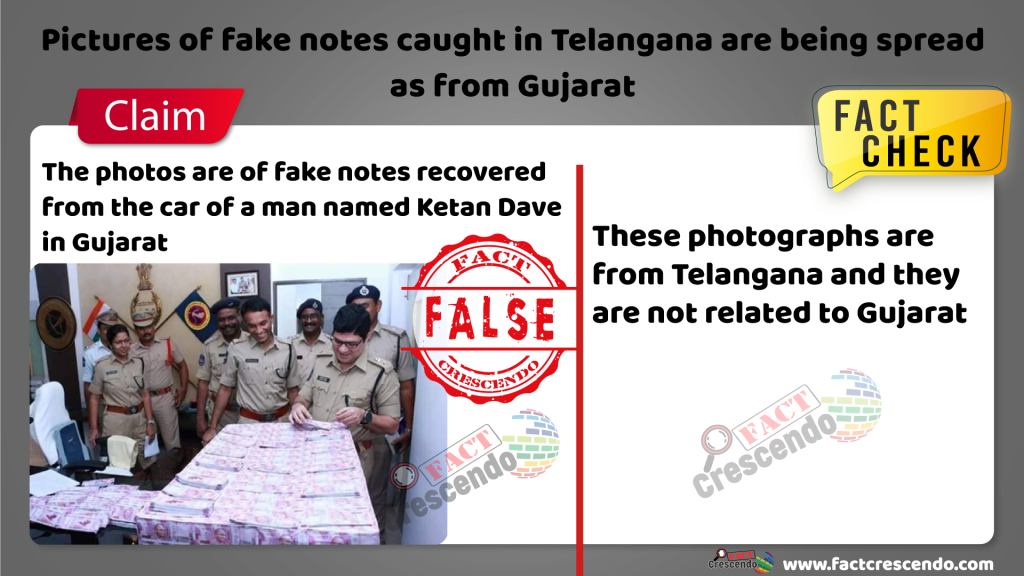 Three photographs of the notes recovered by the police are being shared by social media claiming that this consignment of notes has been recovered from Gujarat and these are fake notes. They were recovered from a car registered in the name Ketan Dave. The photos were shared on 14th January 2020 by a Facebook page called 'Aam Aadmi Zindabad'. Let us know the truth of these pictures.
We started the investigation by conducting a Yandex Reverse Image Search of these photos. As a result we found an article published by the Financial Express on 2nd November 2019. The photographs of the fake notes have been given in this news article. According to the news, in Khammam district of Telangana, the police arrested 5 people and seized fake notes from them. A total of Rs 6.4 crore counterfeit notes were seized in this action taken in Vemsoor Mandal area.
Telangana Today, TOI and ANI also published the news, in which the pictures given are identical to the photographs shared in the post.
It is clear that these pictures of fake notes are not from Gujarat.
Who is Ketan Dave?
According to The Indian Express, Ketan Dave is a financier from Gujarat. He was arrested by the Gujarat Police in March 2017 on charges of fraud and transactions of fake notes. A total of 3.92 crore fake notes were received by the police from Ketan's car. In addition, evidence of burning fake currency worth about 1 crore was found. Read about it in more detail here – Financial Express (Archive)
Result of the investigation:
All three pictures shared in the post are of fake notes recovered in Telangana on 2nd November2019.The police had seized fake notes worth 6.4 crores from Khammam district. These pictures have no relation with Gujarat.

Title:Pictures of fake notes caught in Telangana are being spread as from Gujarat
Fact Check By: Ruchika M
Result: False