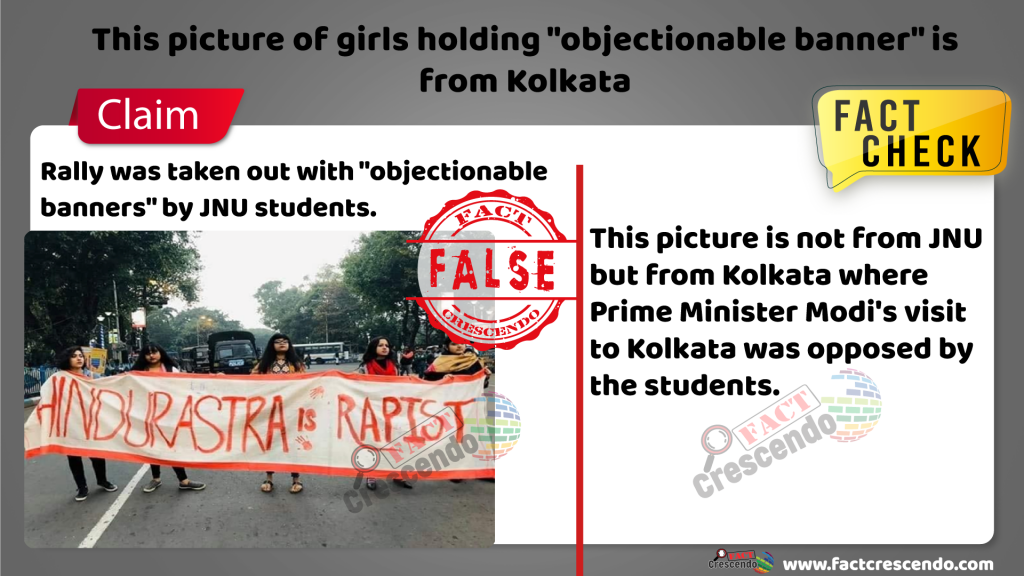 There are agitations all over the country to protest and support the Citizenship Amendment Act (CAA) and National Citizenship Register (NRC), and due to which many claims are being made on social media forums, many of which are fabricated and misleading. There are claims which are being shared through photographs and videos. In the same sequence on social media forums, a popular picture is being shared and it is claimed that the picture shows women students of JNU, holding an objectionable banner which can also be seen in the image. In this picture some girls can be seen holding a banner reading "Hindu nation is rapist" on it.
The title of the post reads, "The Hindu nation is rapist". This is what the girls of JNU are. It is shameful to see the mentality of these people. "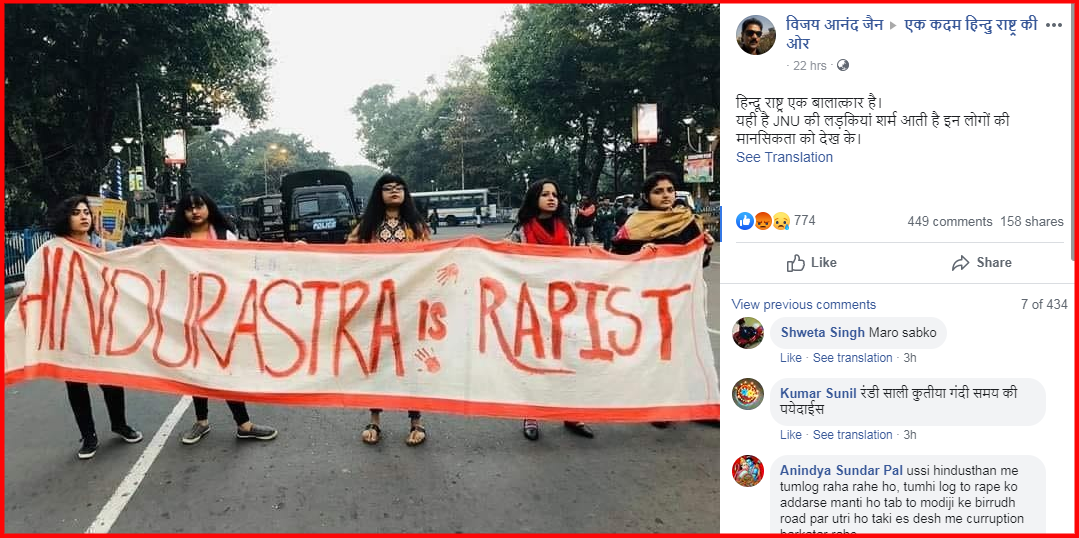 We started the investigation by taking a screenshot of this picture from Google Reverse Image Search. As a result of which we found a news article published by scroll on 12th January, 2020. In this news, sharing the second angle of the viral picture, it has been written that "these banners were displayed by a feminist group to protest against Modi's Kolkata visit". The news said that a feminist group performed "The Rapist Is You", a Bengali version of the Chilean feminist demonstration in Kolkata on Saturday. In Kolkata, the song was translated into Bengali and renamed "Dhorshok Tumii". After looking at the picture carefully, we saw a flag in "Bengali" language.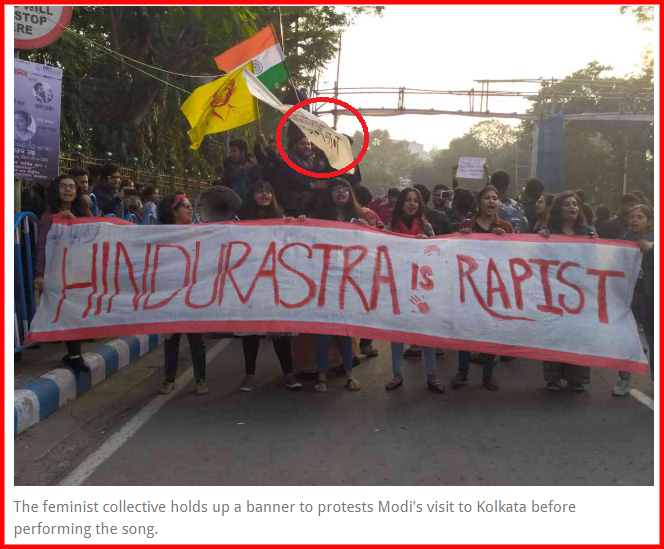 Thereafter, Fact Crescendo contacted the local people of Kolkata who, seeing this picture, identified the location of this picture and sent us the pictures of that place. When we compared the viral post with these pictures, we found that both places are same. This picture has been taken at Kolkata's Cathedral Road. It is clear from this that the picture has not been taken in JNU but it is from a demonstration held in Kolkata on 11th January 2020.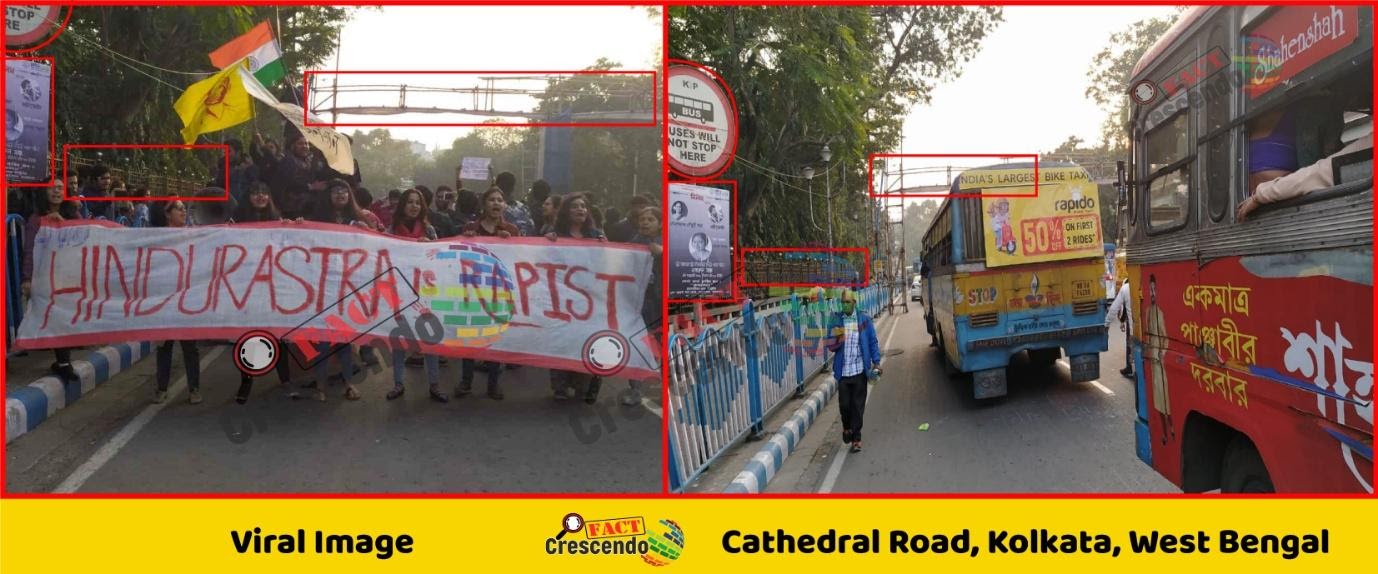 Further to this, we contacted the local shopkeepers from Cathedral Road and they told us that "this protest rally took place on Saturday 11th January 2020, where such banners were displayed".
After this, we went to the Facebook page of "Dhorshok Tumii" mentioned in the news published in Scroll, where we found pictures related to Saturday's protest rally.
In this page we found the profile of a Facebook user named "Ratnadeep" who posted the video related to the rally on his Facebook profile. In this video from 52 seconds we can see the banner used in the viral picture and the woman holding it. The title of this post reads "Highlight of tomorrow's rally, Kolkata 2020 NoCAA NoNRC NoNPR"
We contacted one of the organizers of this protest rally, Riyaz Hasan who is from Jadavpur University. He told us that this picture is from Kolkata and has nothing to do with JNU. This rally was organized by Jadavpur University, here we invited several other colleges in Kolkata to participate in this rally. The rally was a mass rally by students of Kolkata to protest against Prime Minister Modi's visit to Kolkata. Let us make it clear that this rally has no relation with JNU. "
After this, Fact Crescendo contacted the admin of the Facebook page of "Dhorshok Tumii". We were told by them that "These pictures are not from JNU". This rally was a protest rally conducted on the streets of Kolkata on 11th January 2020. The women seen in the picture are not from JNU. This rally was against Modi's visit to Kolkata. We wanted to highlight patriarchal violence that represents Modi's idea of a Hindu nation."
Conclusion: We concluded that the above post is wrong after fact-checking the same. This photo is not from Delhi's JNU but from Kolkata's Cathedral Road.

Title:This picture of girls holding "objectionable banner" is from Kolkata
Fact Check By: Ruchika M
Result: False