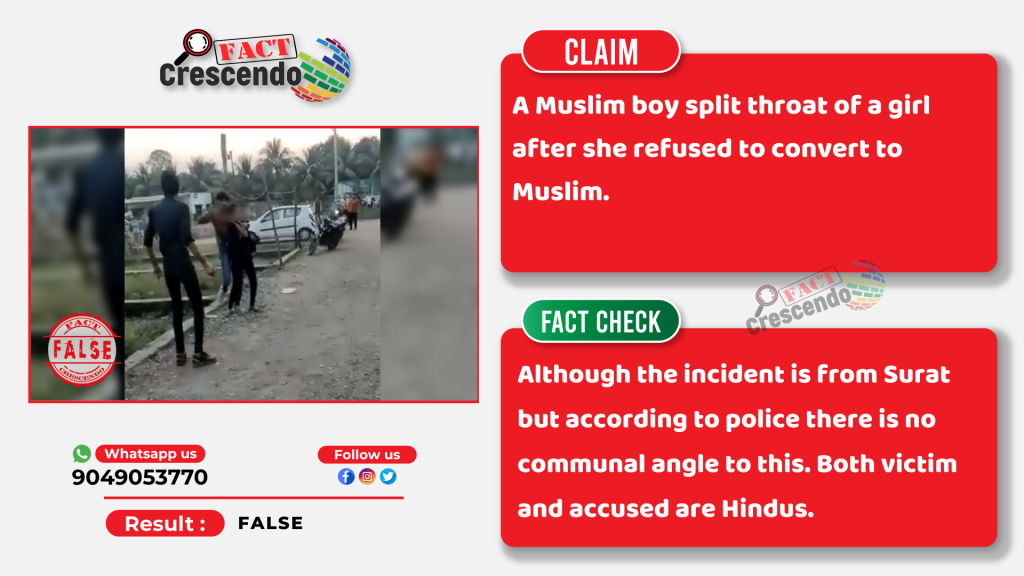 A video of a gruesome murder of a young girl in broad daylight has gone viral on social media. A man kills a girl by slitting her throat with a knife in the video.
Users are sharing this video claiming that a Muslim boy beheaded a Hindu girl in Surat because she refused to convert to Islam.
After investigation, Fact Crescendo found the claim to be false.
The caption along with the video on social media reads: "A Hindu girl in Surat was beheaded by a Muslim with a knife in broad daylight because that Hindu girl refused to become a Muslim."
(Warning: Distressing and violent visuals)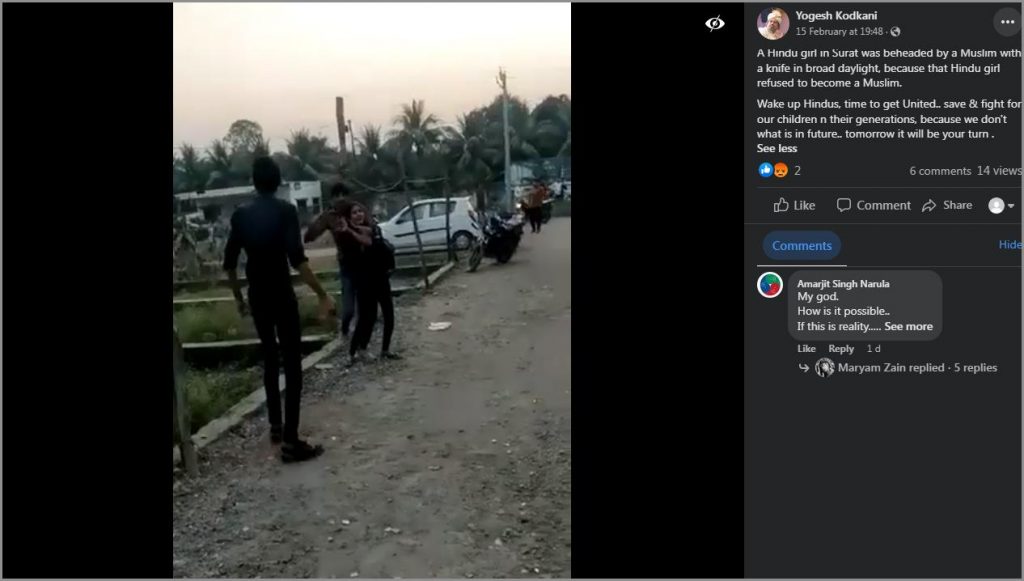 Fact Check-
Keyword search led us to Times of India news published on 13 February. The murder took place in Surat. The name of the accused is Fenil Goyani and he was a school friend victim. Police were suspecting that the victim did not want to continue her association with the accused which might have led to this incident. The accused tried to commit suicide by cutting his wrist and consuming poisonous powder, reports TOI.
BBC News Hindi reported that the incident took place in the Kamrej region of Surat on 12 February. The accused slit throat of a girl in front of her parents. It is being speculated to be a case of one-sided love.
Zee News Gujarati in its report said that the victim was a student of Amroli College. For one year the accused was harassing her and wanted to marry her. After a confrontation with the victim's family, the accused agreed not to harass her but later failed to keep his promise.
Fact Crescendo contacted Rural SP Usha Radha. She confirmed that there was no communal angle to this incident. The accused is a Hindu boy named Fenil Pankajbhai Golani. It was a matter of love affair. The accused was remanded in police custody for three days. The police are still investigating this case. She also requested the public not to share false rumors on social media
Below is the copy of the FIR that we received.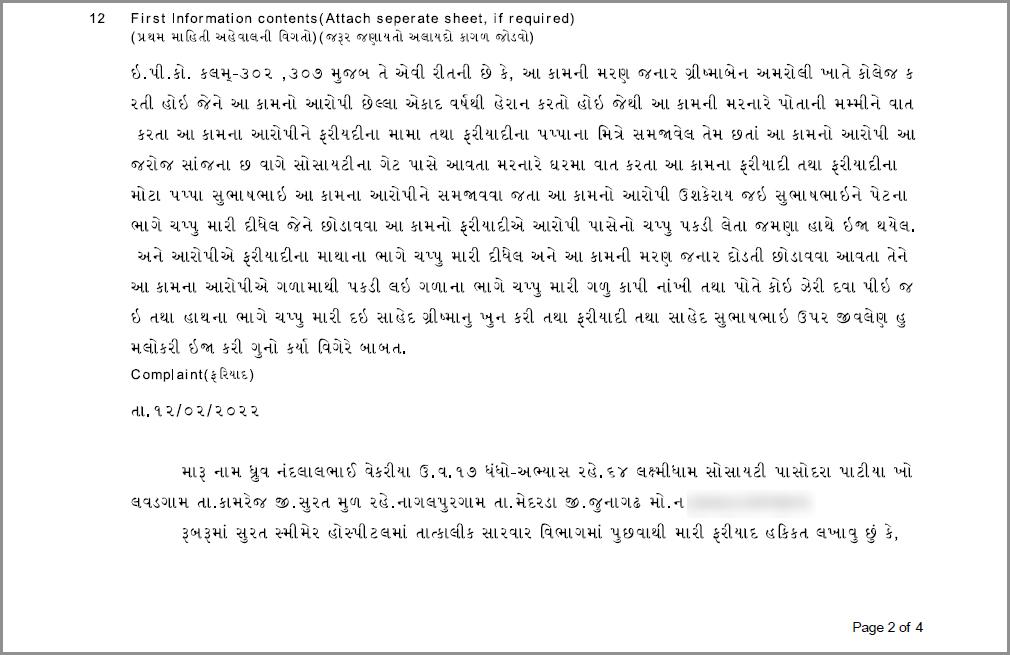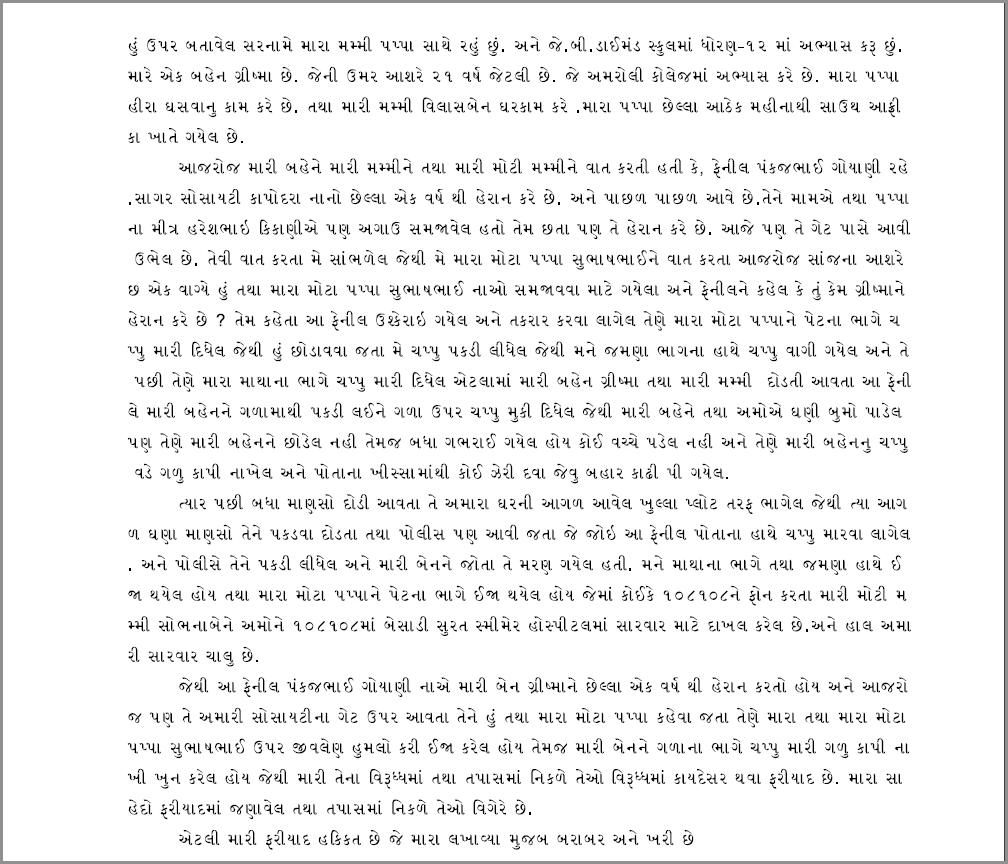 According to news reports, the victim's family refrained from filing police complaints fearing any damage to the family's reputation. A few days back the accused slit the throat of the victim and attacked her uncle and her brother when they tried to intervene. Later he ate poison and slit his own wrist.
Police took the accused to the hospital. After getting discharged from there, now he is on police remand for 3 days. Gujarat Home minister Harsh Sanghav met the victim's family and promised justice to the family and also said that the Gujarat government will bear the expense of a lawyer during the trial process.
CONCLUSION
Fact Crescendo found that the claim with the video is False. Though the video is from Surat, there was no communal motive behind this murder. Police clarified that both the victim and the accused belong to same religion. 

Title:Video of Murder Committed Due To One-Sided Love In Surat Viral With Communal Spin
Fact Check By: Siddharth Sahu
Result: False