A Facebook user named 'Vikas Bhanudasrao Deshpande' shared a post on 2 June 2019. The post as translated from Marathi quoted "Anywhere or anyone if found with a Pakistani Flag in India, then that person will be arrested under sedition law. Home Minister-Amit Shah." As per this post's claim, Home Minister Amit Shah has declared this law. Let us see what the facts are!
NARRATIVE ON SOCIAL MEDIA:
We found a lot of traction to this narrative on Facebook too.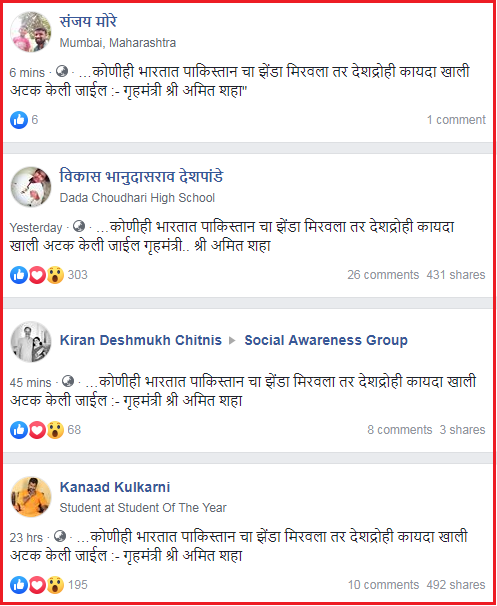 FACT CHECK:
Amit Shah came in force of the Home Minister's position on 1 June 2019. As claimed in the post, there is no such news available on the internet. If the Home Minister would have taken such a huge decision, then there should have been any form of press release to declare the same. However, we found none.
When we went through his verified Twitter Account, we just found a tweet regarding his position acceptance declaration and a tweet on his visit to the National Police Memorial, where he paid his homage to the martyrs.
Even the official website of the Union Home Ministry has only these 2 press release.

We did not find anything on the official website of Amit Shah also regarding the decision against Pakistani Flags.
Fact Crescendo then contacted the Home Ministry Office directly. The letter from the 'Press Information Bureau' has clarified that the story is false. They said that Amit Shah or the Home Ministry has not made any such decision yet. So, the information in the viral post is not true.

What is Sedition Law, let us find out.
The Section 124 (A) of Indian Penal Code is the act of sedition / sedition.
According to this section, anyone against the government established by law in India, if trying to create hatred by words, written or verbal; or by some symbols or view credentials; or by any other person; or if he is disrespecting the government or trying to create dissatisfaction with the government; he is sentenced to life imprisonment, including financial penalties; or three years of imprisonment and financial penalties; or financial penalties.
(Ref. : Loksatta)
Based on the evidences we can confirm that Amit Shah never said the claim in the post.
IN CONCLUSION:
Fact Crescendo has fact checked and confirms that Amit Shah never said the statement shared in the post. We categorise the story as FALSE.
FactCrescendo advises its readers to refrain from sharing such misleading and communally biased photographs and do a self-check on the true narrative of such incidents before believing them.

Title:Did Amit Shah say that anyone found with a Pakistani Flag in India will be arrested under sedition law ? Fact Check!
Fact Check By: Nita Rao
Result: False