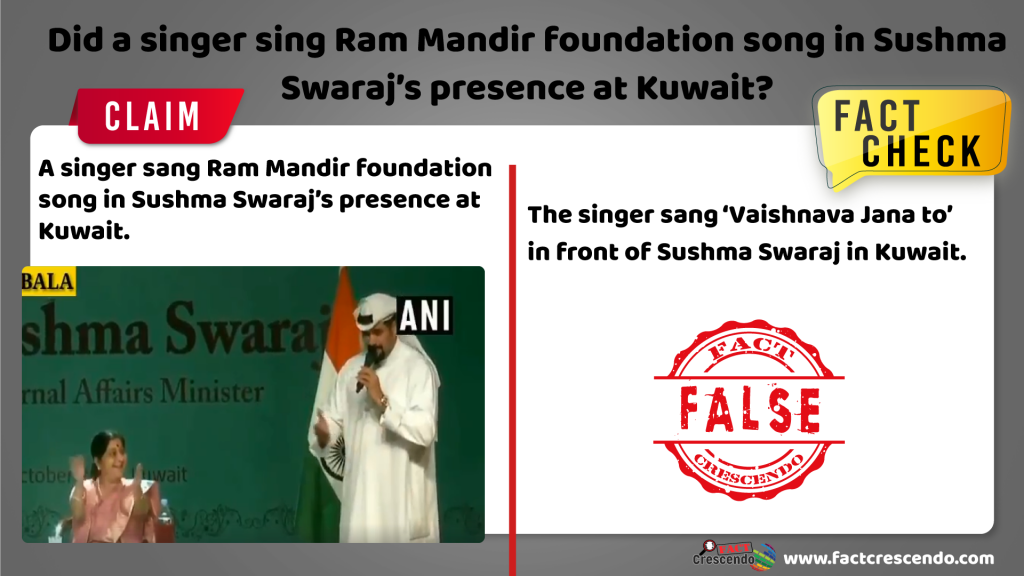 A Facebook user named 'Maithali Samaaj' shared a post on 13 February 2019. The post as translated from Hindi quoted "Sushma Swaraj had visited Kuwait recently. Shaikh Mubarak Al Rasheed sang a song in her honour and won our hearts." As per this post's claim, the singer sung a Ram Mandir song in front of Sushma Swaraj. When we saw the video, it looked like as if it is a doctored audio of this video. Let us see what the facts are!  
NARRATIVE ON SOCIAL MEDIA:
FACT CHECK:
We started our search by using 'shaikh mubarak al rashid sings song in front of sushma swaraj' key words in a google search. What we got in the search is below: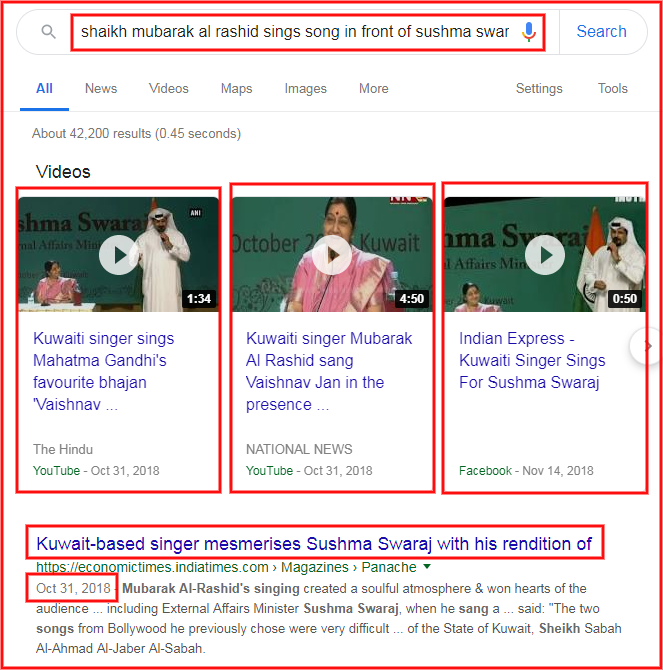 In this search result, we got a video on YouTube uploaded by 'TheHindu' newspaper dated 31 October 2018. The video was title "Kuwait singer sings Mahatma Gandhi's favourite bhajan "Vaishnava Janato' in front of Sushma Swaraj."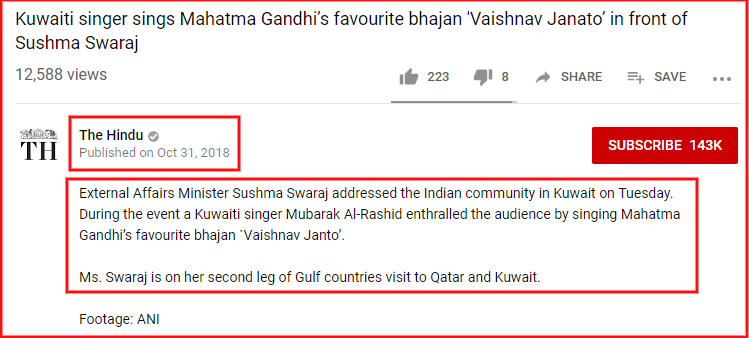 External Affairs Minister Sushma Swaraj was on a work trip to Kuwait and Qatar in October 2018. During this trip, she addressed the Indian Nationals in Kuwait. During this program, singer Mubarak Al-Rashid sand "Vaishnava Jana to…' bhajan.
'Indian Express' news also posted this video dated 31 October 2018 on their Facebook Page.
We also found a tweet by ANI, which too had the same video dated 30 October 2018.
We got another tweet in 'The Economic Times' article dated 31 October 2018. This tweet was by Raveesh Kumar from Ministry of External Affairs Department. This tweet also had the same video of Mubarak Al-Rashid singing the 'Vaishnava Jana to…' bhajan.
EconomictimesPost |ArchivedLink
Based on the evidences we can confirm that the video above is a doctored video. The audio file is added to the original video as given in the post is to mislead the viewers.
We have given the video comparison below for viewer's analysis.
IN CONCLUSION:
Fact Crescendo has fact checked and confirms that the video being share in the post is with a doctored audio file and a wrong narrative. We categorise the story as FALSE.
FactCrescendo advises its readers to refrain from sharing such misleading and communally biased photographs and do a self-check on the true narrative of such incidents before believing them.

Title:Did a singer sing Ram Mandir foundation song in Sushma Swaraj's presence at Kuwait? Fact Check!
Fact Check By: Nita Rao
Result: False