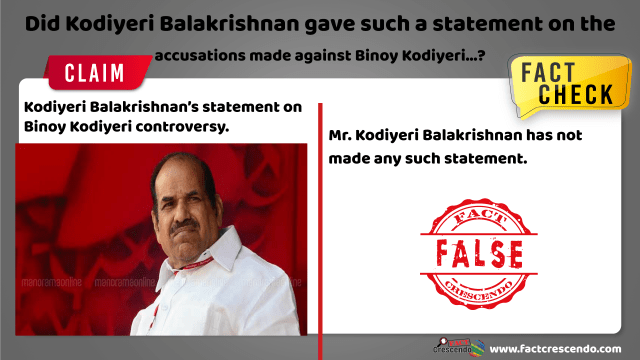 Narrative on social media
A Facebook page called Kondotty Sakhakal has been circulating a Malayalam post on Facebook, which has garnered over 300 shares in mere 19 hours. The Malayalam post claims that CPM's Kerala State Secretary has responded on allegations made against his elder son Binoy Kodiyeri by a woman who is a resident of Mumbai. The post quotes Kodiyeri in Malayalam as follows: "If the DNA test confirms paternity of the child then I don't have any hesitation in accepting the child." Recently, a controversy had surfaced after a woman based in Mumbai had approached the Oshiwara police station alleging that the elder son of CPM State Secretary Kodiyeri Balakrishnan, Binoy has been sexually harassing her and she has an 8-year-old son with him. The 33-year-old woman also claimed that she is ready to undertake a DNA test to prove the paternity of her child. The woman also submitted several documents and photographs of herself along with Binoy Kodiyeri. However, Kodiyeri Balakrishnan was yet to respond on the whole controversy. At such a time, this post has emerged out of nowhere claiming to be the response of CPM state secretary. Hence, we decided to investigate, whether Mr. Balakrishnan has indeed made such a statement or the post is fake and misleading.
Our Fact Check
There are many news reports available online regarding the fresh allegations leveled by a Mumbai woman. The woman has approached the police and have registered an FIR accusing Binoy Kodiyeri of cheating. Our viewers can visit the following links to read reports published by various media organizations on the incident on their websites.
However, no one has reported any response from the state secretary Kodiyeri Balakrishnan. The Kerala state minister for fisheries, harbor engineering, cashew industry and fisheries university, J. Mercykutty Amma has said that no one from the party would respond to the allegations, media reports inform us.
We visited the websites of various online media websites in search of Kodiyeri's response on the entire issue. However, we did not find any news reports containing Kodiyeri Balakrishnan's statement. We also went through social media handles of Kodiyeri Balakrishnan but we did not find any such statement made in public by the CPM state secretary. Nowhere else on social media such a news emerged apart from this post.
We tried contacting Mr. Balakrishnan through phone but we were not able to contact him. Following which we contacted Communist Party of India (Marxist) Kerala headquarters, AKG center to get a clarity on the post. We spoke to party secretary Mr. Sajeevan who requested some time to verify the post. After verifying the post, he gave us the following clarification to us:
"Comrade Kodiyeri has not made any such statement. This post does not have any relation with the Marxist Communist Party. Not just Kodiyeri, no one from the party has made any such statement."
In our investigation, we have found out that the claim made by the post is totally false. Credible source within the party have clarified this.
Conclusion
The claim made in the post is false. Mr. Kodiyeri Balakrishnan has not made any such statement as claimed in the post. Party officials have confirmed that not only Mr. Kodiyeri but also no one from the party has made any such statement.

Title:Fact Check: Did Kodiyeri Balakrishnan gave such a statement on the accusations made against Binoy Kodiyeri…?
Fact Check By: Harish Nair
Result: False