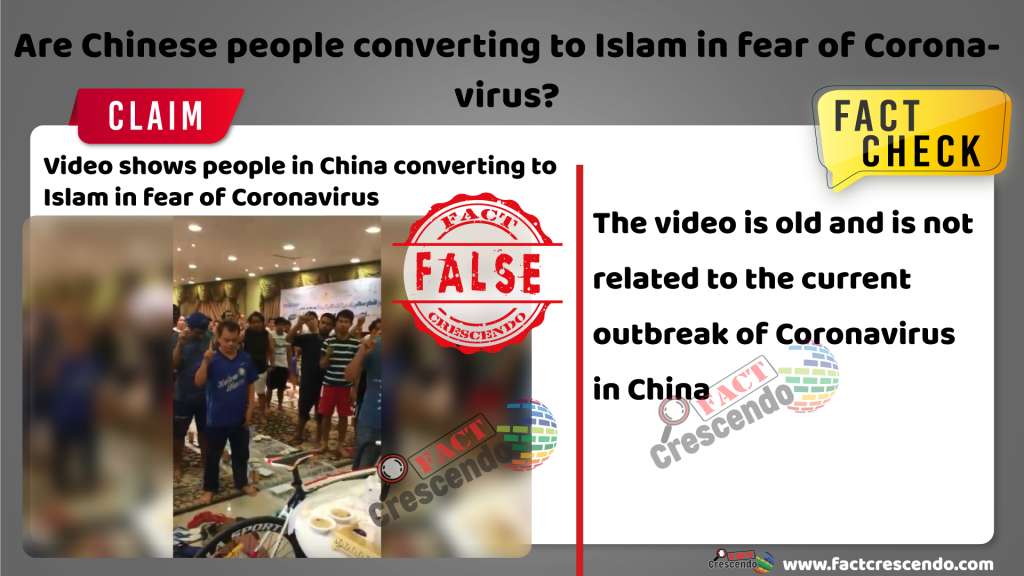 Ever since the World Health Organisation has declared COVID-19 as a public health emergency of international concern, the internet is flooded with old and unrelated content adding up to the chaos among the masses. Social media is filled with false narratives related to Coronavirus among which there have been narratives connecting the disease with religion.

Amidst this, a video showing hundreds of Chinese citizens converting to Islam is circulating on social media claiming that Chinese people are converting to Islam in fear of Coronavirus as none of the followers of Islam were affected by the virus.

The post reads "Chinese converting to Islam after realizing that no Muslim was affected by #Coronavirus #COVD19 in the country."
Archive Link

Fact Check-
We started our investigation by using Yandex Reverse image search on a key frame, which resulted in a YouTube video, uploaded on 30 June 2019. The headline is written in Arabic which when translated in English it reads as follows,"People enter the religion of Islam, Glory be to God."
The same video was also uploaded on YouTube on 7th November 2019 with the headline "MashaaAllah hundreds converted to Islam in Philippines."
The video was available on YouTube long before the confirmation of the outbreak of COVID-19. The viral video cannot be related to Coronavirus, as Chinese officials confirmed the outbreak of the disease on 31st December 2019.
Moreover, there is no official research or record present that would suggest that the disease is related to any religion or community for that matter.
Conclusion- Fact Crescendo has found the above video to be False. The viral video is available on the internet since June 2019 and has no relation with the current outbreak of Coronavirus in China.

Title:Are Chinese people converting to Islam in fear of Coronavirus?
Fact Check By: Aavya Ray
Result: False