The internet is filled with various stories and claims related COVID-19 or Coronavirus. Social media users have also shared several advisories against buying Chinese products since China is the epicentre of the virus.
World Health Organisation has declared COVID-19 as a public health emergency of international concern. According to WHO's daily Situation Report on 20 February there have been 2121 deaths due to COVID-19 in China.
Amidst this, Fact Crescendo received a WhatsApp request with a graphic card, which seemed to be like a warning issued by the World Health Organisation and the Indian Government.
The image reads, "One of the biggest Indian festivals Holi is going to arrive in India, a lot of colours, masks and other materials come from China. These things are bought by you considering that they are cheap and attractive , however these are manufactured using certain raw materials of 'polymer'. Let us inform you that these raw materials are made in China's Hunei that has been hit by the coronavirus outbreak. We appeal to all of you not to use these products imported from China."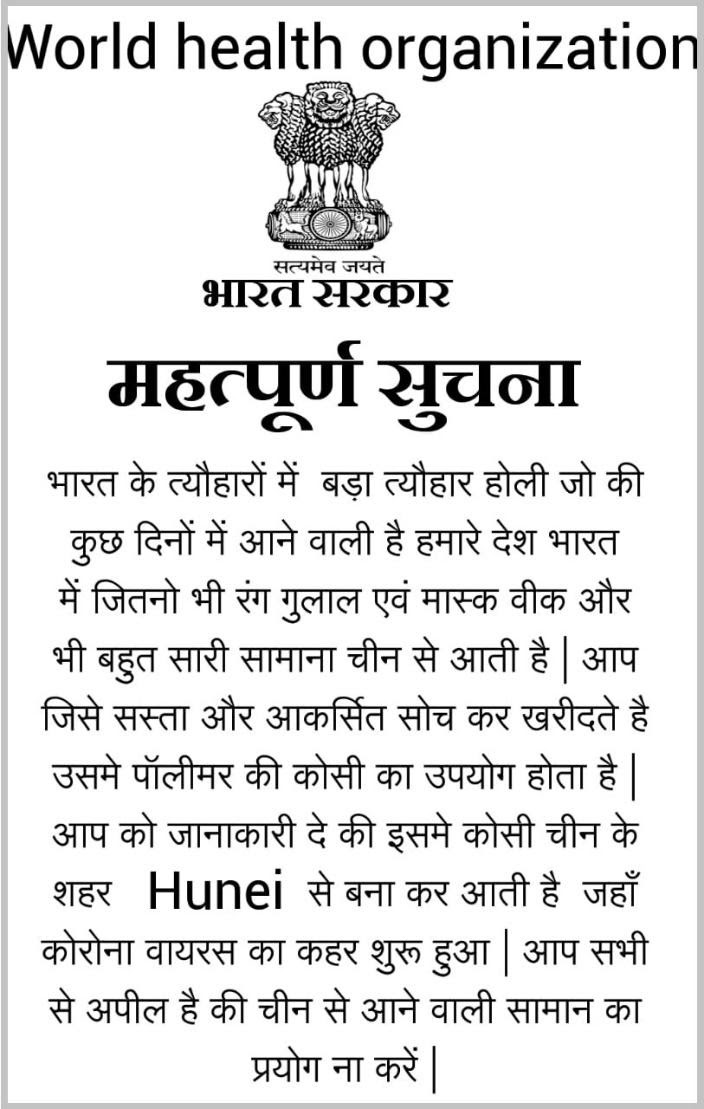 Fact Check–
When Fact Crescendo carefully read the viral graphic card, we found that there were several grammatical errors in the warning, which have been marked in red below. From this itself is very evident that neither the WHO nor the Indian Government has issued such a warning.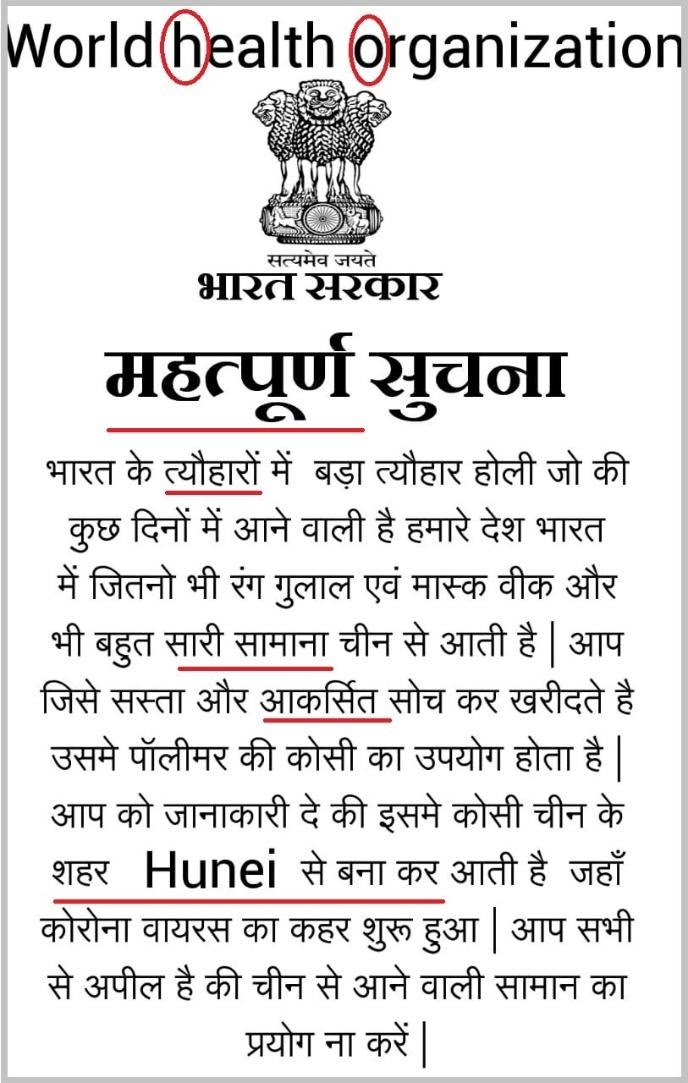 With a simple keyword search, we found that the Indian government has not issued any such advisory about Chinese products in the wake of the coronavirus outbreak in China. We were unable to find even a single credible media report that said that the government has put out an advisory cautioning people against buying Chinese products during Holi. There are no Press Releases either mentioning the same.
The fake-news peddler who made the graphic card simply wrote 'World health organisation' on top of the card. The way in which 'health' and 'organisation' is written without capital letter's simply proves that the warning has been digitally created by a layman to increase chaos. WHO stand for World Health Organisation, which is the correct spelling.
Both WHO and the Indian Government have their logo, seal, signature, designation etc on any document, advisory or warning released by them as a proof of their authenticity, also in addition, all the documents, press releases, advisory or warnings are available on the official websites of these bodies.
Conclusion- Fact Crescendo found the above warning message to be False. The graphic card is digitally created to mislead the readers. Neither the WHO nor the Indian Government has issued any such warning.

Title:There is No Govt or WHO advisory restricting the purchase of Chinese products during Holi due to COVID-19
Fact Check By: Aavya Ray
Result: False