Just few weeks after the death of basketball legend Late Kobe Bryant and his daughter in a chopper crash, social media is flooded with the news claiming that Late Kobe Bryant's wife has committed suicide.
A YouTube video with BBC's logo claims that Vanessa Bryant, the wife of late Kobe Bryant is no more. The video shows a still graphic plate with the message R.I.P. Vanessa Bryant 1982-2020 and a picture of the Bryant couple in the background. After few seconds of showing the still graphics we can see a reporter saying that he has sad news to share with us, post which we can again see the graphic plate.
We found a website named "hottest.worldnewsfactory.today" sharing the same news on Facebook. When we opened the website, we found the same video along with the BBC logo. The report mentioned, "VANESSA BRYANT Recorded her suicide after a depression attack this morning."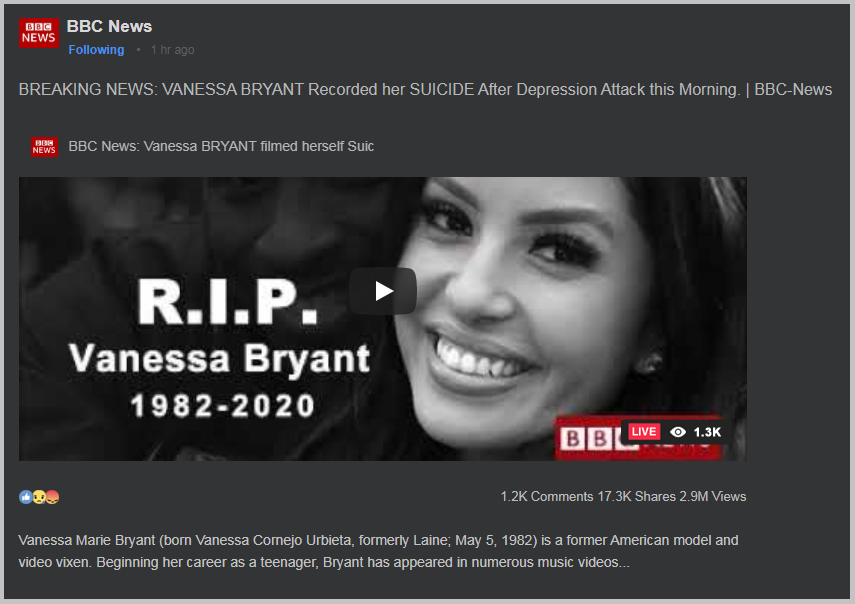 Archive Link | Archive Link | Archive Link
This has also been posted by the website w0rldnews.g0ldenbuzzers.com and t0pstories.caldomns.com/#read/21821 and it has been shared by thousands of people. A news anchor from Fox News appears after sometime, saying, "Finally, I have a very sad news to share with you today." The video ends abruptly, asking the user to share it on Facebook to continue. However, even after sharing it on Facebook, the video does not open.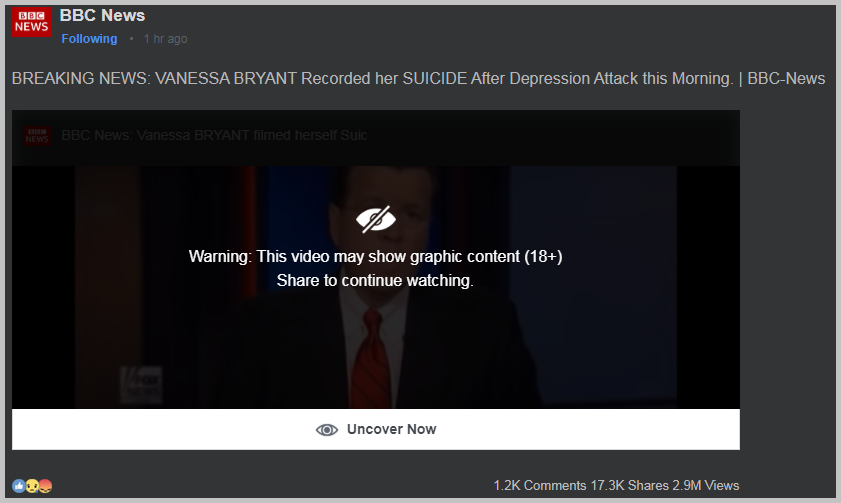 Fact Check-
We started our investigation by running a keyword search on Google about Vanessa Bryant's death by committing suicide; we were unable to find any credible news reports claiming the same.
Next, we used Yandex Reverse Image on one of the key frames by InVid Tool. We found that the reporter is from Fox News. We were also able to find the original video of Fox News's official YouTube channel. We can see that in the original video the report is speaking about the death of Brenda Buttner, who was the host of Bulls and Bears on Fox News Channel.
Thus we were able to conclude that the video claiming to be reporting about Vanessa Bryant's death is edited. It is not a credible new report. The original video reports about Brenda Buttner's Death. You can see a comparison video below:
The viral video on social media with BBC's logo is not a genuine one. The logo is digitally manipulated and added to the video to increase its authenticity. This is not how BBC News videos operate.
On Valentine's Day, three weeks after the death of her husband, Vanessa Bryant posted a touchy message on her verified Instagram account. 
This was reported in Daily Mail on February 14, 2020.
Conclusion- Fact Crescendo found the above news to be False. The website has no credibility and the news published by them is Fake. Vanessa Bryant is healthy and alive, we pray for her healthy life ahead. The viral video is manipulated digitally. The website is an imposter website, which has tried adding BBC's logo to increase its credibility. 

Title:Kobe Bryant's wife Vanessa Bryant's Death Hoax Viral
Fact Check By: Aavya Ray
Result: False