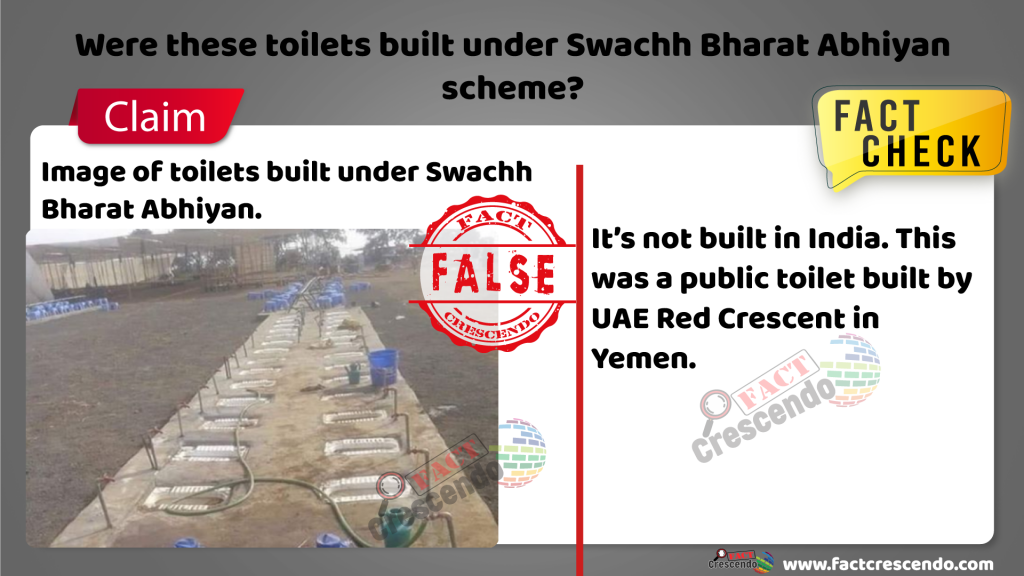 A viral post has been doing rounds on Facebook with an image of toilets. The post claims that these toilets were built under PM Modi's flagship scheme Swachh Bharat Abhiyaan. Many Facebook users shared the post and thus it started gaining a lot of attention in terms of interaction. Many raised doubts about the veracity of the claim while others were ridiculing the poor quality of toilets being built under the scheme. Hence, we decided to check whether these toilets were actually constructed under the Swachh Bharat Abhiyaan or not. We found that the toilets had nothing to do, not only with Swachh Bharat Abhiyan but also with India. Let's check out the facts about this image.
Narrative:
This post, dated Feb, 16, 2020 which has a picture of a public toilet with a caption in Tamil that translates as, '' Mr. Prime Minister of India, Modi ji has built 4.5 lakhs toilets in 540 crore rupees under Swachh Bharat Abhiyan scheme. Jai Hind, Jai Modi ji and Sangh pariwars of India. This is Digital India and Make in India, Swachh Bharat. Totally Indians were cheated by a tea vendor,''.
Fact Check:
On closely inspecting the image, we can observe that the image was taken in a temporary camp. In addition, the presence of three people dressed up in traditional Arab/African attire, suggested that the image was probably clicked in some relief camp in the Middle East or Africa. 
We did a reverse image search on Yandex and found a tweet that mentioned these toilets were from Yemen.
The image was shared on October 22, 2019 by a twitter user called Ozturk, who is a journalist working for a Turkish news agency . Ozturk posted this picture as a news update on Yemen – UAE relationship.
We translated the tweet in Turkish with the help of Google and it translates as such, ''UAE Red Crescent , after the UAE's decision to withdraw from Yemen, took back human supplies to Yemen. They even took back the public toilets. In addition, they asked for the materials and spare parts they gave to the electricity producing company and wrote them back.'' 
UAE Red Crescent is the UAE wing of international organization doing humanity based social services in Middle East countries with Red Cross help. It withdrew from Yemen due to the political conflict between UAE and Yemen. Yemeni authorities also expressed their disappointment for this decision. For more details, please  here.
Conclusion:
With relevant evidences, it is proven that the above-shared picture is not related to Swachh Bharat Abhiyan scheme. The image if from Yemen and not from India. Hence, we would advise our readers to refrain from sharing any unverified information on social media without proper verification. 

Title:Fact Check: Were these toilets built under Swachh Bharat Abhiyan scheme? No, Here's the truth…
Fact Check By: Pankaj Iyer
Result: False