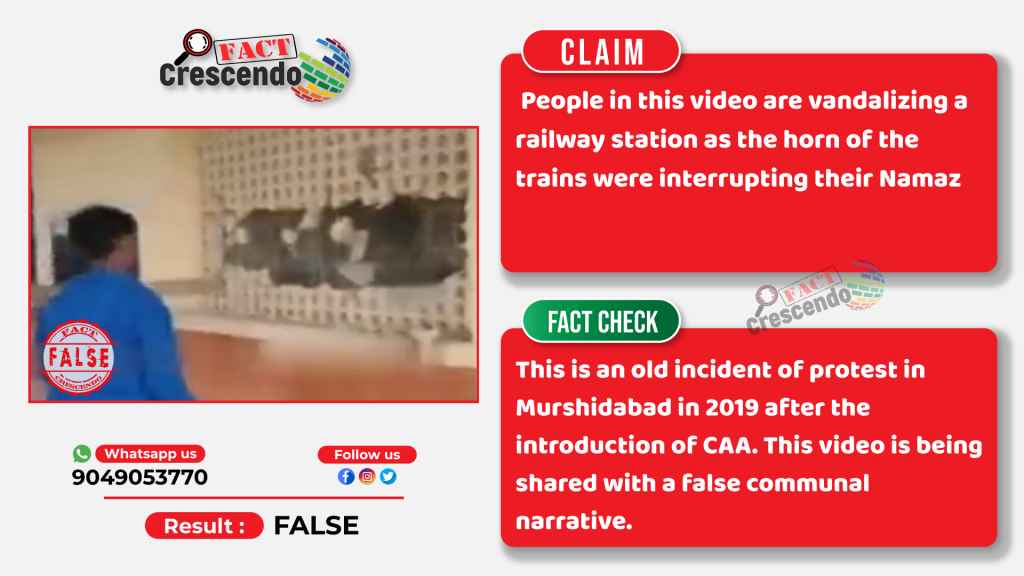 Currently, a video of a mob vandalizing a railway station is going viral on social media out of which many of them can be identified as teenagers. This incident is claimed to be from Noapara Mahishasur Railway station in Murshidabad district of West Bengal. Social media users are also claiming that people fromMuslim community vandalized this railway station because the horns of trains were interrupting their Namaz. 
However, Fact Crescendo found the claim to be false. This is an old video during the CAA protest violence which is shared with false communal narrative.
What's the claim?
Sharing the video, social media users are claiming that teenagers from Muslim community are vandalizing Noapara Mahishasura railway station because the horns of the train are interrupting their Namaz.
Fact Check-
First we tried to know if this incident really took place at Naopara Mahishasura station. A close look at the viral video, we found that the name of the station (Naopara Mahishasur) is visible at 29 seconds. Below you can see the clearer image.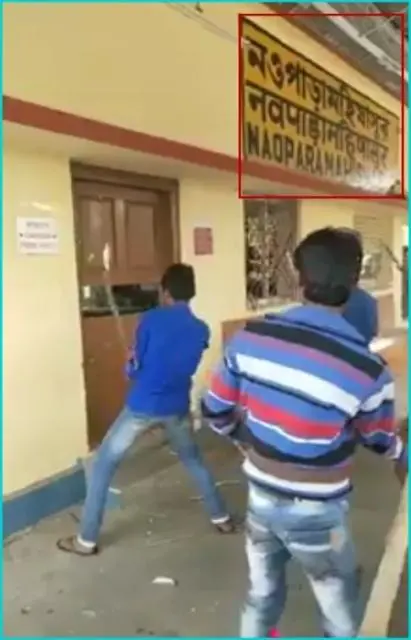 The incident took place at Naopada Mahisasur station. Naopada falls under Sagardighi Police Station, Mahisasur and is a part of Sagardighi Jangipur Subdivision.
Fact Crescendo contacted SDP Jangipur District Police Bidyut Tarafdar. He informed us that the viral video is from 2019. The claim that Naopara Mahishasur railway station was vandalized because the noise of the train was disrupting prayers is false. Also, there has been no stone pelting at the railway station in recent times either.
A relevant keyword search led us to a video of the same incident posted by a Facebook user in 2019. The caption reads, "Small school and college going students are doing such things. Shame. Bengal is burning."
From this, it can be concluded that this is not a recent incident. 
On 18 November 2020, a video was uploaded on Wildfilm India's official YouTube channel, which contains the clips from the viral video. You can watch the viral video from 26 seconds onwards. According to the information, this is an incident that took place during the CAA and NRC protests in the country. In the incident, the youth of West Bengal vandalized a railway station.
According to another report, protests arose nationwide after the introduction of CAA in 2019. Many protests were held at various places in the Murshidabad district. The protest against the CAA was the largest in Jangipur. People first gathered at Nimothita station, Pordanga station and Naopada Mahishashur station and started vandalizing public properties including railway stations. 
Conclusion:
Fact Crescendo found the claim to be false. This is an old incident of protest in Murshidabad in 2019 after the introduction of CAA. This video is being shared with a false communal narrative.

Title:Are people in this video vandalizing a railway station as the horns of the trains were interrupting their Namaz? Know the truth
Written By: Siddharth Sahu
Result: False