This video is from 2021, when the convoy of BJP candidate from Bolpur, Anirban Ganguly, was attacked in Ilambazar, Birbhum, during the West Bengal elections.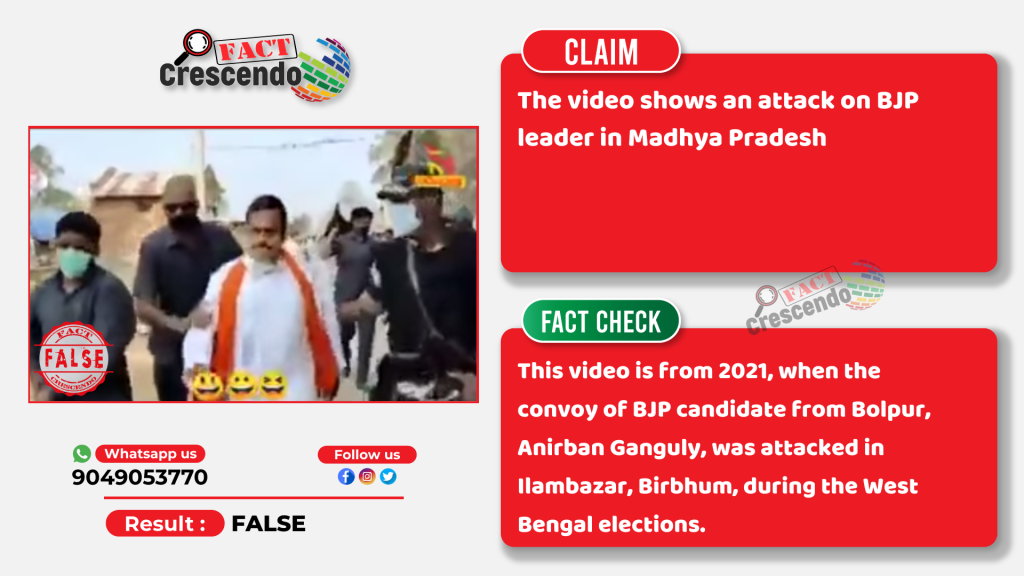 Madhya Pradesh will hold elections on 17 November, 31 ministers of Shivraj government are in the election fray. Meanwhile, a video is being shared on social media, in which security personnel are seen taking a person away in a car and the crowd is seen chasing them and attacking his car. The users who shared the video claims that this video is from Madhya Pradesh where even before the voting of the assembly elections, the people have started giving election results by chasing the ruling (BJP) leaders.
Fact Check-
We started the investigation with a reverse image search on Google and we found a longer version of the viral video uploaded on 29 April 2021, on a verified YouTube channel named Sangbad Pratidin. The video's title noted that it showed BJP's candidate for Bolpur Anirban Ganguly's convoy being attacked in Illambazar in West Bengal's Birbhum. In this 2 minute long video, the exact same scene as the viral video can be seen from 26 seconds to 54 seconds.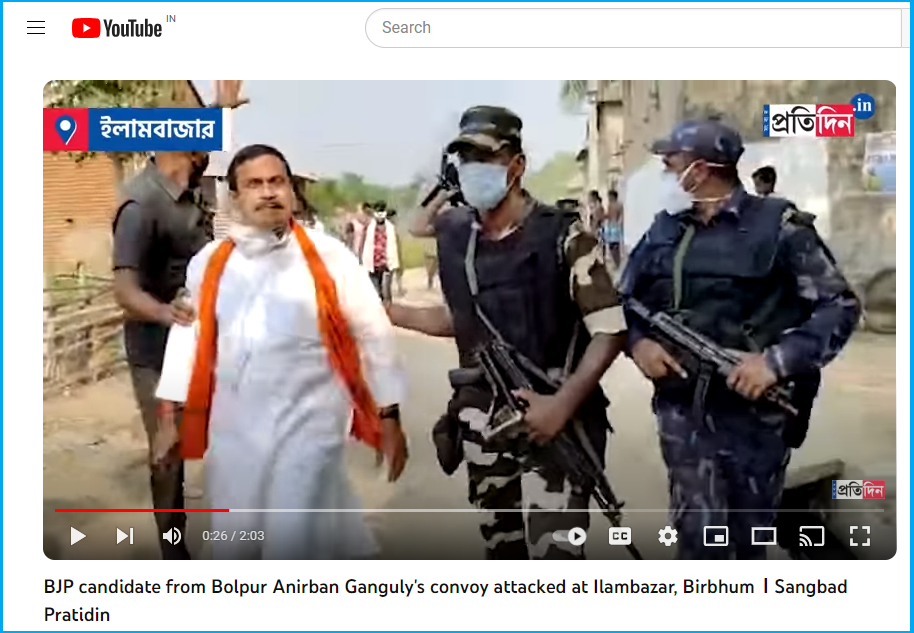 In further search we found the same video was also uploaded by Odia news portal Nandighosha TV.
Keeping this in mind, we searched media reports to get more information about this incident and found a report by the Indian express published on 29 April, 2021. As per the report, "Anirban Ganguly, the BJP's candidate in Bolpur in Birbhum district was chased away when he went to Ilambazar area. Villagers, armed with sticks and bricks, were seen running after him. His vehicle was vandalized. "I went to Ilambazar after receiving complaints that TMC's goons were not allowing our supporters to go to the booths," he said.
Finally we came across a tweet from Anirban Ganguly on the day of the incident, telling people that he was fine after the attack in Illambazar.
The West Bengal Assembly elections of 2021 took place across eight phases, from March 27 to April 29. Anirban Ganguly had contested the elections from Bolpur assembly seat on BJP ticket, but he had to face defeat. Now the video of the attack on his car in the same election is being shared linking it to the Madhya Pradesh Assembly.
Conclusion- 
Fact Crescendo found the claim made along with the viral video to be False. An old video of BJP's Anirban Ganguly being chased by locals in West Bengal's Birbhum was shared linking to the Madhya Pradesh elections.

Title:2021 video from West Bengal shared with false claim of attack on BJP leader in Madhya Pradesh
Written By: Usha Manoj
Result: False