The video dates back to February 2022, an old video is being falsely shared as a recent incident of Israeli forces beating a Palestinian girl in Jerusalem.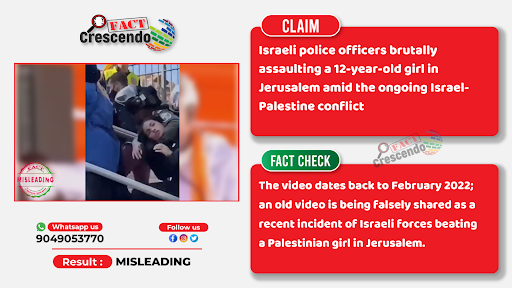 In the first 25 days of the war between Israel and Palestine, there are reports that more than 3,600 Palestinian children were killed in Gaza, according to the Hamas Health Ministry. In this scenario, a video of several armed men beating a young girl is being shared with a claim that it shows Israeli armed forces recently assaulting a 12-year-old Palestinian girl in Jerusalem.
The caption of the post states,"Israeli police officers brutally assaulting a 12-year-old girl at the Bab Al Amud Plaza in the occupied Jerusalem (Al Quds) yesterday.#FreePalestine #SaveGaza #Gaza #Jerusalem #alquds #GazaUnderAttack #PalestinianLivesMatter #WestBank
Fact Check-
We started the investigation with a reverse image search on Google and the results led us to an Instagram page named eye.on.palestine. The same video was uploaded there on 28 February 2022 and was captioned, "#Palestine | Israeli soldiers brutally beating a 12-year-old Palestinian girl in Damascus Gate area in the occupied city of Jerusalem."
Keeping this in mind, we conducted relevant keyword search and found reports of this incident. According to the Middle East Eye, "Israeli forces assaulted a Palestinian girl in occupied East Jerusalem during a religious festival marking Prophet Muhammad's journey to the heavens on February 2022.Video footage shared by local journalist Baraah Abo Ramouz purported to show Israeli forces attacking and kicking the unnamed minor in Damascus Gate plaza, where the Israeli army had amassed to disperse Palestinian crowds.
A report published in Times of Israel said that thousands of Palestinians had gathered in the Old City to celebrate al-Israa wa al-Mira.According to the police, Palestinians had "chanted incitement and threw stones and bottles at police on the scene."The report further said that around 25 Palestinians and four police officers were injured during the clashes.
In further search we found a tweet from Palestine online shared on 1 March 2022 states, "Palestinian girl Iman Kiswani, 15, was released on condition of deporting her from Damascus Gate and the old city of Jerusalem for 30 days and a bail of 500 NIS. Footage documenting the moment of her arrest by Israeli occupation forces at the Damascus Gate area was widely spread".
Her interview after her release from detention can be seen here.
Further, we came across a video report by Al-Jazeera English.The video was uploaded on 1 March 2022 and reportedly showed visuals of a young girl getting injured after being hit in the face with a stun grenade by Israeli forces.
These evidences confirm that the viral video predates the ongoing Israel-Hamas conflict.
Conclusion-
Fact Crescendo found the claim made along with the viral video to be Misleading. An old video of February 2022 is being falsely shared as a recent incident of Israeli forces beating a Palestinian girl in Jerusalem

Title:2022 video of Israeli forces attacking a Palestinian girl is shared as a recent incident
Written By: Usha Manoj
Result: Misleading