The viral video shows behind-the-scenes shot of a movie filmed in Lebanon to support the victims of war in Palestine.
A video showing some persons applying makeup to a young girl on a stretcher, displaying her injuries, is being shared on social media with a claim that it serves as evidence of Palestinians faking injuries and shooting videos to spread fake propaganda against Israeli military actions. Ofir Gendelman, the Israeli Prime Minister's spokesperson to the Arab world, and Kobbi Shoshani, Israel's Consul General in Mumbai, both posted this video with the same claim. The caption states,
"The Palestinians are fooling the international media and public opinion. DON'T FALL FOR IT. See for yourselves how they fake injuries and evacuating "injured" civilians, all in front of thr cameras. Pallywood gets busted again."
Fact Check-
We carefully observed the video and went through the comments under the post and found that the visuals are from a short film titled "The Reality", shot in Lebanon by Lebanese actors to support the population of Gaza. Keeping this in mind, we started our investigation with the keyword search and whose results revealed that the Instagram account of a user named Omar Al-Rayes Al-Tab .
Omar's Instagram bio says that he is an 'Actor' and is based in Lebanon .We found out that a reel uploaded on his page included footage similar to the viral video. It appeared to be the final version of a feature film. The video begins with the text "The Reality" – possibly the title of the film. The film starts off with an English voiceover in which the narrator discusses the loss of young Palestinian children and the horrors of war becoming an Instagram trend. The video concludes with the girl with a bloodied face.
In further search, we came across another Instagram account with the username @rami.jardali, who also shared the film. On his page, we found the viral video shared with the caption, "Backstage Reality". This suggests that the viral video is a behind-the-scenes shot of the film 'The Reality'.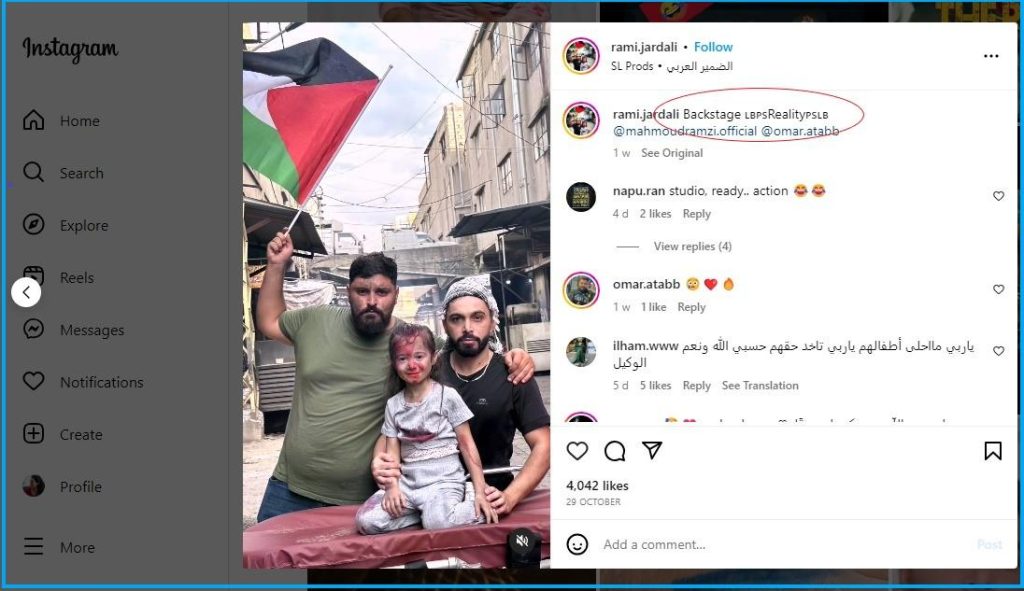 The caption tagged the director of the short film, Mahmoud Ramzi who had also uploaded the entire short film on his account. In his Instagram bio, Mahmoud describes himself as a Film Director. Mahmoud clarified that the clip was being shared out of context with false claims through his Instagram stories and mentioned that the actors in the viral video were only enacting war scenes from Gaza.
Conclusion-
Fact Crescendo found the claim made along with the image to be Misleading. The video does not show Palestinians are faking their injuries to blame Israel, it shows behind-the-scenes shot of a movie filmed in Lebanon to support the victims of war in Palestine.

Title:Behind-the-scenes of Lebanese film shared as Palestinians are faking injury
Written By: Usha Manoj
Result: Misleading