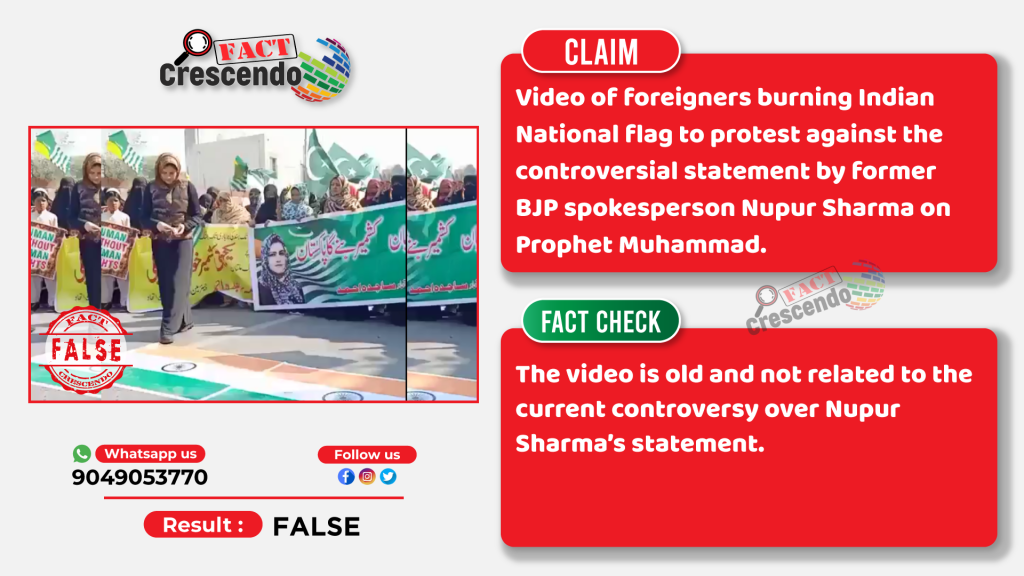 A video of a group of men and women raising slogans and burning the Indian National Flag is doing rounds on social media platforms with a claim that these are foreigners, protesting against former BJP spokesperson Nupur Sharma's controversial statement on Prophet Muhammad.
Nupur Sharma had made a controversial statement about Prophet Muhammad during a television debate. Her statement caused widespread outrage not only in India but also in the Islamic countries. Many Islamic countries including Saudi Arabia, Qatar, Iran and UAE among others condemned Nupur Sharma's statement. Following this massive protest by the Islamic countries, the Bharatiya Janata Party suspended Nupur Sharma and expelled Naveen Kumar Jindal from the party.
However, the video in question here has no connection with the Nupur Sharma controversy. The video is old and is from an anti-India protest organized by a Pakistani YouTuber Sajida Ahmad in 2019.
Description of the Post
In the above post, we can see a video of a burqa-clad woman burning the national flag of India. Her supporters can be seen behind her holding banners and raising slogans. The caption of the post is as follows:
"Today all countries are hating our India 😭 for the sake of BJP government or Modi government & foreigners are burning our country's national flag because of hatred. So remove Modi and save India.🙏
I am telling the Modi government that there is still time to arrest and punish the rude woman Nupur Sharma.
#ArrestNupurSharma"
Fact Check
We took some screenshots of the video and searched them on Google using reverse image search. This led us to the same video published on YouTube in February 2020. The title of the video says 'Sajida Ahmad and Mansoor Baloch Burning Indian Flag'.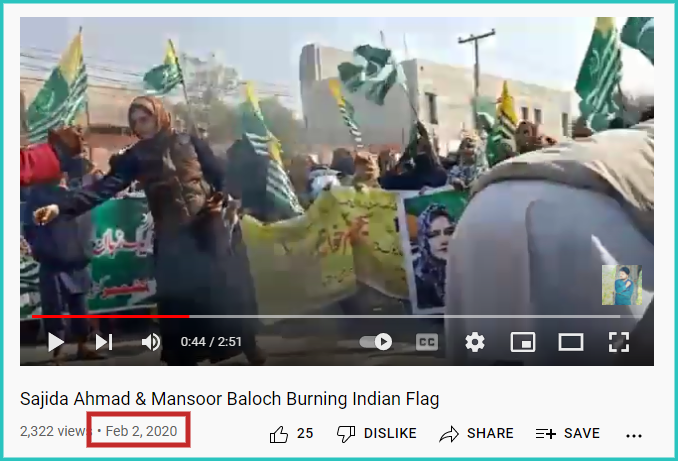 Sajida Ahmad is a Pakistan based YouTuber and activist who had previously stroked controversy by burning the Indian National Flag. The video of hers is of a protest she organized against the revocation of Article 370, Section 35A by the Indian government in 2019. Previously, the same video had gone viral targeting the Pro-Hijab protestors in February this year. You can read the detailed fact check on this claim in Malayalam by clicking the link given below:
---
Read Fact Check in Malayalam | പാകിസ്ഥാനിലെ പഴയ വീഡിയോ നിലവിലെ ഹിജാബ് വിവാദവുമായി ബന്ധപെടുത്തി സാമുഹ മാധ്യമങ്ങളില്‍ തെറ്റായ പ്രചരണം…
---
Conclusion
From the above fact check, it is clear that the video shared as foreigners protesting against Nupur Sharma by burning the Indian National Flag is an old video from Pakistan. Pakistani YouTuber and activist Sajida Ahmad had organized a rally against India in 2019 where she had burned the Indian National Flag. The video of this rally is being shared as Foreigners burning Indian National Flag to protest against Nupur Sharma's controversial statement on Prophet Muhammad.

Title:Old video of a Protest in Pakistan Shared Falsely as Foreigners Protesting against Nupur Sharma…
Fact Check By: Harish Nair
Result: False