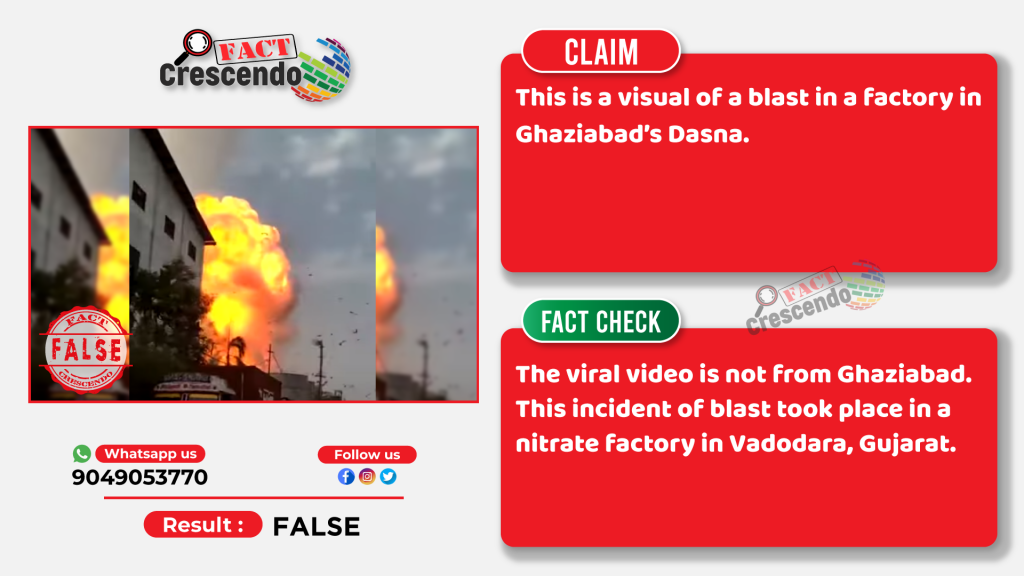 A video of a blast is going viral on social media with a claim that it was from a factory in Dashna, Ghaziabad.
Fact Crescendo found the claim to be false. The video is not from Ghaziabad but from Vadodara.
WHAT'S THE CLAIM?
In the viral video, multiple blasts can be heard and huge clouds of smoke and fumes are visible.
The caption with the video reads, "Blast in Ghaziabad Dasna's factory in which 40 people died."
FACT CHECK
Google Reverse Image Search on the keyframes of this video led us to Republic World's official YouTube channel where the same video was uploaded on 3 June 2022.
In the description, it is written that this incident was from Deepak Nitrate Factory in Gujarat's Vadodara city.
The same video was also tweeted by ANI saying that this incident is from Deepak Nitrate Company in Nandesari GIDC in Vadodara, Gujarat.
The viral clip can be seen from 35 seconds onwards.
Further, another tweet by ANI on 3 June 2022 mentioned that there was no casualty in the incident. Four to five people were shifted to the hospital due to breathing difficulty. Meanwhile, people living in the nearby locality were shifted to a safer place.
Thus, from the above facts, it is clear that the viral video is from Vadodara, Gujarat, and not Ghaziabad.
Was there any incident of blast in Ghaziabad recently?
We contacted Mussoori Police station in Ghaziabad. They clarified that there was no blast that took place in any factory in Dasna or any other place in Ghaziabad.
The recent incident was a fire in a soap factory in Dhaulana 8 to 10 days ago.
Further search led us to a news report by NDTV on 12 June 2022. According to the report, a fire broke out at a soap factory in Bulandshahr, Ghaziabad. There were no casualties in the incident.
CONCLUSION
Fact Crescendo found the claim made along with the video to be false. The viral video is not from Ghaziabad. This incident of blast took place in a nitrate factory in Vadodara, Gujarat.

Title:Video of Blast from Gujarat Falsely Viral as an Incident from Ghaziabad
Fact Check By: Siddharth Sahu
Result: False