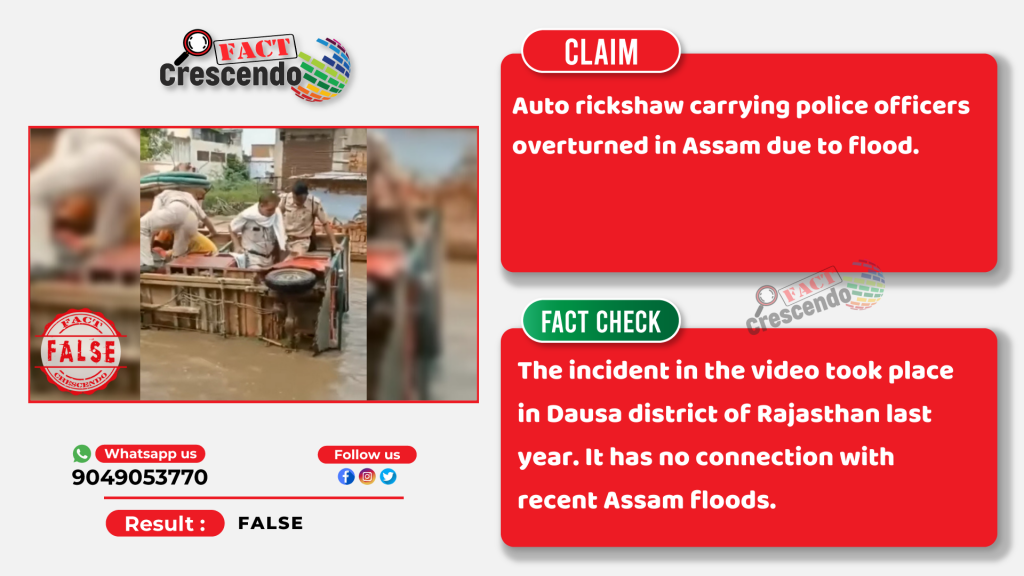 A video of a rickshaw carrying policemen overturning into muddy water is going viral. It has been claimed that the incident was from Assam during the recent flood.
Fact Crescendo received many fact-check requests about this video on our WhatsApp FactLine (9049053770).
We found out that this old video is not from Assam.
WHAT'S THE CLAIM?
The 23-second clip shows a few policemen travelling in an e-rickshaw on a waterlogged road. Suddenly, the rickshaw stumbles upon something underwater and it overturns. The policemen fall into dirty water.
FACT CHECK
A keyword search led us to a report published by Dainik Bhaskar eight months ago. According to it, the incident shown in the viral video took place in Bandikui town of Dausa district in Rajasthan.
The road was flooded due to rains. The e-rickshaw driver could not see the pothole on the road and the vehicle overturned. No one was injured in this accident.
News18 Rajasthan has also shared this video on their YouTube clearly stating that it is from Rajasthan.
The same video went viral in the name of UP. At the time, Fact Crescendo got in touch with Dausa SP Anil Kumar who confirmed that the viral video was indeed from the Dausa district.
"The viral video has nothing to do with UP. It is from Rajasthan. We can say that the viral claims are false," he told us.
After the said video went viral with the wrong claim, the Fact-Checking arm of UP Police put out a clarification tweet about this video.
Conclusion:
Thus, the viral video of police falling into dirty water on the road while travelling in an e-rickshaw is not from Assam. It is from Rajasthan. It has no connection with the recent Assam floods. Fact Crescendo found the claim to be false.

Title:Old Video of Police Rickshaw Overturning Into Water in Rajasthan viral as from Assam
Fact Check By: Siddharth Sahu
Result: False