The viral image does not show "Go Back Modi" written on the railway sign board but originally is the signboard at Kanniyakumari railway station.
Prime Minister Modi is going to visit Hyderabad and Chennai on 26 May to lay the foundation stone of 11-infrastructure projects worth over Rs. 31,500 crore in Tamil Nadu.
In the backdrop of PM's visit to Tamil Nadu, the #GoBackModi is trending on Twitter. Amidst this, an image showing a railway station sign board with a message 'Tamil Nadu Says Go Back Modi We Hate You,' written on it is circulating on social media ahead of Prime Minister Narendra Modi's visit to Chennai on May 26.
The caption of this image states "We Hate You, #GoBackModi"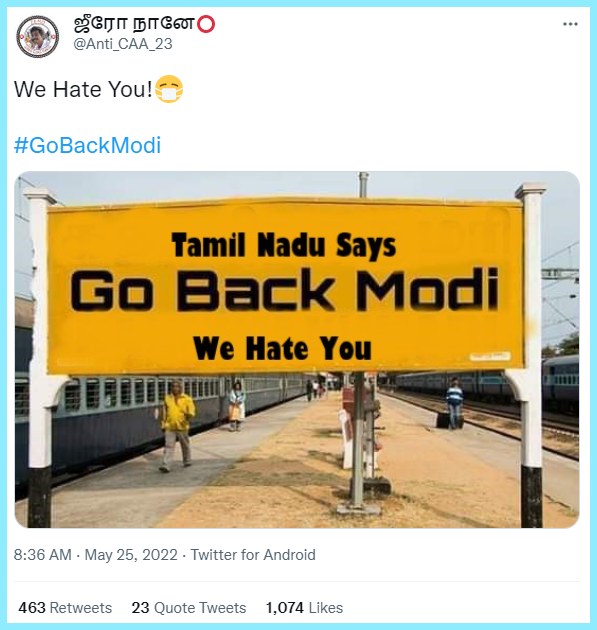 Fact Check-
We started our investigation by running a reverse image search on Google whose results led us to the article of Business Insider published on March 2016.
The article describes the longest train ride of an artist and photographer named Ed Hanley who travelled in Dibrugarh-Kanyakumari Vivek Express covering over 2,600 miles across seven states.
We can see original image in the article, which clearly shows that the railway signboard has "Kanniyakumari" written on it instead of "Go Back Modi." Ed Hanley captured the image.

Below you can see a comparison between the viral image and the original image. The viral image is digitally edited.
Next, we went through Ed Hanley's Instagram account where we have that he had posted the original image in November 2016. Further, we found the video version of the Kanniyakumari railway station on Vimeo with the caption "Dibrugarh-Kanyakumari Vivek Express timelapse." The description of this image states that it was captured on 3 February at 10:50 am in Kanyakumari, Tamil Nadu. The viral image can be seen at the timestamp of 1 minute 45 seconds.
Conclusion-
Fact Crescendo found the claim made along with the image digitally edited. The viral image does not show "Go Back Modi" written on the railway signboard but originally is the railway signboard of Kanniyakumari.
Title:Signboard saying, "Tamil Nadu says Go Back Modi We hate you" is edited.
Fact Check By: Drabanti Ghosh
Result: Altered