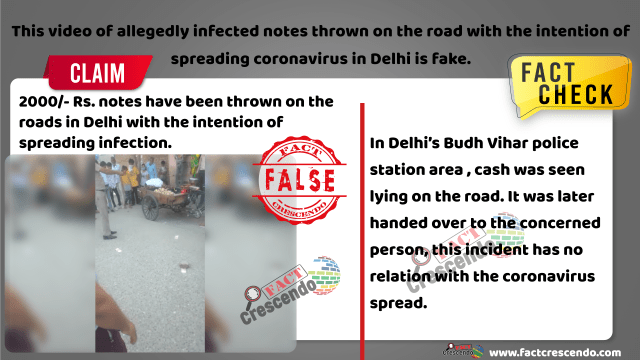 In India, the fear of coronavirus has spread so much that these days people have started to view general incidents in context to the COVID19 situation. In the same context, it is being claimed through a viral video on social media that a few currency notes of a coronavirus-infected person were scattered along the road in ​​Budh Vihar area of Delhi. In this video we can see many 2000 rupee notes scattered on the road.
The title of the post reads that "2000 / – notes have been found lying on the road at Budh Vihar area Delhi. What kind of people are there in India who are spreading corona in their own country through notes."
This video is very much discussed on Facebook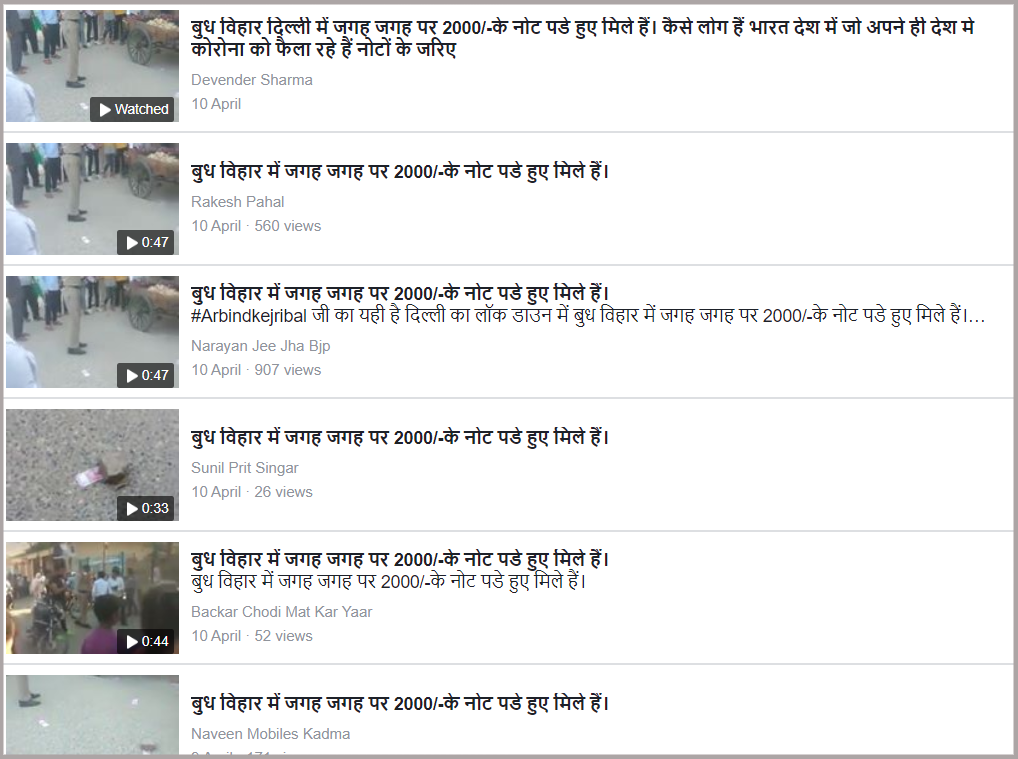 We started the investigation by searching for this video with keywords on Google, the results revealed a report published by Delhi Aaj Tak. The title of this report reads, "Police are monitoring sensitive areas with drone cameras." The report states that people are linking small incidents to epidemics due to the fear of coronavirus.
According to the report, the cash lying on the road belonged to a person who had withdrawn money from an ATM in Budh Vihar, New Delhi. The person accidentally dropped some money on the way. When people saw the cash lying on the road, a rumor surfaced that the notes were intentionally dropped to spread coronavirus.
The local people called the police who placed bricks on the notes and started investigating the case. However, the person who accidentally dropped the money, came back looking for it and clarified that it was his money.
After this we contacted DCP SD Mishra of Rohini, who told us that "this incident has no relation with Coronavirus". In reality, this money was lost by a person who lives in Budh Vihar, he came back later and gave details of the whole case."
We also contacted ACP Vikas Chowkande of Budh Vihar Zone, Rohini, who dismissed the claims made on social media saying that "2000 notes were found on the road to Budh Vihar" which a resident of Budh Vihar , Mrityunjaya Sharma, had dropped and after police access, he himself gave details of the whole incident. We confirmed this by checking the footage of the CCTV camera in front of the ATM. This entire incident has nothing to do with coronavirus. "
An explanation video of this incident is also available by DCP SD Mishra on Facebook.
Conclusion- After checking the facts, we have found the above post to be incorrect. This video has no relation with Coronavirus. The notes that were found in Budh Vihar were not dropped with the intention of spreading coronavirus infection. They were accidentally dropped by a local resident of Budh Vihar while he was returning home after withdrawing cash from the ATM.

Title:This video of allegedly infected notes thrown on the road with the intention of spreading coronavirus in Delhi is fake.
Fact Check By: Aavya Ray
Result: False