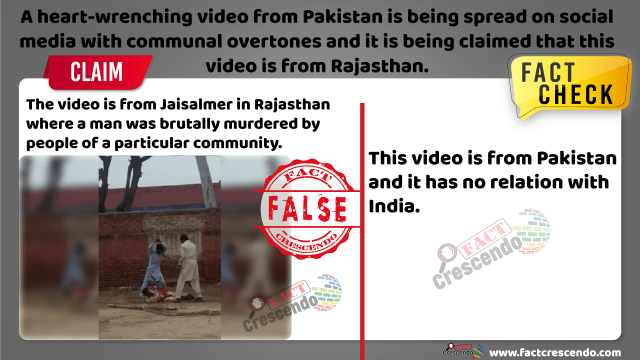 In relation to the corona virus epidemic, a popular video is being shared on social media in which two men are seen attacking a man with an axe. Through this video it is being claimed that the video is of a recent incident in Jaisalmer, Rajasthan, where a man named Revat Singh was brutally murdered with an axe by people belonging to a Muslim group. The pictures from this video and some of its scenes are being shared on social forums with two different claims.
It is being claimed that during the lock-down, the 'jihadi terrorists" in Rajasthan's Pokaran village killed a Hindu brother Rewat Singh because he opposed them for breaching the lockdown. The administration is requested to arrest the culprits immediately. 
"In Rajasthan's Jaisalmer district, the miscreants brutally killed Revant Singh for clapping in support of Prime Minister Modi's campaign in a Muslim dominated area."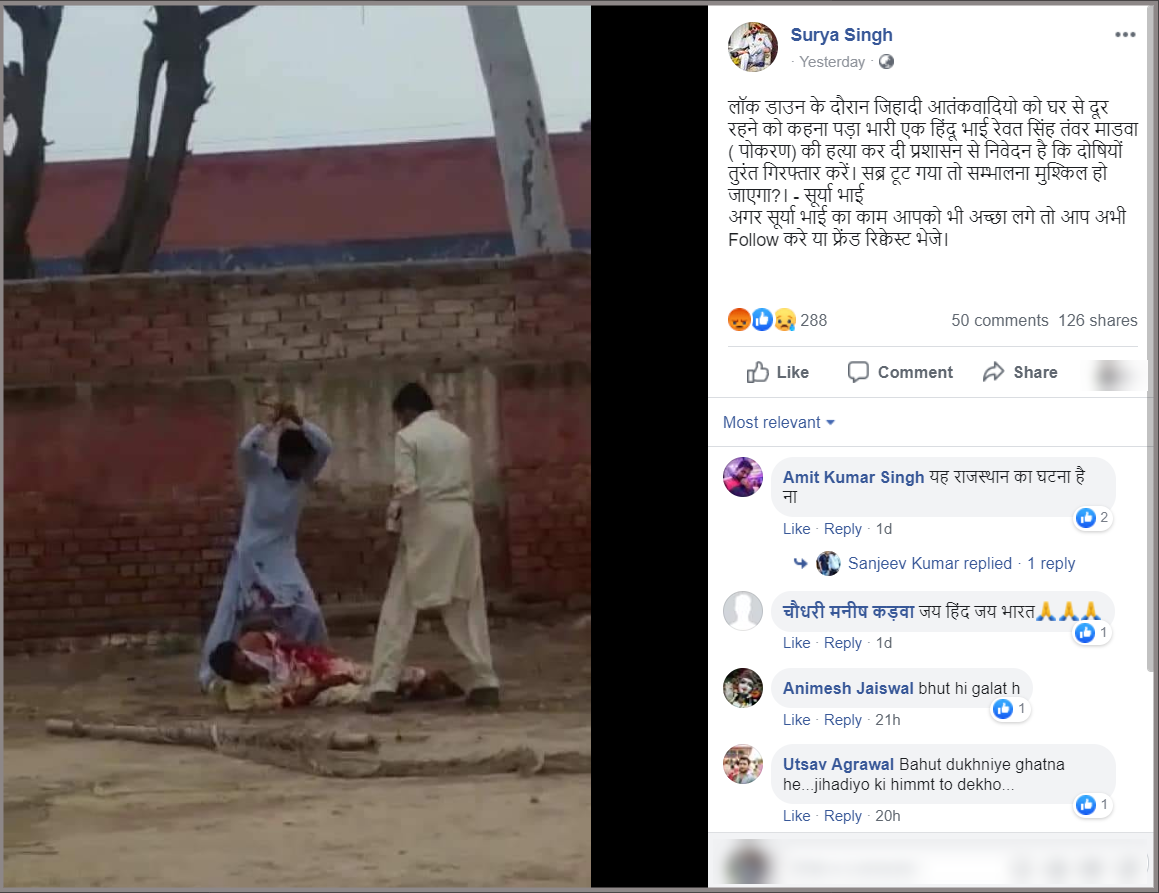 Facebook Post | Archive Link| Facebook Post| Archive Link
We started this investigation by using Google reverse image search with the help of the Invid tool, as a result of which we found a YouTube video uploaded on 24th March 2020. The title of this video reads "Chak 179 GB". It is written in the description of this video that a person named Noman Shahid was attacked in Gojra district of Pakistan.
After this, we tried to get more information about this video through related keywords on Google. As a result of this investigation, we received a news report published by The Nation on March 25th 2020, according to which two people allegedly cut both legs and both hands of a boy of Chak 179-GB Gojara, on Tuesday. The report states that three weeks ago, Noman married Sana due to a mutual consent. After which Sana's cousins Rizwan and Shahid kidnapped Noman and took him to a school playground where they cut off both his legs and both hands. Gojra is located at Toba Tek Singh in Punjab, Pakistan.
According to a report in The Express Tribune dated 31st March 2020, the man was attacked by his in-laws with an axe because he had married against the consent of the family. The person who was seriously injured was identified as Noman Shahid. The woman he married was Sana Bibi. The report states that "the case was filed by the victim's father, Shahid Riaz." The police arrested Rizwan and Shahid and started searching for their accomplices. A police officer said that the third suspect Arsalan is hiding in southern Punjab."
A Pakistani newspaper named The Dawn also published this news on 25 March 2020.
The incident was also covered by the Indian media. According to PTI, The Hindu published a news report that the man was 23 years old and was left without a single limb in the attack. Police officer Waqar Shoaib Qureshi said that Noman was admitted to the intensive care unit of Faisalabad Allied Hospital.
After that we tried to search on Google for any such incident that took place in Jaisalmer recently. As a result, we found a news article published by Dainik Jagran on 10th April 2020, according to which Revat Singh participated in PM Modi's 'Thali Bajao' program on 22nd March, due to which locals were annoyed. According to the report, on April 7th, some people attacked Revat Singh and he succumbed to his injuries a few days later. His nephew lodged an FIR in the name of Shahid Khan, Sadiq Khan and Hamtullah.
FactCrescendo contacted Jaisalmer SP Kiran Kang, who told us that this video is fake. The incident in Jaisalmer has nothing to do with this video. She told us that this incident is from Pakistan and added that on April 4th, Revat Singh's motorcycle was chased by a young man named Dildar, due to which Rewat Singh fell unbalanced from his motorcycle and suffered very serious injuries. Rewat Singh died on April 9th 2020 while undergoing treatment. Dildar has been arrested and he is being questioned.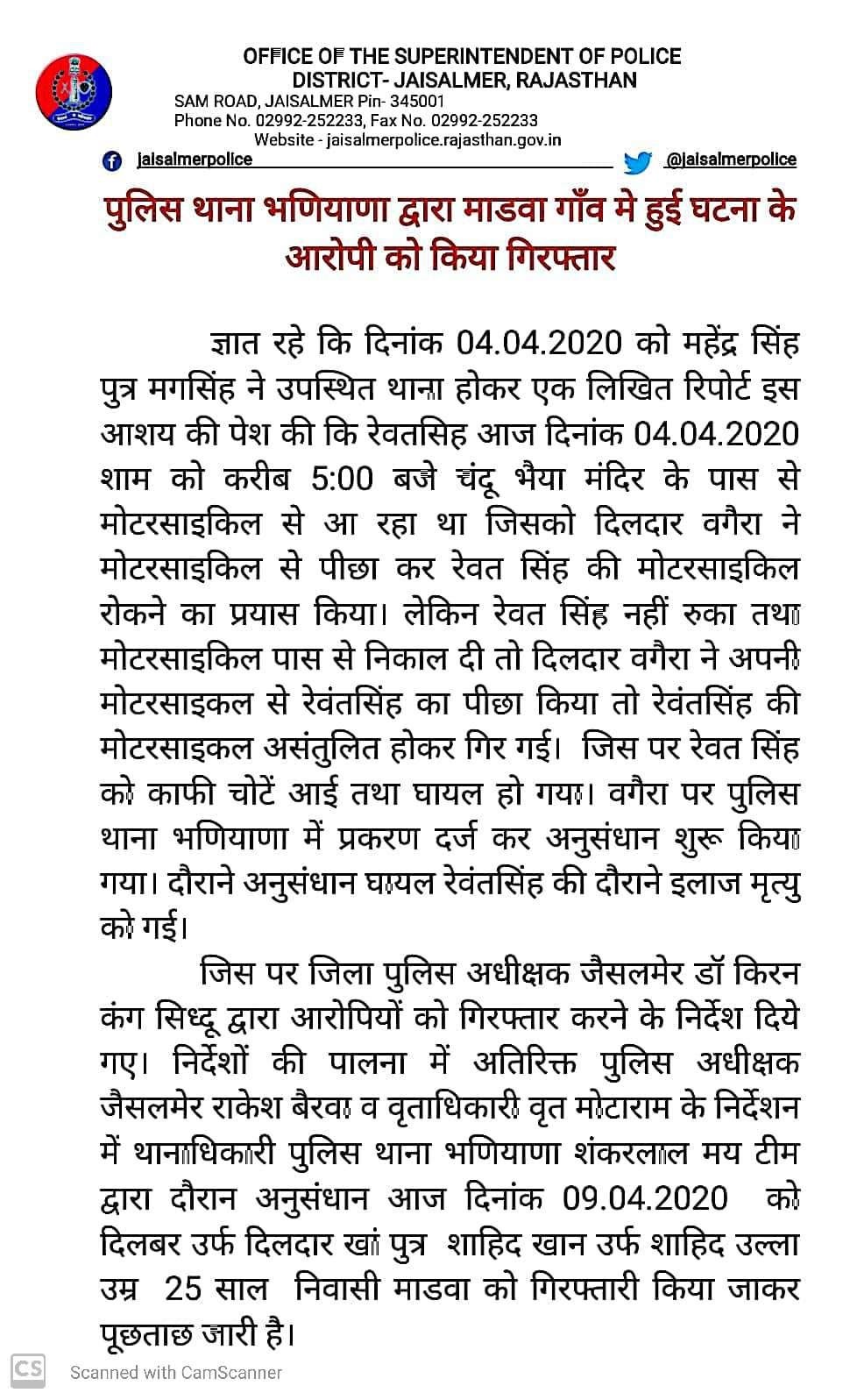 Conclusion: After checking the facts, we have found the above video and the claims made with it baseless. On social media, a video of violence in Pakistan's Punjab is being falsely linked with the killing Revat Singh by a group of Muslim men in Jaisalmer Rajasthan.  The viral video on social media and Rewat Singh's death in Jaisalmer Rajasthan is unrelated. A video from Pakistan is falsely being portrayed as a Hindu man's alleged murder by Muslim men in Rajasthan.

Title:A heart-wrenching video from Pakistan is being spread on social media with communal overtones and it is being claimed that this video is from Rajasthan.
Fact Check By: Aavya Ray
Result: False