The narrative going viral with the video is false. The SPG did not fire at a beggar but a man named Karamjit Singh who tried to attack Rajiv Gandhi. The SPG did not kill him.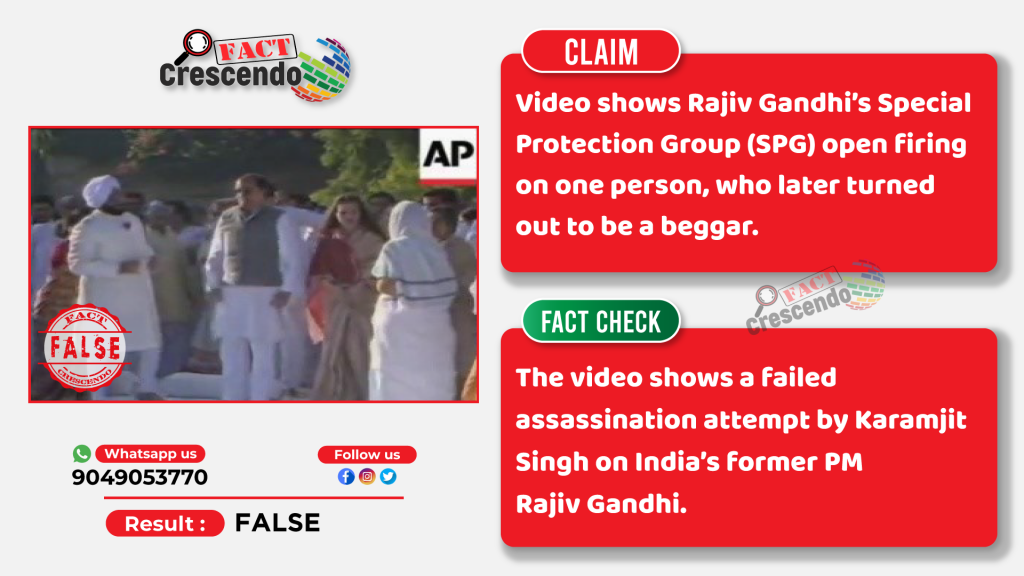 A 2-minute video of India's former Prime Minister late Rajiv Gandhi's regime at Rajghat is widely circulating on social media. We can see Congress President Sonia Gandhi and many other people with him. Users claim that this video was captured when Rajiv Gandhi was the Prime Minister of India during which a person was shot dead by the Special Protection Group (SPG). It was later revealed that the man shot dead was a beggar.
The post going viral reads, "When Rajiv Gandhi was the PM, he had gone to Rajghat for a prayer meet. At that time, the PM's SPG noticed some movement in the bushes, took position, and sprayed bullets on him. Later it is revealed that the person was a beggar who used to sleep at the same Raj Ghat at night and it is said that Rajiv Gandhi was not afraid. No one came forward, no one attacked but killed a poor in the name of security, this security becomes a gimmick for Modiji but security for Rajiv Gandhi and in this Rajiv Gandhi is seen laughing after the assassination."
This video is widely circulating on Facebook.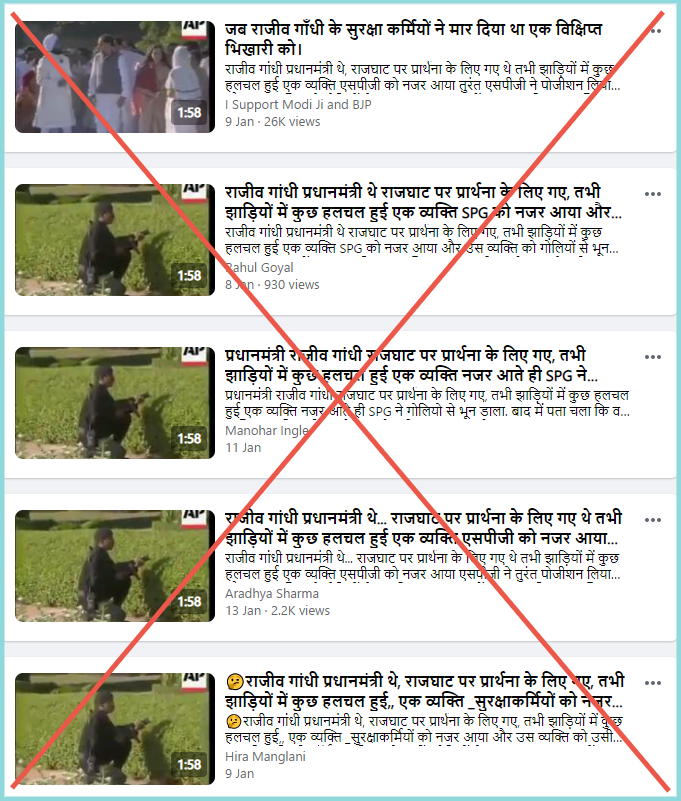 Fact Check-
We started our investigation by running a keyword search on YouTube after we saw the AP logo in the corner of the viral video. Please note that AP is the symbol of Associated Press News Agency. As a result, we found the same video aired on AP Archive channel. The caption and the description of the video mentioned that
An attempt was made to assassinate the then Prime Minister late Rajiv Gandhi on 2nd of October 1986. A man hiding in a gazebo had fired upon Gandhi, but the PM escaped unscathed. This happened when Rajiv Gandhi and his wife, currently Congress President Sonia Gandhi, along with other leaders visited Raj Ghat on the birth anniversary of Mahatma Gandhi. The name of the person who fired at him is Karamjit Singh.
Moving forward we searched for relevant news reports that corroborated the same news. We found a news article published by The Washington Post on October 3, 1986. It mentioned that Rajiv Gandhi and other leaders were leaving from Rajghat, when the sound of gunshots were heard. The report further mentioned that 6 people got injured during this incident. Fortunately, no one suffered any serious injuries.
An India Today article published on 31 October 1986 stated that Karamjit Singh surrendered after this incident.
A Hindustan Times news article published on 30 March 2009 stated that Karamjit Singh is a lawyer by profession and was 25 years old when the incident took place.
During further investigation, we came across Karamjit Singh's interview with him on June 5, 2016 on a verified YouTube channel called Living India News.
Conclusion-
Fact Crescendo found the claim made along with the image to be misleading and false. In this incident, the person trying to kill Rajiv Gandhi was not shot by the SPG, he had surrendered. He was not a beggar; he is a lawyer by profession. The video showed the failed assassination attempt on former PM Rajiv Gandhi by Karamjit Singh.
(If you also have any suspicious messages, posts, photos, videos or news, send them to our WhatsApp Fact line Number (9049053770) for Fact Check. Follow Fact Crescendo on Facebook, Instagram and Twitter to read the latest Fact Check.)

Title:Foiled Assassination attempt on former Prime Minister Rajiv Gandhi falsely shared as Beggar accidentally shot dead by SPG…
Fact Check By: Aavya Ray
Result: False