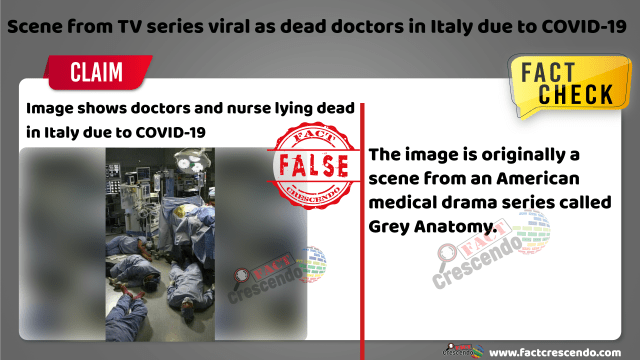 During the Coronavirus pandemic around the world, Italy has been one of the most affected areas in the world. It has recorded almost 20,000 deaths according to the Situation Report published by WHO on 13th April 2020. Doctors and nurses in Italy who are treating the COVID-19 patients have also been infected and have lost their lives to the virus as well. Amidst this, a viral image on social media claims that it shows over 200 doctors and nurses who have died in Italy due to COVID-19. The image shows doctors and nurses in medical uniforms lying on the floor of a hospital.
Fact Check-
We started our investigation by taking a screenshot of the viral image and running a reverse image search on Google. It led us to Getty Images website which mention's that this image is a part of a series named Grey's Anatomy.
The description read "UNITED STATES – DECEMBER 05: GREY'S ANATOMY – "Wishin' and Hopin'" – The race for the Chief's position is on, as the doctors compete for Richard's affections, a surgical patient endangers the lives of those around her, and Meredith's Alzheimer's-stricken mother, Ellis, experiences a change in her medical condition, on "Grey's Anatomy," THURSDAY, FEBRUARY 1 (9:00-10:01 p.m., ET) on the Walt Disney Television via Getty Images Television Network. (Photo by Michael Desmond/Walt Disney Television via Getty Images)"
Embed from Getty Images
This image is also available on a fandom website which says that it is a picture from Wishin' and Hopin' – the 14th episode of the third season of Grey's Anatomy. Grey's Anatomy is a series which is an American medical drama following the personal and professional lives of the staff at Seattle's Grey Sloan Memorial Hospital.

Conclusion– Fact Crescendo found the above-mentioned post to be False. The viral image on social media does not show dead doctors and nurses in Italy who were infected with Coronavirus. The image is originally from an American medical drama series called Grey's Anatomy.

Title:Scene from TV series viral as dead doctors in Italy due to COVID-19
Fact Check By: Aavya Ray
Result: False