The viral video is not from the Kashmir Files, but from another film named 'Mudda 370 J&K' released in 2019, also based on Kashmir.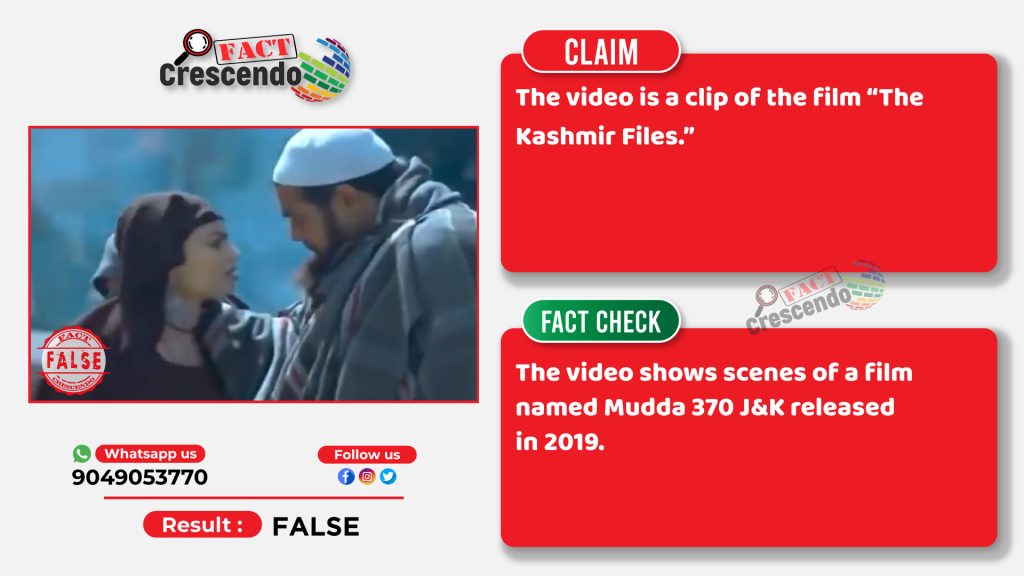 An 11-minute long video is widely circulating on social media with the claim that it shows the scenes from the film The Kashmir Files. Vivek Agnihotri's film The Kashmir Files has been in the controversies for the most part of last month. The film is based on the exodus of the Kashmiri Pandits in 1990s. The film split public opinion as some praised the movie for portraying the plight of the Kashmiri Pandits while others criticized it for pushing political agenda of the BJP. However, despite the controversy, the film enjoyed massive success on the Box Office earning more than 300 crores making it one of the most successful films of 2022.
The caption of a viral Facebook post reads, "Watch the scenes of the film the Kashmir Files for the first time on Facebook."
(Hindi: देखिए पहली बार THE KASHMIR FILES मूवी फेस्बूक पर |)
The Facebook post claims that the video shared is a scene from The Kashmir Files. However, when we checked the video, we found that the claim made in the post is false. Here is the truth…
Fact Check-
We started our investigation by running a keyword search on Google that led us to a YouTube video published on 21 April 2020 with the caption "Mudda Article-370, 35A J&K / Full Hindi Movie / Latest Movie 2020."
The description of the video states that this video is a film named Mudda Article-370 Jammu and Kashmir. The film is based on brewing tension between Hindus and Muslims in Kashmir. The movie touches on the sensitive topic of Article 370. The film is directed by Rakesh Sawant starring Raj Zutshi, Manoj Joshi, Zarina Wahab.
The entire film is available on this channel.
We found a film review by the Times of India that stated that the film Mudda 370 J&K was released on 13 December 2019. As per the review, the film is set against the backdrop of the brewing tension between Hindus and Muslims in the beautiful land of Kashmir, two young souls – a Hindu man Suraj (Hiten Tejwani) and a Muslim woman Aasma (Anjali Pandey) – dare to love despite their socio-cultural dissimilarities. The details about this film is also available on Book my show.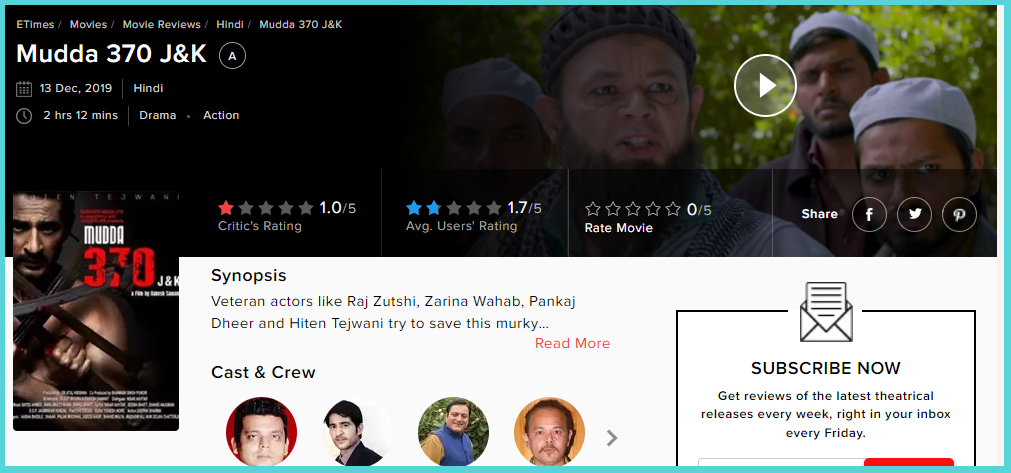 Conclusion-
Fact Crescendo found the claim made along with the viral video on social media to be False. The viral video does not show scenes from the Kashmir Files. The video shows scenes of a film named Mudda 370 J&K released in 2019.

Title:Old Unrelated Movie Clip goes Viral as a scene from The Kashmir Files.
Fact Check By: Drabanti Ghosh
Result: False