The person seen in the viral video is not former I&B minister Prakash Javadekar but current minister of Tourism G. Kishan Reddy.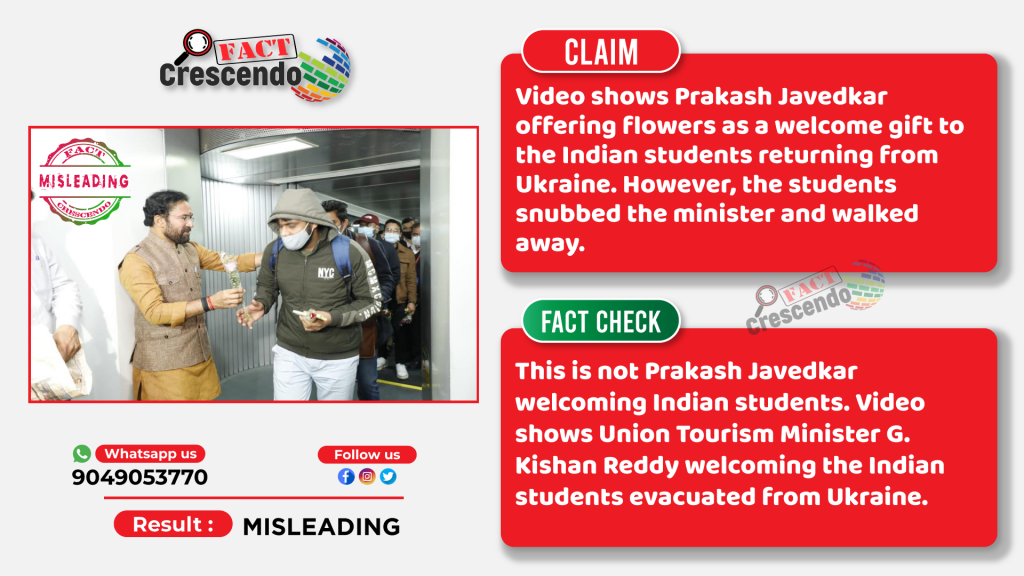 A video showing a man offering roses as a welcome gift to Indian students returning from Ukraine with the Indian flag in their hand is widely circulating on social media. Users claim that the video shows former Information and Broadcasting Minister, Prakash Javedkar offering flowers as a welcome gift to the Indians returning from Ukraine, but the students refused it.
The caption of the post mentioned, "Students return from Ukraine royally ignored Prakash Javedkar."
Fact Check-
We started our investigation by running a keyword search on Google, the results led us to the same video published by TV9 Telegu Live on 2nd March 2022. The caption of the video reads, "Union Minister Kishan Reddy's welcome for Indians evacuated from Ukraine."
According to the video's description, the man welcoming the Indians returning from Ukraine is not Prakash Javedkar. He is Union Minister Kishan Reddy who is currently serving as Minister of Tourism, Culture and Development of North Eastern Region of India. Both Kisan Reddy and Javadekar are BJP leaders.
G. Kishan Reddy posted images showing him greeting and welcoming students on his Twitter account stating that, he received Indian students safely evacuated from Ukraine under Operation Ganga on behalf of our people, PM Modi & Government of India in Delhi.
We can see Kishan Reddy wearing the same outfit as seen in the viral video.
Conclusion-
Fact Crescendo found the claim made along with the viral video on social media to be Misleading. The video is not of former Union Minister and BJP leader Prakash Javedkar welcoming Indian students coming back from Ukraine. The man seen in the video is G. Kishan Reddy who is currently serving as Minister of Tourism, Culture and Development of North Eastern Region of India.

(If you also have any suspicious messages, posts, photos, videos or news, send them to our WhatsApp Fact line Number (9049053770) for Fact Check. Follow Fact Crescendo on Facebook, Instagram and Twitter to read the latest Fact Check.)

Title:Tourism Minister Reddy's video viral as Prakash Javedkar Snubbed by Indian Students at the Airport
Fact Check By: Aavya Ray
Result: Misleading