A blur version of the original video is falsely shared claiming that PM Modi is waving at an empty field in Unnao, Uttar Pradesh.
Prime Minister Modi was addressing a rally in Unnao, Uttar Pradesh on February 20, 2022. After this rally, a video started circulating widely on social media, which shows PM Modi after he deboarded from his helicopter. This video is circulating with a claim that PM Modi is waving at an empty field to show off in front of the camera. SM users are sarcastically saying look at PM Modi waving to a huge crowd.
The caption of the post says, "Who is Modi ji is waving at in Hardoi, it seems that there is a crowd of crores but I am not able to see anything, you guys please help."
This video is widely circulating on Facebook.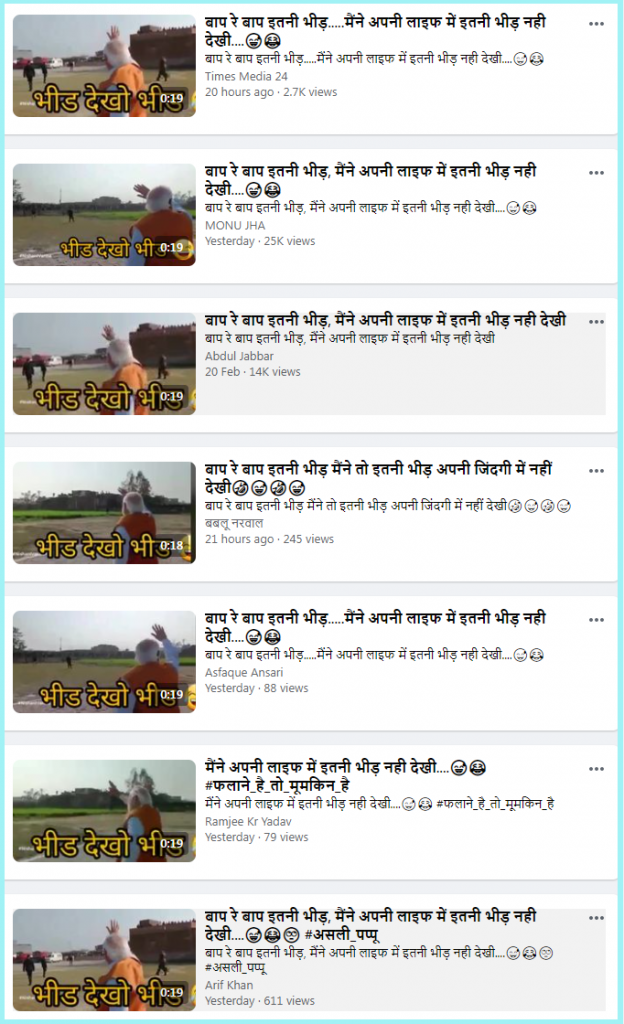 Fact Check-
We started our investigation by running a keywords search on Google to find videos of PM Modi landing in Unnao, Uttar Pradesh. The results led us to a video published by NDTV on February 20 stating "#ElectionsWithNDTV | Prime Minister Narendra Modi arrives for his rally in Unnao"

The viral video is of a very poor quality and somewhat blurry. The video by NDTV is a clearer version where we can see hundreds of people standing near the field where the helicopter landed. This video shows people standing behind the barricades and on their terraces cheering for Modi.
We found the same video posted by ANI on Twitter with the caption "People throng terraces and buildings near the helipad to welcome PM Narendra Modi in Unnao," We clearly see the crowd present in the field. This makes it very clear that a blurry version of the video is spread on social media with misleading claims.
Below you can view screengrabs of the key frames where we can see the crowd standing behind barricades and on terraces.
Conclusion-
Fact Crescendo found the viral video on social media to be False. A blur version of the original video is circulating on social media falsely claiming that PM Modi is waving at an empty field in Unnao, Uttar Pradesh.
(If you also have any suspicious messages, posts, photos, videos or news, send them to our WhatsApp Fact line Number (9049053770) for Fact Check. Follow Fact Crescendo on Facebook, Instagram and Twitter to read the latest Fact Check.)

Title:Viral Video: Did PM Modi wave at an empty field in Unnao as no one turned up for his rally ?
Fact Check By: Aavya Ray
Result: False