Even though Karnataka High Court is yet to give a verdict on ongoing Hijab row, social media users are claiming that three judge's panel permitted Muslim students to wear hijab in educational institutions.
WHAT'S THE CLAIM?
Facebook user shared a post claiming that, "A historical decision was taken by Karnataka High Court. Now Muslim girls can wear Hijab and educational attend institutions"
FACT CHECK
The hearing of this case first started with a single Judge bench of Justice Dixit. Later he stated that in this case the concerns were raised on behalf of Muslim girls from a Pre-University College in Udupi involved issues that must be addressed by a larger bench. After this, a three Judges bench was formed for the hearing of the case led by Chief Justice Ritu Raj Awasthi.
We ran various keywords in YouTube. We found complete court proceeding uploaded in High Court of Karnataka Official channel. 10th February court session ended with Honorable Judges passing order, "Let the institutions start but till the matter is pending before the court the students and all the stakeholders shall not insist for wearing any religious garments. We are restraining everyone from using these because first we want peace and tranquility in the state. The matter is now with the court. We can continue the hearing on day to day basis also and we are ready to decide the issue at the earliest. But the thing is peace and tranquility must be restored to the state. Till the disposal of the matters you people should not insist for wearing all these religious things which are not conducive." The court's order can be heard towards the end of the video.
After this we searched for Karnataka's High Court's interim order of hearing on 10th February. In this restrained order High Court restrained all the students from wearing saffron shawls, scarf, hijab and religious flag within the classroom until further orders.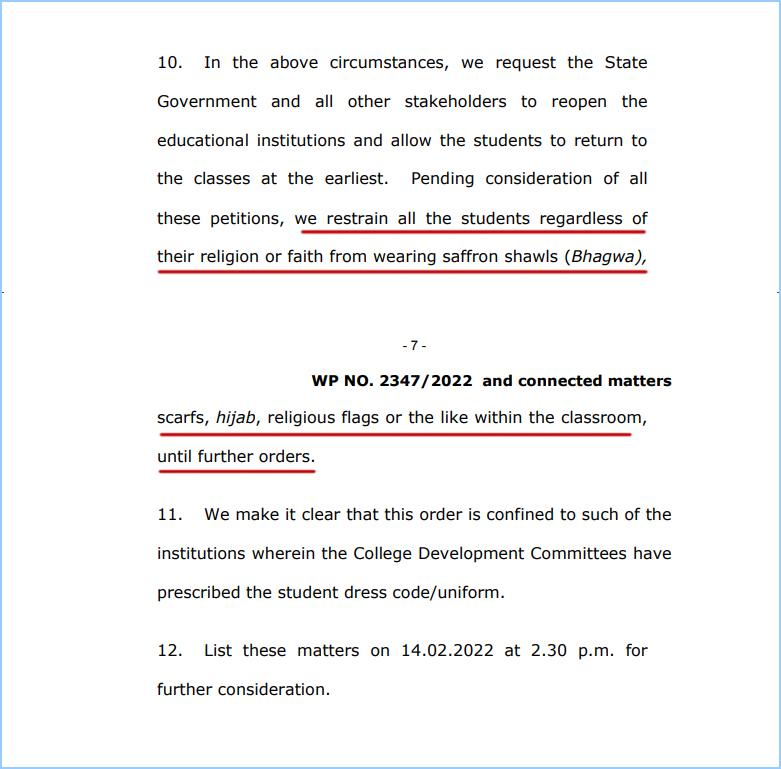 After this, Court held two more proceedings on Hijab Row case on date 14th February and 21st February. During the proceeding on 14th February session, Sr. Advocate Devdatt Kamat kept his point on Government Order (GO) in Hijab Row case considering Article 25. He also stated that according to Education Act 1983, all government schools of the state have to abide with official uniform whereas private schools should mandate a uniform decided by their board of management. But there was no verdict announced by the Honorable Judges. Below are the links where details court proceedings can be seen.
On 21st February hearing, the preamble of Karnataka Education was discussed which states that "we propose to foster a secular outlook among all students." Advocate puts forward his argument saying that the element of introducing religious aspect should not be there. It was also stated during the hearing that state government is not interfering and the whole matter was left to the institution to decide whether they will permit Hijab or not. Advocate stated that, firstly petitioner did not submit sufficient material for their case and secondly they said wearing Hijab is a part of Fundamental Right in context of essential religious practice. Advocate requested the court to take into notice how wearing Hijab is a necessary practice
We reached out to Advocate Ganesh from Karnataka High Court. He mentioned, "The case is still going on in High Court. For time being court has asked institutions to open but no students will be allowed to wear any religious cloths. But this I am sure that court has not permitted to wear Hijab to colleges or schools."
CONCLUSION:
Fact Crescendo found the viral claim to be false. The hearing of Hijab row case is still in court and no final verdict has been given. In the meantime, High Court put a temporary ban on wearing religious cloths to institutions.

Title:Karnataka High Court Did Not Give Permission to Wear Hijab in Colleges Yet
Fact Check By: Siddharth Sahu
Result: False