A video clip of a man clashing with police is going viral on social media. Users are claiming that BJP MLA Yogesh Sagar arguing with police to remove barricades to open the road that was closed for Namaz in Kandivali, Mumbai.
In the video, the man in whites, said to be Yogesh Sagar, can be seen removing barricades and police asking him not to hinder the law and order.
Readers of Fact Crescendo forwarded this video to our WhatsApp FactLine (9049053770) and requested to do a fact-check on it.
We found that the viral claims are false.
WHAT'S THE CLAIM?
Users shared the viral clip with a caption – Today MLA Yogesh Sagar Ji at Kandivali protested against shivsena for closing road for namaz. All traffic including bus diverted or stopped.
Same video is viral on Facebook as well with similar claims: शिवसेना ने नमाज़ के लिए मैन रोड को बंद करवाकर पूरा ट्राफिक रुकवा दिया, यह सब मुंबई के कांदिवली में हुआ जो हिन्दुओं की कॉलोनी है। भाजपा के विधायक योगेश सागर ने जोरदार विरोध प्रदर्शन करके रोड खुलवाया।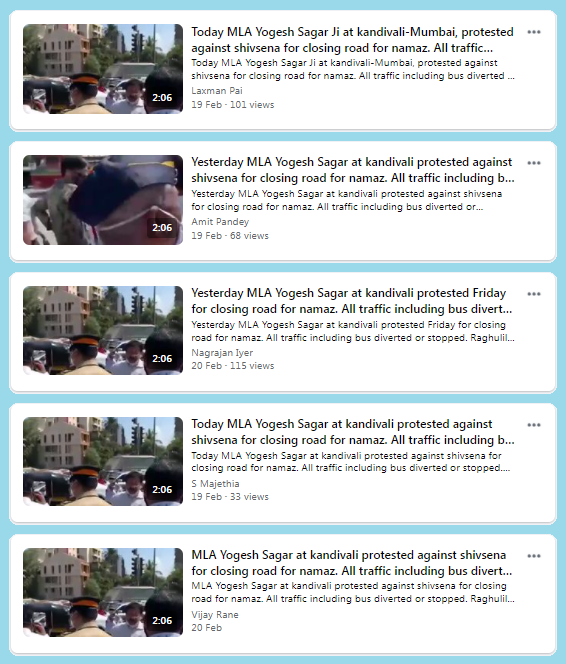 Original Post – Facebook
FACT CHECK
Using keyword search, we found a news report by TV-9 Marathi on 16 February 2022.
According to the report, the clip is from Mumbai where the state unit of Congress was to protest outside the house of BJP MP Gopal Shetty. As a precaution, Mumbai police had blocked the street with barricades. BJP MLA Yogesh Sagar opposed the decision of blocking the road claiming it was causing a disturbance in the commute of the common people.
Zee 24 Tass and ABP Majha also reported on this incident. No news report has mentioned that the roads were blocked for Namaz.
The same viral clip was shared on the official BJP Mumbai Twitter account on 16 February 2022.
The tweet reads: "To protest in front of North Mumbai MP Gopal Shetty's house, Congress party workers obstructed daily life of Mumbaikars with the help of police. MLA Yogesh Sagar of Charpok (Mumbai) raised his voice against this misuse of power." (Translated from Marathi)
As you can see, there was no mention of any 'road blocking for Namaz' in the Tweet as well.
Fact Crescendo contacted BJP Yogesh MLA. He denied the viral claim with his video.
"I was arguing for opening the road that was blocked by police because Congress workers wanted to protest outside the house of MP Gopal Shetty. I went to the police and tried to reason with them that road-blocking was causing inconvenience to common citizens. So, they should remove the barricades and allow people to commute. Now people are sharing this clip with a false communal narrative. The road was not blocked for Namaz or any other religious purpose," Sagar clarified.
Senior Police Inspector Dinkar Jadhav at Kandivali Police Station also debunked the communal claim made along with this video.
"The road was not blocked for Namaz. We were there only to maintain the law and order on the backdrop of political protests," he told us.
Original Post – Facebook
Earlier this month, PM Modi caused a storm by blaming the Maharashtra government for spreading Covid-19 in the nation. He said that Congress was standing at Mumbai station and scaring innocent labourers into fleeing to their native states.
To protest against PM Modi's comment, the state unit of the Congress had organized Morcha outside the houses of various BJP leaders in Mumbai. The protest outside Gopal Shetty's residence on 16 February was also part of it.
CONCLUSION
The video of BJP MLA Yogesh Sagar having a dispute with police is going viral a false communal spin. Sagar was not protesting against Shiv Sena for closing the road to allow Namaz. The road was closed due to protests outside the house of BJP MP in Mumbai.
If you come across any suspicious content on social media, forward it to our WhatsApp FactLine (9049053770) for a fact-check.

Title:No, BJP MLA Yogesh Sagar Did Not Open Road Closed For Namaz in Kandivali
Fact Check By: Mayur Deokar
Result: False