An image of a bicycle swallowed up by a tree has been doing the rounds on Social Media with the claim that it belonged to a young soldier who fought in World War I. The claim states:
"A good WhatsApp Forward:
A boy left his bike chained to a tree when he went away to war in 1914. He never returned, leaving the tree no choice but to grow around the bike. Incredible that this bike has been there for more than 100 years now! A wonderful children's story book has been written about this, called Red Ryder."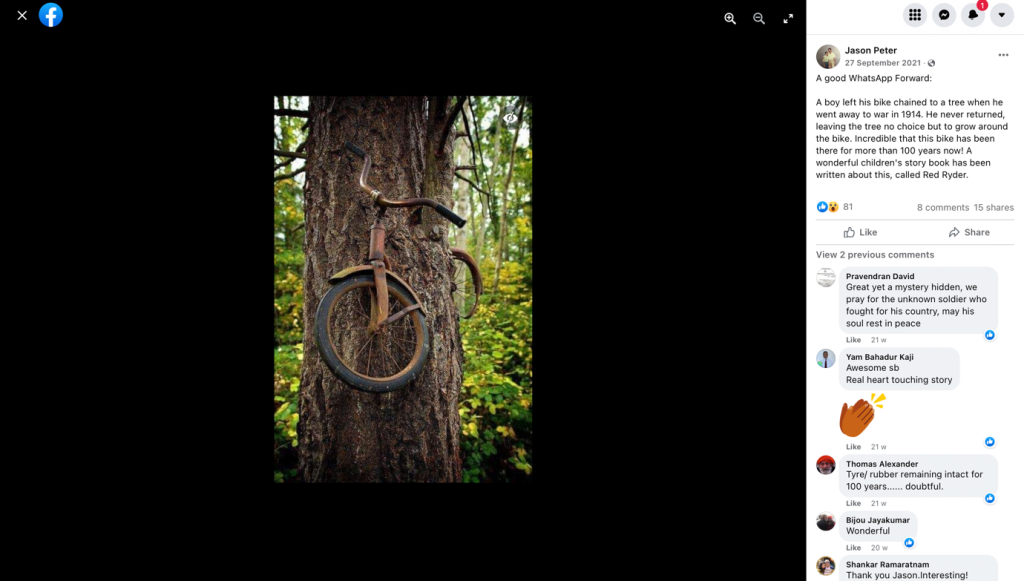 Fact Crescendo found that the claim is False. The bicycle is not nearly that old, nor did it belong to a young man setting off to take part in World War I. Here are the details:
FACT CHECK METHODOLOGY
At first we ran a keyword search on Google which showed us this article on the bicycle which, apparently, is a tourist attraction at Vashon, USA.
A news report was published on the Seattle Times in August 2014 with the headline "Vashon tries to get a handle on famed bike's vandals." The article states that it actually belonged to a retired King County deputy sheriff, Don Puz, who now lives in Kennewick who grew up on the island and lived there until 1992. Puz, said he forgot the bike in that swampy acreage, sometime in the mid 1950s and never bothered to get it back. You can read more about it here: Seattle Times link
We also came across a few YouTube videos on the Famed Bike in a Tree at Vashon Islands. Here is one such video. The bicycle can be spotted at about 1.10 minutes into the video.
We also came across a Fact Check by Snopes on the same content, published in December, 2012. Here's the link to the Fact Check: Snopes Link
CONCLUSION
Our Fact Check reveals that the bicycle in a tree was actually left behind by a local child in the Mid-1950s and not by a young soldier who went off to war in 1914. The claim is False.

Title:Bike in a Tree was not left behind by a World War I soldier
Fact Check By: Manjori Borkotoky
Result: False