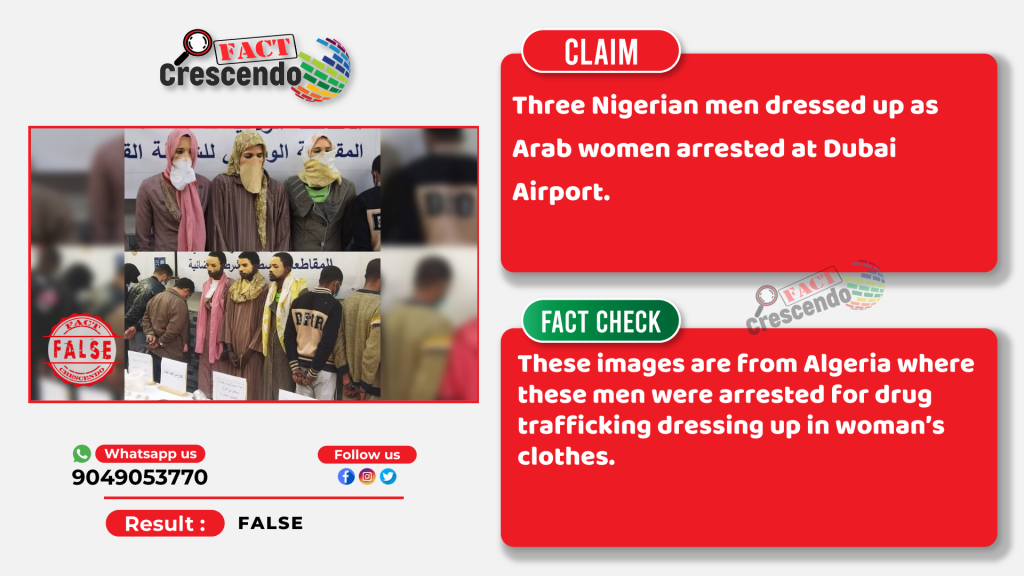 Many leading news websites and Twitter users shared images of men disguised as women in traditional Arab attire along with a claim the three Nigerian men were arrested at Dubai airport.
News18 Hindi published the images of these men in their news report on 18 February. According to the report, immigration officials at Dubai airport caught three Nigerian men dressed up in Arab attire when they tried to enter United Arab Emirates (UAE) pretending to be women.
Daily Star website also published the same news report and used the same pictures of men disguised as Arab women. These men were said to be asylum-seekers from Nigeria. (Archive)
Websites like Kaya 959, UPSC Guru, Naija News, and In Bais also published similar reports and images.
A Twitter account with 1.66 lakh followers, Befitting Facts, also tweeted these images and wrote: "3 Nigerian men dressed as Arab women arrested at Dubai Airport."
FACT CHECK
A careful reading of all these news reports led us to suspect its authenticity. Firstly, News18 Hindi credited the images to a Twitter account – My Uncle's Meme Stash (@myunclesmemes).
As the name suggests, it's a meme page. In its Twitter account bio, 'I post the best memes daily' is clearly mentioned.
Daily Star and Kaya 959 also mentioned that they picked up the news of Nigerian men dressed up as Arab women from a TikTok video.
So, not very credible information is given in all these news reports.
To determine the authenticity of these images, we performed reverse image searches. It led us to a YouTube video of El Bilad TV which reported that a network of local and foreign nationals of drug and human traffickers was busted by Algerian police recently.
The arrested men used to dress up as women to evade the law officials while smuggling drugs and other illegal substances.
(YouTube)
You can see the same make-up smeared men in women's clothing in the above video.
Taking the clue from it, we looked out for more information. TSA-Algerie website reported that 1.5 kg of hard drugs including 780 grams of heroin, 670 grams of cocaine, and 80 grams of Cannabis were seized from the gang by the Anti-Narcotics and Psychiatric Effects Squad in Algeria on 3 February.
The network was made up of 14 people, including 4 Algerians and the 10 others of foreign nationality, aged between 20 and 24.
We also found an official Facebook post by Algerian Police. In this Facebook post, you can see all the viral images.
Original Post – Facebook
CONCLUSION
Images of men arrested for drug trafficking in Algeria are falsely claimed to be from Dubai. News websites misreported these images and published false articles based upon memes and TikTok videos that Nigerian men dressed up as Arab women arrested at Dubai Airport.

Title:No, These Are Not Nigerian Men Dressed As Arab Women Arrested In Dubai
Fact Check By: Mayur Deokar
Result: False