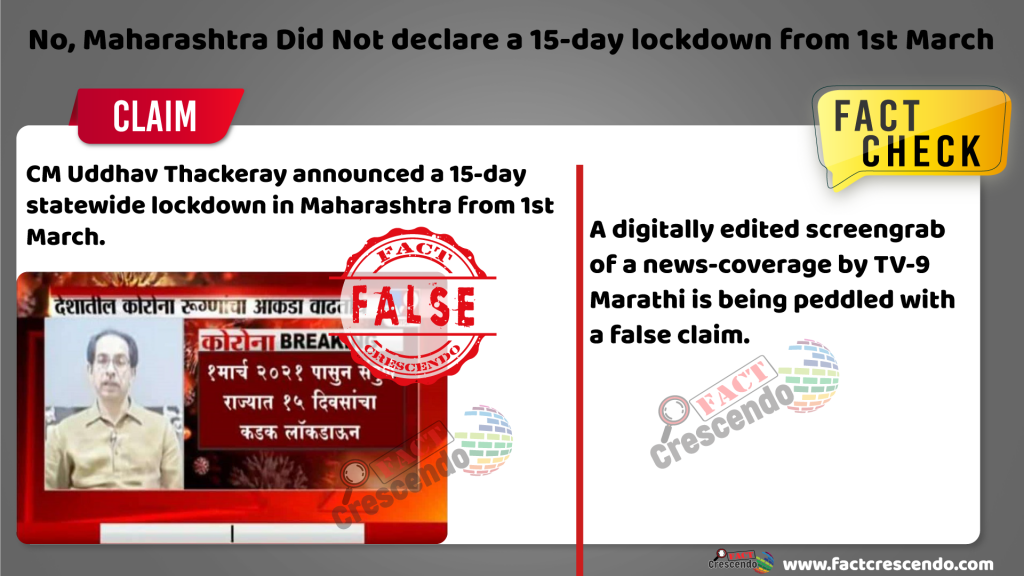 A screengrab of a Marathi news channel is going viral with a claim that the Maharashtra government declared a 15-day lockdown in the state starting from 1st March. It is being circulated after CM Uddhav Thackeray did an online address on Sunday in which he warned about the rapid growth of coronavirus cases in the state.
Fact Crescendo received many requests about this claim on our WhatsApp Factline (9049053770).
We found out that the viral screengrab is digitally manipulated with the wrong claim.
WHAT'S THE CLAIM?
A screengrab of news by the TV-9 Marathi channel is being shared as CM Uddhav Thackeray announcing a 15-day lockdown in Maharashtra from 1st March.
The Marathi text in it reads – "15-day statewide lockdown from 1st March 2021"
FACT CHECK
First, we checked the news from which this screengrab was taken. With the help of Google advanced search, we found that it was of a news broadcast from last year.
CM Uddhav Thackeray had addressed the state on 8th April 2020. You can see the original news on TV-9 Marathi's official YouTube channel.
By comparing the viral screengrab with the original video, we can clearly see the differences and manipulations.
The font is different and a video from April 2020 cannot possibly have the news about the so-called lockdown of March 2021.
In fact, TV-9 Marathi has changed the style and format of their broadcast this year. You can see that in the screengrab taken from the news of Uddhav Thackeray's recent online address.
After the screengrab went viral on social media, TV-9 Marathi clarified that the screengrab of their news is wrongfully edited and they have not aired such news. They urge the people not to fall prey to such fake news. 
Fact Crescendo even got in touch with the Directorate General of Information and Public Relations' Pune office. They confirmed to us that the viral message claiming lockdown from 1st March is false. The state government or CM did not make any such announcement.
What did CM say then?
On Sunday, Uddhav Thackeray did an online address via Facebook Live. He warned that lockdown would have to be reimposed if daily Covid cases continue to rise in the next eight days.
In his address he did not announce a 15-day lockdown from 1st March.
What's happening in Amravati?
Amravati, a district-city in the Vidharbha region of Maharashtra, has been placed under a strict 1-week lockdown on Sunday. The city reported more than a thousand cases of COVID-19 last weekend. Taking note of the severity of the situation, the guardian minister Yashomati Thakur announced a lockdown in the city.
CONCLUSION
A digitally edited screengrab of a news-coverage by TV-9 Marathi is peddled with a false claim. Maharashtra government has not announced a 15-day lockdown in the state from 1st March. 

Title:No, Maharashtra Did Not declare a 15-day lockdown from 1st March
Fact Check By: Mayur Deokar
Result: False