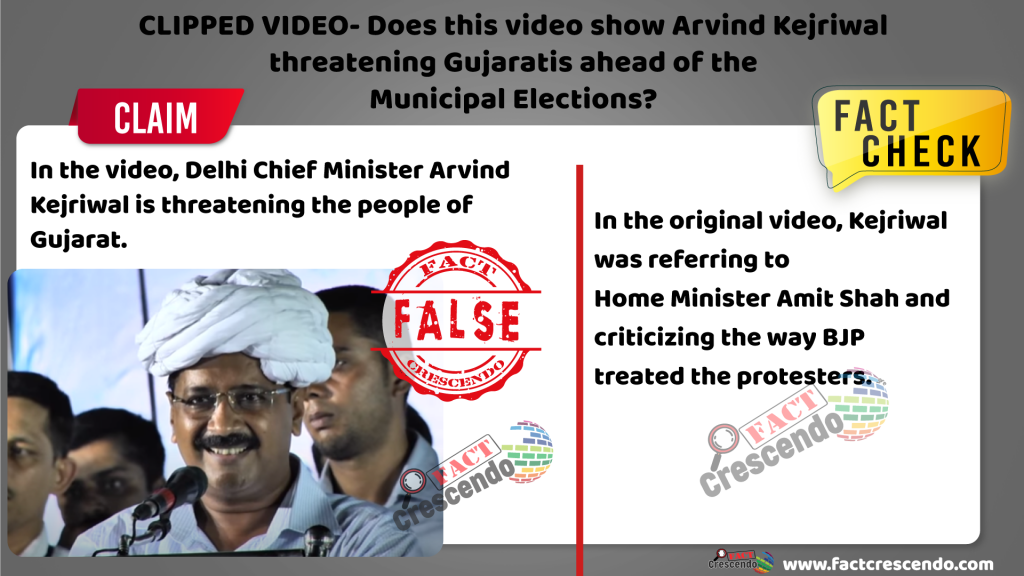 The counting of votes for the municipal elections in Ahmedabad, Rajkot, Surat, Vadodara, Bhavnagar and Jamnagar will be held on 23rd February, 2021. Amidst this, a 14-second clip is circulating on social media aiming to claim that Delhi Chief Minister Arvind Kejriwal is threatening the people of Gujarat. The video aims to show Kejriwal's hate for the state. In the viral clip, Delhi Chief Minister Arvind Kejriwal can be heard saying, "If you protest against me, I will crush you, and people of Gujarat do whatever you want to do to stop me."
The title of the post reads, "Why Kejriwal hates Gujarat so much?"
The 14-second clip has been shared by Harsh Sanghavi, a member of the Bharatiya Janata Party (BJP) and the MLA of Majura (Surat), stating "Why does Kejriwal hate Gujarat?"
The video is going viral on Facebook as seen below.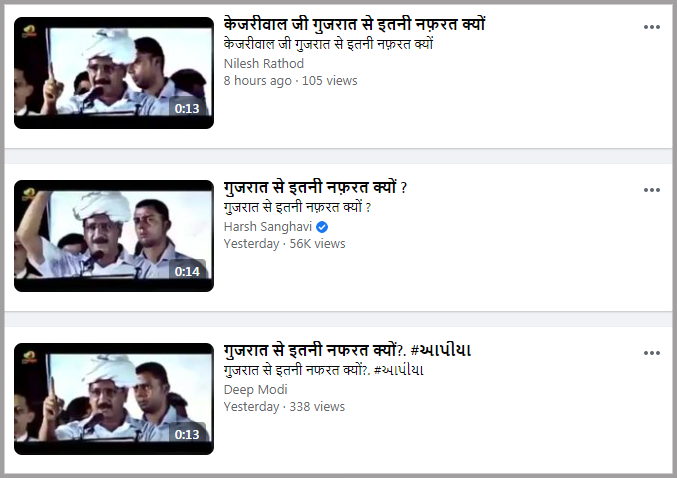 Fact Check-
We started the investigation by breaking this video into small key frames with the help of Invide We Verify tool and by searching on Google reverse image for the same.The results of the search revealed a longer version of this clipped video available on the official YouTube account of Aam Aadmi Party. This video has been uploaded on 14 October 2016. The title of this video reads, "Arvind Kejriwal addressed people in Surat."
In the original video, Kejriwal is talking about the BJP government's rule in the state and its management of the 2015, Patidar agitation for reservation, which saw excessive police action leading to the death of several protesters.
We found that in the original video, Kejriwal was referring to Home Minister Amit Shah and criticizing the way BJP treated the protesters.
In the original video from 14:38 to 15:05 timestamp, we can hear Kejriwal saying that
"What Amit Shah says is what Vijay Rupani does. So Amit Shah has warned the entire state of Gujarat, he has challenged every citizen of Gujarat that he will run Gujarat like this and he is saying that If you protest against me, then I will crush you,people of Gujarat do whatever you want to do to stop me."
Below you can see the comparison video of the clipped video and the original video, which makes it clear that the viral video clip is being falsely shared to create an illusion that Arvind Kejriwal is threatening the people of Gujarat. But, in the original video, he is criticizing Home Minister Amit Shah.
The Gujarat official Twitter account of the Aam Aadmi Party has uploaded a clarification video as well. Sharing a comparison of the clipped video and the original video in this tweet, it has been written that "See @ BJP4Gujarat low level work of Surat MLA @sanghaviharsh ji – by sharing such fake videos seeing the growing popularity of Aam Aadmi Party in Gujarat he is trying to mislead people. "
Conclusion: Fact Crescendo found that the viral video has been clipped and is being falsely shared out of context. An old video by Delhi Chief Minister Arvind Kejriwal, where he was referring to Home Minister Amit Shah and criticising him for the way the party treats protesters is being falsely shared as Kejriwal threatening Gujaratis.

Title:Does this video show Arvind Kejriwal threatening Gujaratis ahead of the Municipal Elections?
Fact Check By: Aavya Ray
Result: False