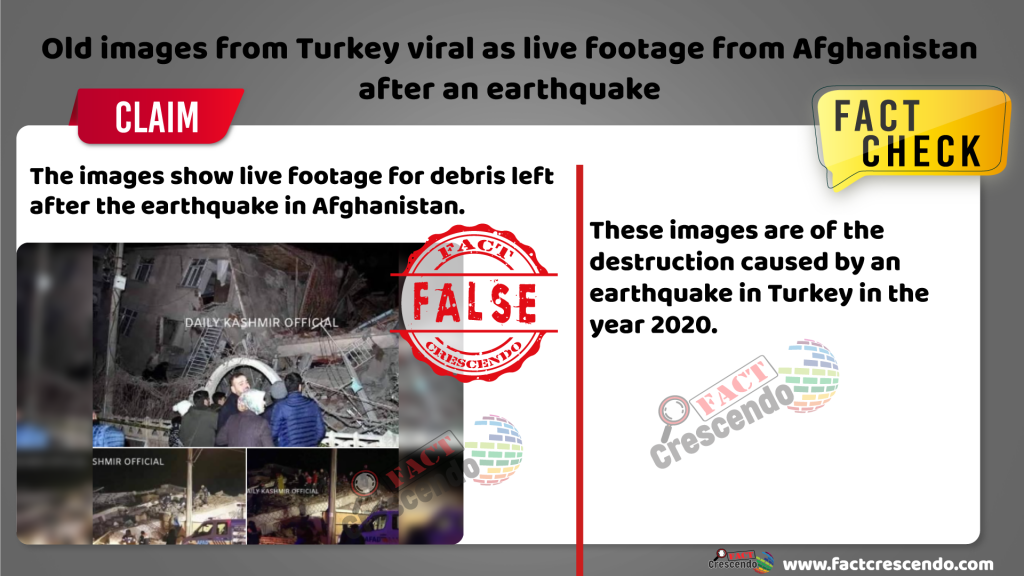 A day after an earthquake of 4.9 magnitude on the Richter scale occurred in the Hindu Kush region of Afghanistan on Thursday, 11th February 2021. A massive earthquake hit Afghanistan once again on Friday, 12th February 2021. A 7.5 magnitude earthquake was felt in Afghanistan. Amidst this, few images have been circulating on social media claiming to show live footage of debris left after the earthquake in Afghanistan. The images show the destruction of homes and roads.
The caption of the post mentions "#Shocking Live pictures from Afghanistan."
Fact Check-
We started our investigation by running a Google reverse image on every image which led us to the images from Turkey dating back to the year 2020.
Image 1-
We found the first image on the news website of Voanews published on 24th January 2020. The caption of the image mentions, "People stand outside a collapsed building after an earthquake in Elazig, Turkey, Jan. 24, 2020." The article further mentions about a strong earthquake that hit Istanbul. It mentions that "Sivrice" was the epicenter of the earthquake. The same image is also available on BBC's news website on 25th January 2020.
Image 2 and 3-
We found the next 2 images on news reports published on 25th January 2020.According to the caption of the second image stated that it shows "Rescue workers search on a collapsed building after a 6.8 earthquake struck Sivrice town in Elazig in eastern Turkey (Photo| AP)".
The News Indian Express | Archive Link
The third image was taken as a screengrab of a video which shows rescuers removing debris after an earthquake in an effort to rescue the people stuck under the buildings. According to the report published by Global.ca the video states the following "Rescuers race against time to find survivors in Turkey's earthquake – Jan 24, 2020"
Conclusion- FactCrescendo found that the live footage images shared with above post are False. The images circulating on social media are not live images of Afghanistan after the recent earthquake. They are images of the destruction caused by an earthquake in Turkey in 2020.

Title:Old images from Turkey viral as live footage from Afghanistan after an earthquake
Fact Check By: Aavya Ray
Result: False