A screengrab of AajTak's news is circulating on social media claiming that they have declared the state assembly's election date in Assam. The image claims that Assam state assembly election dates have been declared on 4th and 11th April 2021.It also mentions the election dates for the state assembly of West Bengal, Tamil Nadu, Kerala and Pondicherry.
Fact Crescendo found that the Election Commission has not yet declared the dates for Assam's state assembly election.
The caption of the post mentions "Assam election date declared."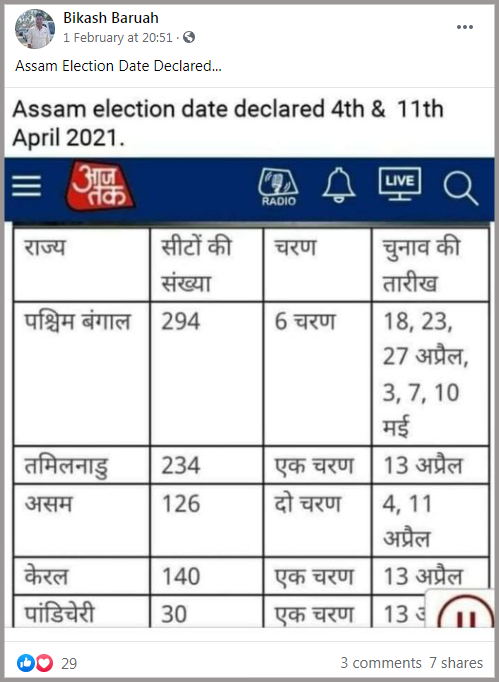 Facebook Post | Archive Link | Facebook Post | Archive Link
Fact Check-
We started our investigation by running a keyword search on Google to find news reports related to the announcement of dates of the assembly elections to be held in Assam and other states. We could not find any relevant results for the same.
We came across an article published by the Times of India on 2nd March 2011 ,which stated that Assam goes to the polls on April 4th and 11th and that the state was under the model of conduct with immediate effect. This confirms that the published dates are old.
Archive Link
Next, we searched on the Election Commission's website for any press release, press conference or announcement for the same. We could not find any results that would verify the veracity of the viral claim.
Fact Crescendo contacted the spoke person of the Election Commission of India, Sheyphali Sharan who confirmed that the viral news is Fake. She said, "No announcement regarding the state assembly election has been made yet."
We also came across a clarification issued by PIB Fact Check on 12th February 2021 which stated that "This claim is #Fake. No such announcement has been made by the Election Commission."                                                                                           
Conclusion– Fact Crescendo found that the viral post on social media is False. The Election Commission has not announced the state assembly election dates for Assam. The viral dates are old.

Title:Assam State Assembly election dates have NOT been declared as yet
Fact Check By: Aavya Ray
Result: False