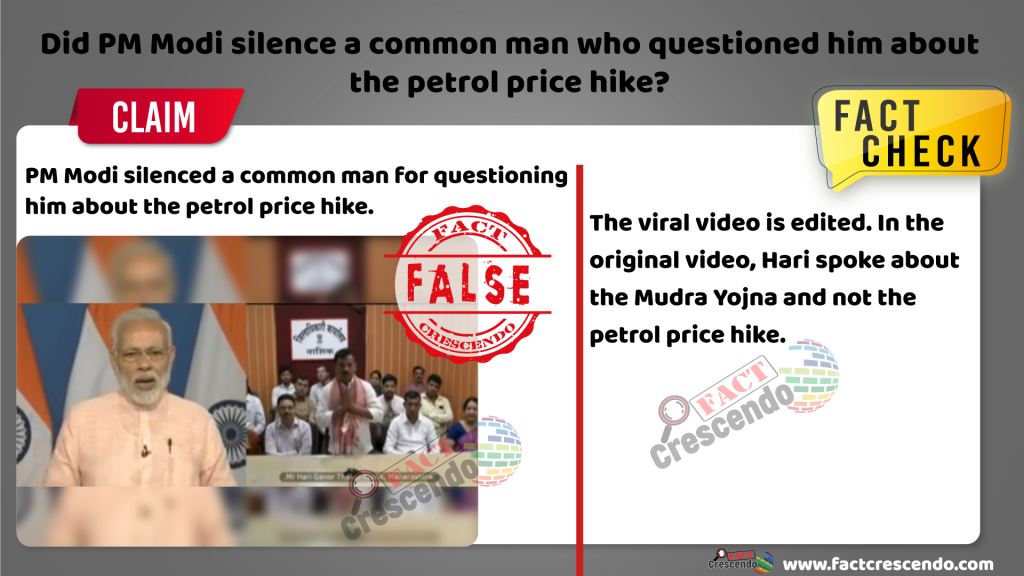 A clip of PM Narendra Modi interacting with common people via video conferencing is going viral on social media. It shows PM Modi apparently silencing a common man when he confronted him with rising fuel prices.
Some shared as a joke while many believed as true.
Fact Crescendo received many requests about this video on our WhatsApp Factline (9049053770). Our findings shows that the video has been edited and is being shared with the wrong claim.
WHAT'S THE CLAIM?
A 10-second clip shows PM Modi speaking with a man called Hari. Modi greets him, "Hello, Hari Bhau, what do you want to say?"
The man stands up and asks, "The prices of petrol are rising…"
Hearing the question, PM Modi quickly dismisses him, "Sit Down."
The same video is shared on Facebook too. A user shared the video along with caption: Hari Bhau skipped the script and Modi had to ask him to sit down. That is how the government is responding to important questions. Modi does not want to answer the farmers question on the increase of prices of petrol. Live on national television, there are no retakes. Hari Bhau is legendary now. Perhaps he will get a visit from ED, RAW, CBI, NSA, NIA, Police. But Hari Bhau has done immense damage to the inflated ego of Modi the gas bag.
Original Post – Facebook
FACT CHECK
A few keyword searches led us to a video uploaded on 29 May 2018 on the PMO India YouTube account. PM Modi interacted with the beneficiaries of the Mudra Yojana from various states via video conference.
In the original video, one can see and listen that the person, Hari Thakur from Nasik, did not ask Narendra Modi about petrol price hike.
Hari tells PM Modi how Mudra Yojana brought about a positive difference in his life.
At the start, PM Modi greets him in Marathi. When he stands up, Modi tells him that he can ask while sitting down. That he did not need to stand up. That's why he says "Sit down".
After he sits down, he goes on to describe how he used the Mudra loan to grow his business.
Using this video, someone digitally added the question about petrol prices to mislead the people.
You can see the comparison of the two videos below.
Hari Thakur also gave an interview to a Marathi news channel after he interacted with PM Modi. He expressed his delight saying, he had never imagined one day he would be talking to the Prime Minister of India.
You can see his interview on ABP Majha below. 
CONCLUSION
It is clear through the above investigation that the viral video of PM Modi silencing Hari Bhau is edited. In the original video, Hari spoke about the Mudra Yojna and not about the petrol price hike. Hence the claim that PM Modi ignored a common man's question on the fuel price hike is false.

Title:Did PM Modi silence a common man who questioned him about the petrol price hike?
Fact Check By: Mayur Deokar
Result: False