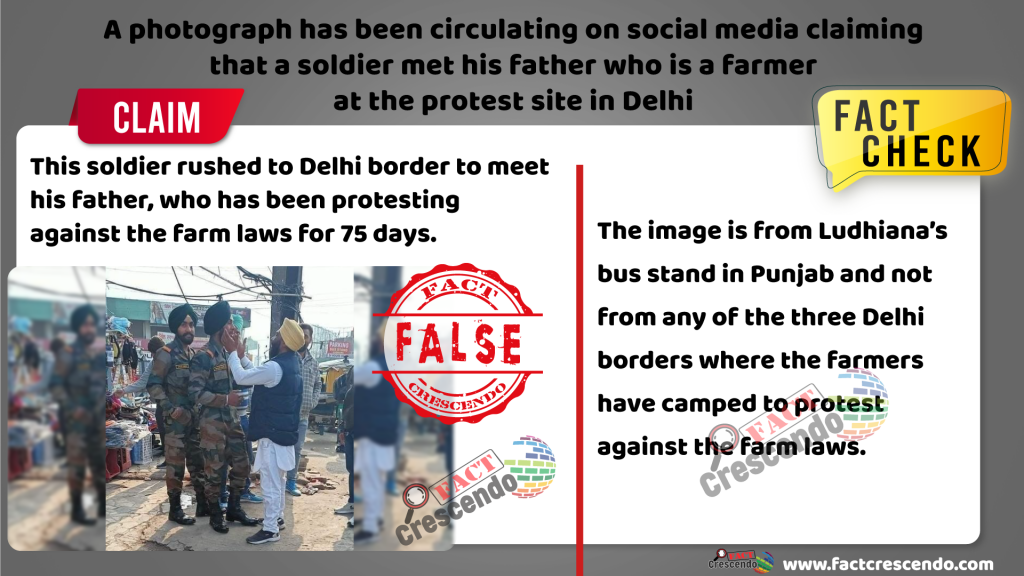 Two images, one of them showing a man embracing a young Sikh soldier, is widely circulating on social media with relation to the ongoing farmers' agitation at the Delhi border. The users claim that soon after getting leave, the soldier came to meet his father at Delhi border, where he has been protesting against the farm laws for 75 days.

Archive link | Facebook Post | Archive Link

Some verified Twitter handles have also shared the post.
फ़ौजी बेटें छुट्टी से आये तो सीधे दिल्ली किसान आंदोलन में पहुँच गये अपने पिता से मिलने पिता को भरी सर्दी में 75 दिनों से सड़क पर देख बेटों की आखों में पानी भर आया

जिस सरकार ने जवान,किसान के नाम पर चुनाव लड़ा सत्ता में आई वहीं सरकार जवान और किसान को कुचल रही है#FarmersProtests pic.twitter.com/Rccka2r8bD

— VINOD JHAKAR (@VinodJakharIN) February 6, 2021
Archive Link

Fact Check-
We started our investigation by observing the locality around the pictures where we found a board of shipping company "FedEx" behind the men and another with "PARKING BUS STAND" written on it.
Using InVid-We Verify magnifier we found that the second board with "PARKING BUS STAND" written on it reveals "LUDHIANA" printed just below the words "BUS STAND".


Next, we started searching for the "FedEx" shop in Ludhiana and were able to locate the shop near Ludhiana bus stand. Fact Crescendo contacted the owner of the FedEx outlet, Mr. Surinder Bansal who confirmed to us that the location seen in the video is from Ludhiana, Punjab and not from Delhi. He said "The image is from outside his shop near Ludhiana bus stand." He could not confirm us anything about the army men seen in the image.

Mr. Bansal sent Fact Crescendo few images of the area, which confirms the location to be from Ludhiana. One can spot the similarities between the viral image and the images sent to us in the image comparison below.


With the help of few keyword search on Facebook, we found video by Ludhiana Post that was shot at the Ludhiana bus stand. One can see that the same area can be seen in the viral images.
We also found the same area on Google Map where we found the exact same location in Ludhiana. Below you can see the comparison between the viral images and the images available on Google Maps.


Conclusion– Fact Crescendo found that the viral image shared on social media is False. The viral image is from Ludhiana's bus stand in Punjab and not from any of the three Delhi borders – Tikri, Ghazipur and Singhu where the farmers have camped to protest against the farm laws. We could not verify the men standing in the image but it is clear that the images are not from Delhi. The images are shared with a misleading message.

Title:A photograph has been circulating on social media claiming that a soldier met his father who is a farmer at the protest site in Delhi
Fact Check By: Aavya Ray
Result: False