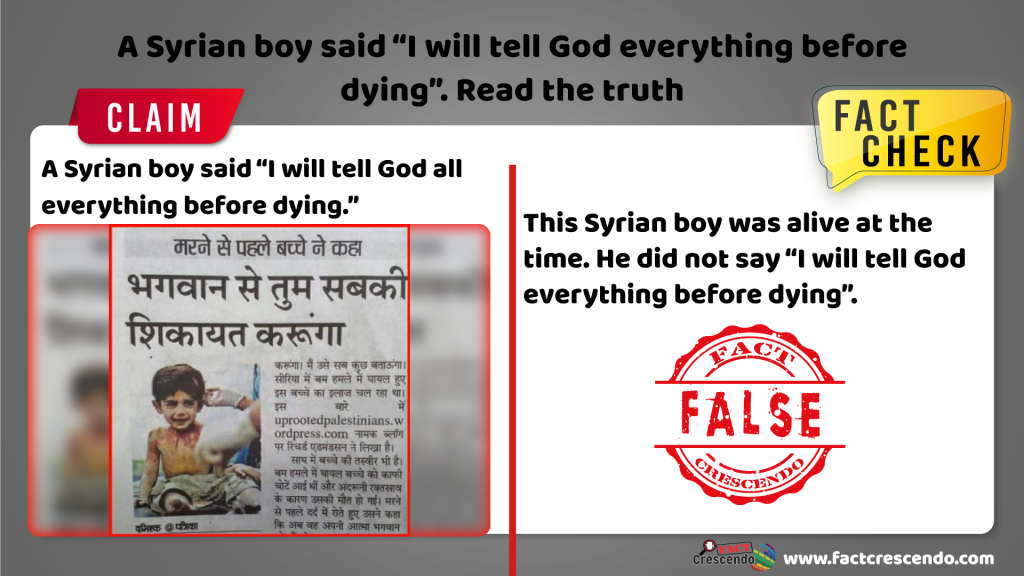 On September 14th 2014, a Facebook user named "Romakkkar" posted a picture, which was titled "Speechless". The picture is from a news article published in the newspaper, in which we can see the picture of a child injured during the war. In war, young children end up losing their childhood and a photo depicting this is becoming a hot topic on social media. In this photo a child can be seen soaked in blood and dust. The expression on his face reveals the horrifying truth of war. The photo claimed that a three-year-old child was injured and died in a bomb blast in Syria. But before dying, the child told the doctor, "I will complain to God about all of you".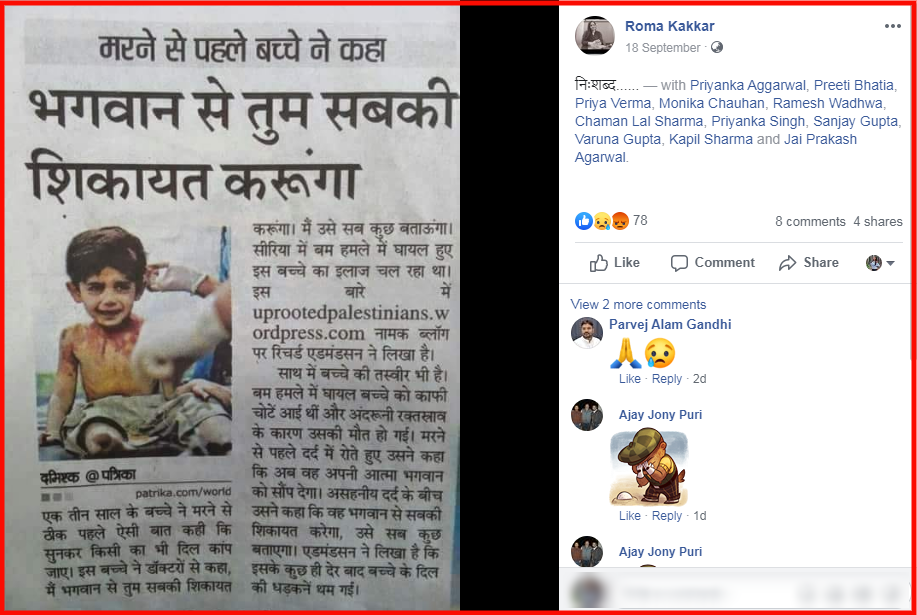 In the news published by the magazine's newspaper, it is written that "Just before the death, a three-year-old child said such a thing that would cause anyone to be shaken up after hearing it." This child told the doctors that 'I will complain to God about all of you, I will tell him everything'.
The child was undergoing treatment. Richard Edmondson has written on this blog called uprootedpalestinians.wordpress.com
There is also a picture of the child. In the bomb attack, the injured children suffered many injuries.  He died due to internal hemorrhage. Before dying, he said crying in pain, now he will surrender his soul to God. Amidst the unbearable pain, he said that he would complain to God, tell him everything. Edmundson wrote that, shortly after this, the child's heartbeat stopped."
At the beginning of the investigation, we did a Reverse Image Search on Google and searched for various keywords to find out where the above photograph was from and in what context was it clicked. After this, we went to the uprootedpalestinians.wordpress.com website given in the news, no such article was found on the blog by Richard Edmondson. This picture is so famous that on being inspired by it, people have made a song and film with the same name.
Also, Nicholas Forikis has written the story in a book called "I'm Gonna Tell God Everything", claiming the same about this picture. Also there is an article about this picture in Marathi, called Bobhata. The article dated 29th December 2013 on a website called World Observer Online states that this photo is from Syria, and the child said that I am going to tell God everything. It also states that it is impossible to confirm this.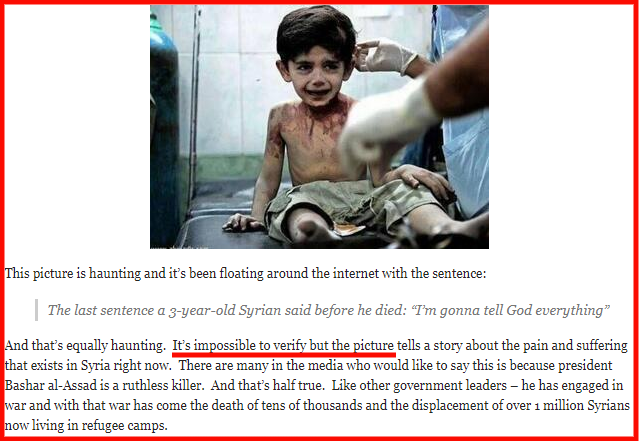 World Observer Online Archive Link
Looking further, we found that there is no evidence on the internet whether this child really said "I will complain to God about you all".
After further investigation, we came to know that AFP news agency Aristot Messinis had taken this picture on August 24th 2012. According to the caption of the photo, the army of Bashar al-Assad of Syria carried out airstrikes in the northern part of Aleppo city that day. The boy was seriously injured. This picture was taken by Aris while the boy was being treated.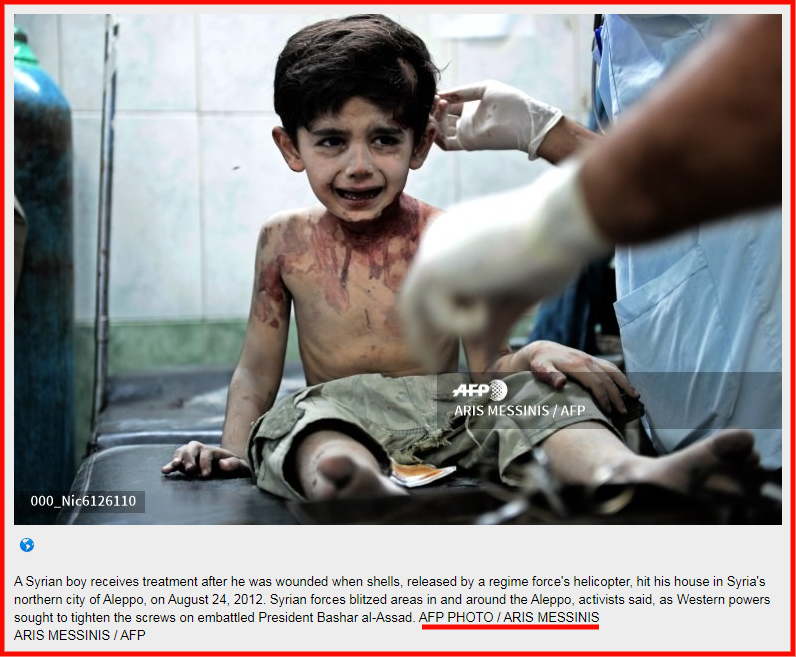 Pictures of the same boy were used in the New York Times and Time Magazine news. However, the news does not mention that the boy was injured there, rather it mentions that he died and before dying he said "I will tell God everything". So what is the true story of these pictures?
After that we contacted the original photographer Arras Messinis. He categorically stated that "the claim made through this photograph is false." When I drew this picture, the boy was alive and he did not say anything that he would tell God everything. Messinis further said that although this child was not killed fortunately, thousands of other innocent children have died in the war.
Aris Messinis currently works as the Chief Photographer for AFP News in the city of Athens, Greece. In 2016, he received the prestigious award for French press photography on the arrival of migrants into the islands of Greece. He has worked in many war-torn areas. He took various pictures of this boy when he was attacked in the city of Aleppo in 2012. They are available on the Getty Images website which you can see below.
Embed from Getty Images
Conclusion
On the basis of our investigation, we have found the above post wrong. The boy injured in an air strike in Syria did not say "complain to God" or "I will tell God everything before dying". The original photographer who took this picture told Fact Crescendo that this claim is false.

Title:A Syrian boy said "I will tell God everything before dying". Read the truth
Fact Check By: Ruchika M
Result: False