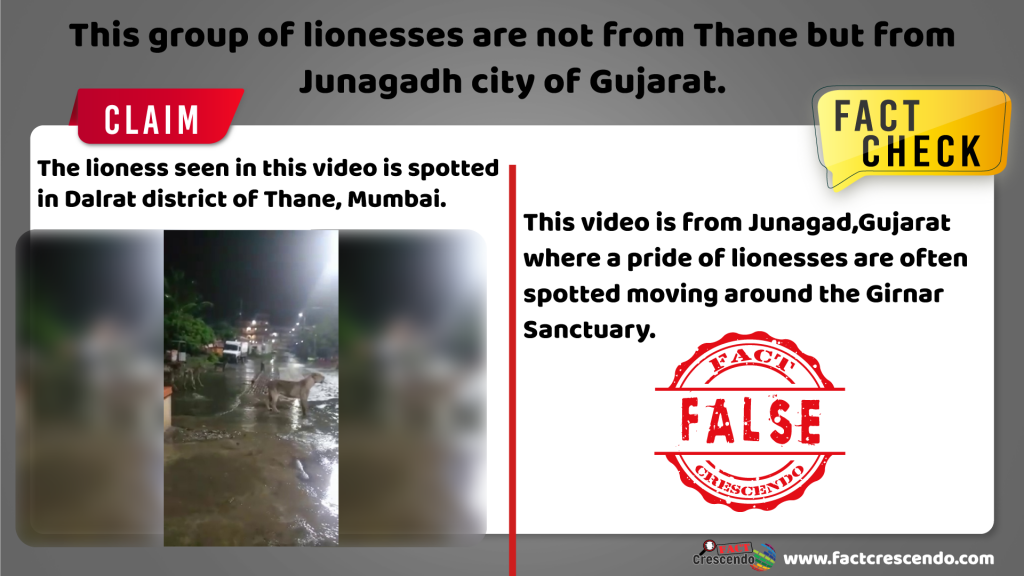 On 12th September 2019, a user named "Shekhar Ram" posted a video, captioned as "Live video of 11 September 2019 at 1:54 PM at Ghodhbandar Road, Thane". In this video we can see a pride of lionesses walking on the road.This video was shared on social media claiming that this incident took place on Ghodbunder Road in Thane, Mumbai on 11 September 2014. By the time the fact check was done, this post had received 452 responses.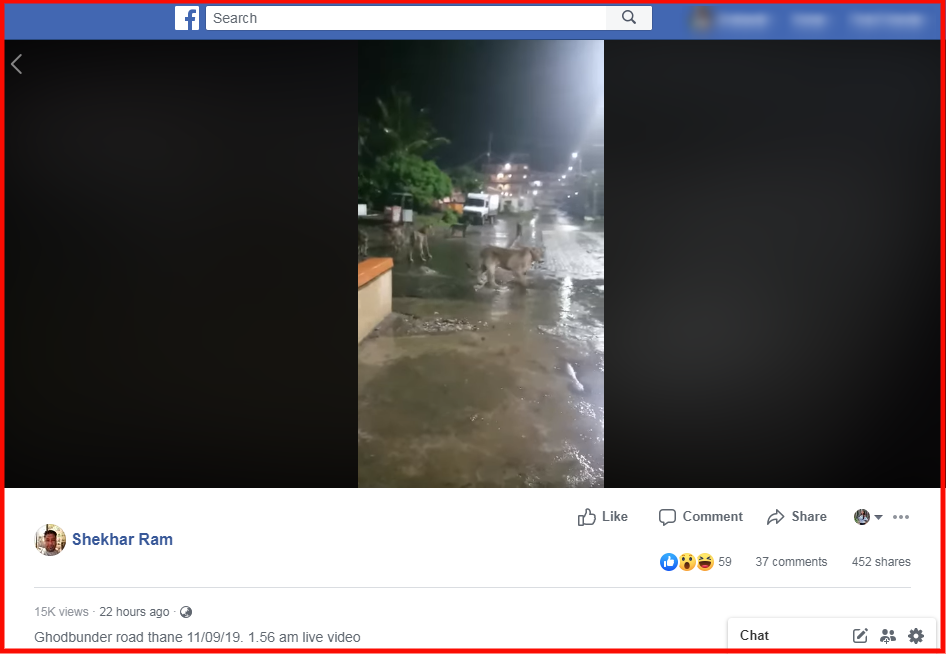 Initially in our investigation we searched for this news using keywords like "Lioness in Mumbai Thane" on Google search.  We did not find any substantial news from the result. Later, we broke this video into small frames using the InVID tool and Google Reverse Image Search, as a result of which we got a tweet published by News18 on September 12, 2014. It is mentioned in the tweet that "Seven lionesses from the Girnar Wildlife Sanctuary were seen walking on Gujarat's Junagadh's city roads near the sanctuary."
The video shows sign boards in Gujarati language and people can be heard talking in the same language. This also proves that the video has not been shot in Maharashtra. After this, we contacted Sunil Berwal, Deputy Forest Conservator of Junagadh, he told us that the video is from Junagadh in Gujarat and it has been circulated in the name of Thane, Mumbai with a false claim. This is also clarified by Sunil Berwal in a tweet from the Twitter account of Deputy Conservator of Forest, Junagadh. In the tweet, he wrote that "Please note that the lions of #GirnarSanctuary are safe. Whether it rains or not, the lionesses pass through these parts of the city of Junagadh at their own free will. This is a natural behavior of lions in Girnar."
Conclusion
After cross checking all the facts we concluded that the claim made in the post is wrong. This video is not from Thane in Maharashtra but it is from Junagadh region of Gujarat. These lionesses are from the Girnar Sanctuary and it is in their natural behaviour to walk around the neighbouring city of Junagadh.

Title:This group of lionesses are not from Thane but from Junagadh city of Gujarat.
Fact Check By: Ruchika M
Result: False