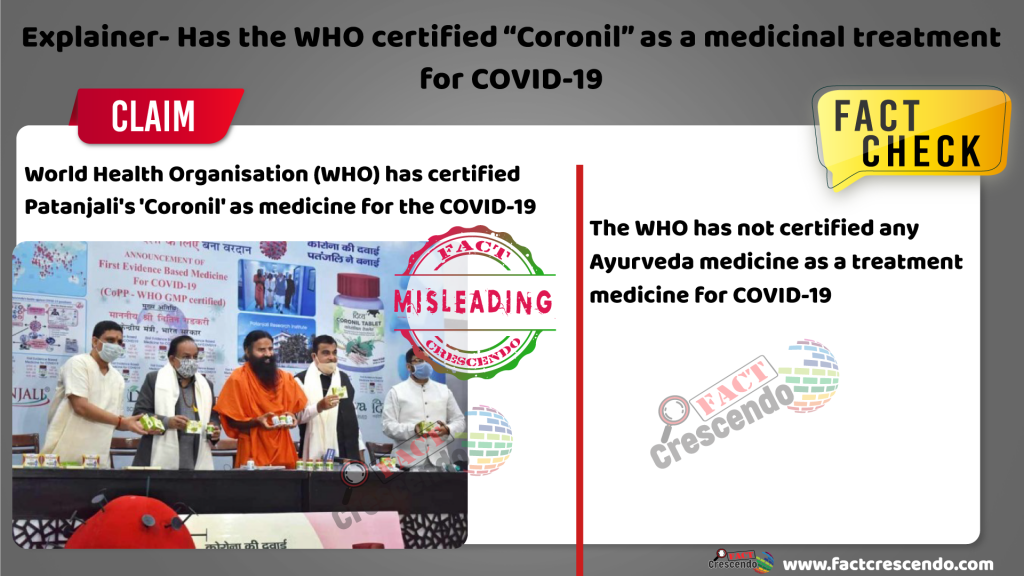 A viral claim, suggesting that the World Health Organisation (WHO) has certified Patanjali's 'Coronil' as a medicine for the COVID-19 has been doing rounds on social media. Several social media users have shared posts claiming that Patanjali's Coronil, which is an Ayurvedic medicine, has been approved by WHO for the treatment for COVID-19.
The caption on the post mentions as, "Patanjali has made history in the field of Ayurveda as Coronil has been recognized by WHO as First Evidence Based Medicine for Corona."
Verified Twitter handles such as News Nation and Asianet News Hindi have shared an interview with Baba Ramdev claiming that WHO has certified Patanjali's "Coronil" as a treatment medicine for COVID-19
BJP spokesperson Sanju Verma tweeted, "#PatanjaliCoronil getting approval from DCGI& #WHO no less is a huge endorsement for Ayurveda & India's homegrown #StartUp ecosystem that has flourished under @narendramodi govt."
The official Twitter account of Patanjali Ayurved tweeted claiming the World Health Organization (WHO) has now certified Coronil, and WHO granted them a GMP certificate, i.e. 'Good Manufacturing Practice'. The account, however, deleted the tweet later.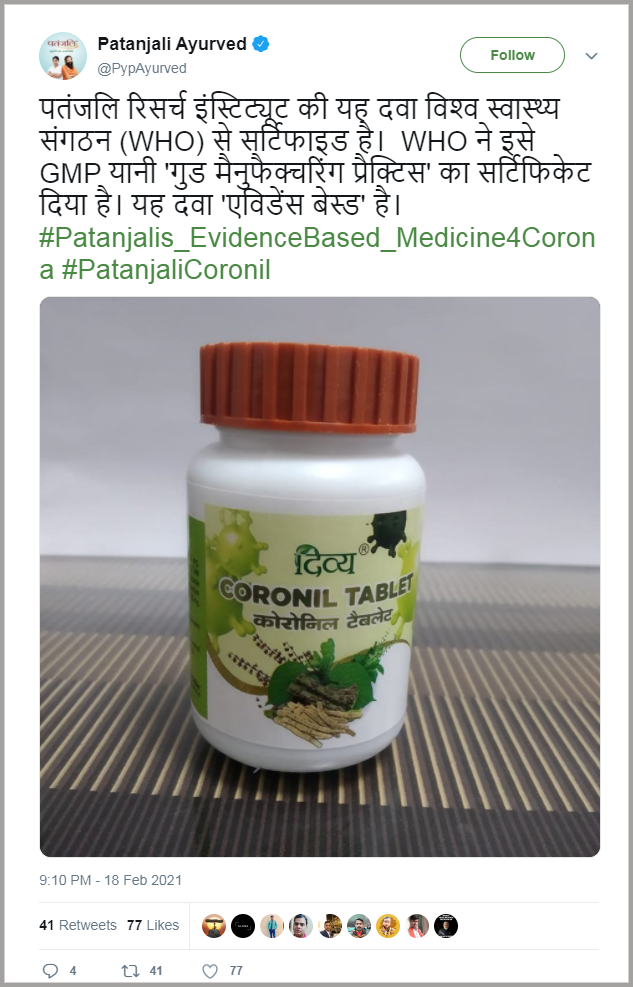 Fact Check-
We started our investigation by running a keyword search on Google which led to a clarification tweet made by Acharya Balkrishna, who M.D. of Patanjali Ayurved Ltd & co-founder of Patanjali Yogpeeth Haridwar on 19th February 2021. He stated that Coronil is compliant with WHO's 'good manufacturing practices' (GMP) guidelines, and that this certification has been given to them by the Government of India. He further stated, "We want to clarify to avoid confusion that our WHO GMP compliant COPP certificate to Coronil is issued by DCGI, Government of India. It is clear that WHO does not approve or disapprove any drugs. WHO works for building a better, healthier future for people all over the world."
In another tweet he mentioned that, "We are delighted and proud to state that Coronil has been granted a CoPP license by DCGI, in accordance with the WHO GMP quality approvals."
Further a news report by PTI stated, "Coronil has now received certification from Ayush Ministry as per World Health Organization (WHO) certification scheme."
What is WHO's Certification Scheme and GMP?
The WHO certification scheme was developed by the World Health Organisation "in response to the request of WHO Member States to facilitate international trade in pharmaceutical products between Member States."
The scheme operates as follows – the applicant/importing company requests a CPP from the certifying authority through the exporting company. Now, if a country wishes to import Patanjali's Coronil, it would request a CPP from the DCGI through Patanjali. The CPP is issued by a certificate issuing authority (DCGI in the case of India) in accordance with the WHO's GMP quality assurance. WHO explicitly states that CPPs are issued independent of the WHO and that the use of its emblem is an illegal act.

According to WHO Good Manufacturing Practices (GMP, also referred to as 'cGMP' or 'current Good Manufacturing Practice') is the aspect of quality assurance that ensures that medicinal products are consistently produced and controlled to the quality standards appropriate to their intended use and as required by the product specification.
In India, the GMP practices are led by the Institute of Good Manufacturing Practices, where WHO's GMP and the Certification of Pharmaceutical Product is shown as a certified study resource.
WHO South-East Asia through their official Twitter account also clarified that the UN agency has not reviewed or certified the effectiveness of any traditional medicine for the treatment of COVID-19.
Further Fact Crescendo contacted Patanjali Ayurved's office and confirmed that the viral news on social media is misleading. World Health Organization has not approved "Coronil" as a treatment medicine for COVID-19 but WHO GMP compliant COPP certificate to Coronil was issued by DCGI, Government of India.
Thus, 'Coronil', sold by Patanjali as an immunity boosting solution for COVID-19, received a governmental approval – from the AYUSH ministry, formally called a Certificate of Pharmaceutical Product – which, in turn, is based on WHO norms. It took place on February 19, in the presence of Union Ministers Nitin Gadkari and Harsh Vardhan. The WHO has provided provisions and benchmarks for such certifications, but has not certified or approved the medicine itself. This viral claim has been refuted, both by Patanjali and by the WHO on social media.

Title:Explainer- Has the WHO certified "Coronil" as a medicinal treatment for COVID-19
Fact Check By: Aavya Ray
Result: Misleading