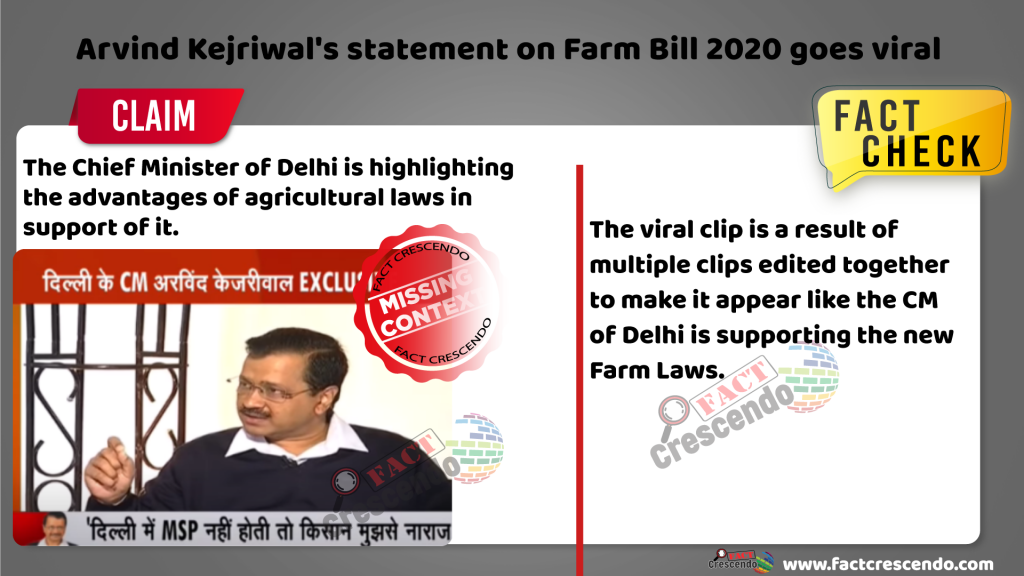 In the backdrop of protests being held against the agricultural laws on various borders of Delhi, many videos have surfaced on social forums. Fact Crescendo has unveiled the truth of many such videos in the recent past. Currently, a video is doing the rounds on the internet, in context to the Chief Minister of Delhi and the agricultural laws. In the 17 minutes long video, Delhi Chief Minister Arvind Kejriwal talks about the agricultural laws and says that,
"With the bill your land won't go away, your MSP won't go, your Mandi (market) won't go away, now farmers can sell their crops anywhere in the country, now farmers will get good prices, he can sell it anywhere outside the mandi, Dilip ji this is the biggest revolutionary step in the 70 years in the agriculture sector
According to the viral claim with this video, Arvind Kejriwal is in support of agricultural laws and he is discussing its benefits. The title of this post reads,
"Honorable Chief Minister of Delhi Arvind Kejriwal enumerating the benefits of all three agricultural laws."
Fact Check
During the investigation, Fact Crescendo found that the viral claim is fallacious. The whole statement is not shown in the viral video. This video is a clipped portion of Arvind Kejriwal's interview.
We started our investigation through keyword search on YouTube, which led us to a video aired on the official YouTube channel of Zee Punjab Haryana Himachal.
The video was aired on 15th January this year and its' description reads,
"Exclusive conversation between Delhi CM Arvind Kejriwal and Dilip Tiwari, Editor, Zee PHH"
After watching the above video, you will understand that statements issued in the viral video are actually clipped and taken from Arvind Kejriwal's original video; the extracts are compiled and circulated on the social forums after editing.
Actually Arvind Kejriwal is saying that,
Farmers are not going to benefit from agricultural laws. The leaders of the government and the BJP are explaining to everyone that the agricultural law is in everyone's benefit and they are saying that this land will not go to farmers, their MSP will not go, and their market will not go.
Kejriwal further mentions that all these benefits already exists with the farmers, hence they are raising questions about the benefit of agricultural laws.
In the comparative video given below, you will understand the difference between the clipped video and the original video.
Further in our study on this matter, we found that the video of the above interview was aired on the official YouTube channel of the Aam Aadmi Party.
Conclusions: After examining the facts, we found that the above claim is inaccurate. The viral video does not show the complete statement. An edited extract of Arvind Kejriwal's interview has been made viral.
For read more stories click below.
Is the Hindi language being opposed in Punjab along with the protest of agricultural laws? Know the truth
Title:CLIPPED VIDEO- Arvind Kejriwal's statement on Farm Bill 2020 goes viral
Fact Check By: Aavya Ray
Result: Missing Context