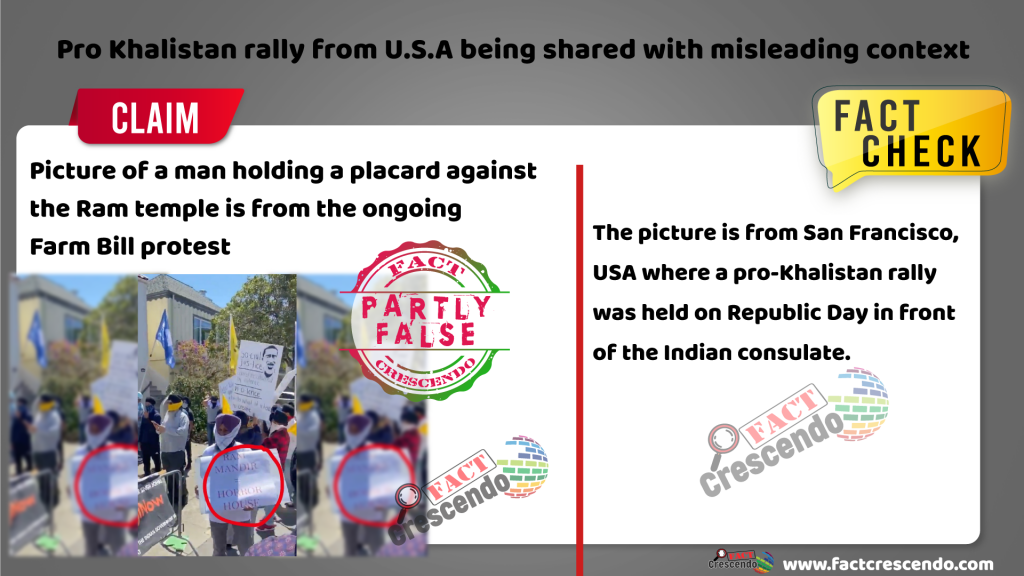 Social media is flooded with misinformation related to the ongoing farmer protests in Delhi. Amidst this an image of a man holding a placard against the Ram temple is circulating claiming that it was taken during the ongoing farmers' agitation. Social media users are raising questions on the real intent of the farmers' protest. One can see that the man holding the placard states that "Ram Mandir=HorrorHouse".
The caption of the post mentions "Can anyone explain how Ram Mandir is related to 3 Farm Laws ??"
Archive Link

Delhi's BJP Leader Kapil Mishra has also tweeted this image questioning if the people are really farmers or not?
Fact Check-
We started our investigation by running a Google Reverse Image search on the image which led us to the same image published by the official Twitter account of filmmaker Vivek Ranjan Agnihotri stating that the image is from Silicon Valley in USA. The image was tweeted on 29th January 2021.
Next, we used a combination of keyword search and reverse image search and found the original picture with a broader view posted on Reddit.
The caption of the post mentions, "Meanwhile, Khalistanis in Silicon Valley of USA are protesting with posters like "Ram Mandir = Horror House" and your usual Anti India and Anti Modi Lafda."
Next, we found that a local news website from San Francisco had covered the event which stated that on January 26, a pro-Khalistan demonstration took place in front of the Indian consulate in San Francisco, California.
In this demonstration pro-Khalistan slogans were raised; anti-India banners were displayed and posters demanding the release of Khalistani leaders were seen at the protest site.
We found that Vivek Agnihotri posted a video of this demonstration taking place in California.
We searched for the location of the Indian consulate in San Francisco on Google Street View and found similar buildings as seen in the viral video which confirms that the location is of San Francisco.
Below you can find the image comparison between the viral image and the buildings seen on Google Street View.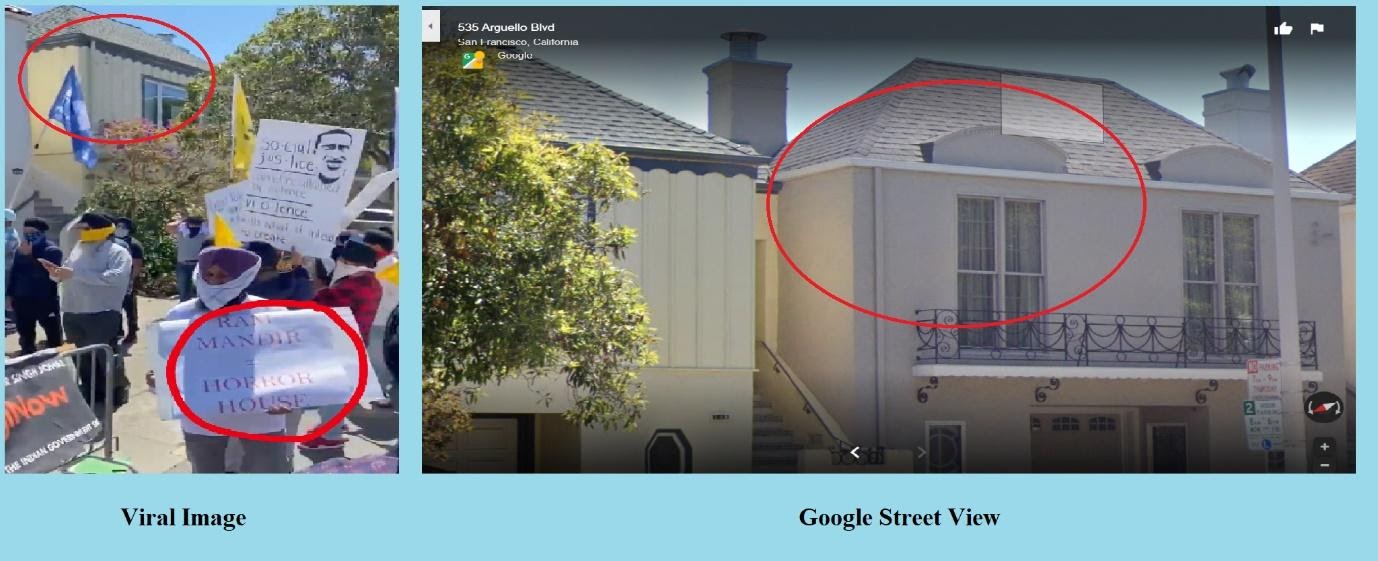 Conclusion- Fact Crescendo found the viral claims along with the video to be misleading. The viral image showing a placard against Ram mandir is not from the farmer's protest in India. The picture is from San Francisco, USA where a pro-Khalistan rally was held on Republic Day in front of the Indian consulate. Anti-India and pro-Khalistan slogans were raised, although the main agenda of the protest was the khalisthan movement however as a part of the group some protesters also spoke on the ongoing farmers protest in India.
Title:Pro Khalistan rally from U.S.A being shared with misleading context
Fact Check By: Aavya Ray
Result: Partly False