The video has been edited. Nitin Gadkari was speaking about an experience he had in 1996 as Maharashtra's PWD Minister. There is no news of BJP leader Nitin Gadkari leaving BJP.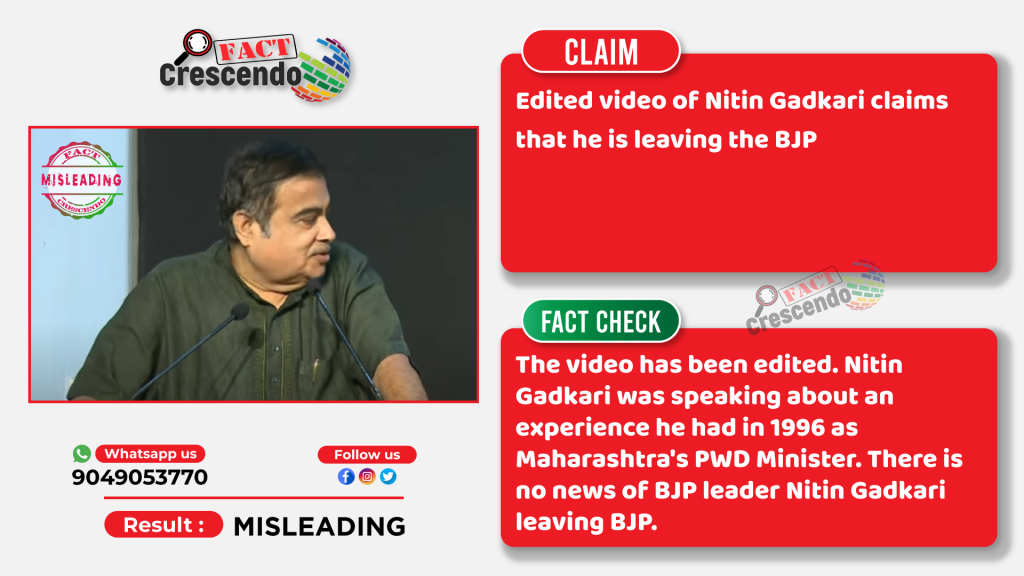 The surprise decision to drop senior BJP functionary and transport Minister Nitin Gadkari from the party's parliamentary board was taken with the consent of the RSS leadership recently. 
In the midst of this, a video of one of Nitin Gadkari's speeches is going viral on social media. Users claim that Nitin Gadkari is leaving the BJP and has stated that he is fine if his Ministership is lost.
In the video, Nitin Gadkari can be heard saying, "If it is possible for you, you have my back. If not, then also it is not a problem. If my Ministership goes, then it will go. I do not care much about it. "
Atul Londhe, the General Secretary and Chief Spokesperson of the Congress in Maharashtra, shared this video claiming that Nitin Gadkari is leaving the BJP.
The tweet's caption reads, "Look what Gadkari is saying."
Fact Check-
We started our investigation by conducting a keyword search on Google, which led us to a tweet by Nitin Gadkari, the Minister of Road, Transport, and Highways, stating that one of his speeches is going viral without proper context and has been edited.
He has stated that the viral video has been clipped and edited.

The tweet states, "Today, once again, efforts were being made to continue the nefarious & fabricated campaign against me for political mileage on my behest by some section of mainstream media, social media and some persons in particular by concocting my statements at public programmes without context or correct reference. Although, I've never been disturbed by such malicious agendas of fringe elements but all concerned are hereby warned that. If such mischief continue, I will not hesitate to take them to the law in the larger interest of our Government, Party and millions of our hardworking Karyakartas. Therefore, I am sharing the link of what I had actually said."
He has also added the link to the original video.
The original video was streamed live on Nitin Gadkari's official YouTube channel on 23 August 2022. The caption of the video states, "Launching book 'Naukarsyahi Ke Rang' written by Dr. Dnyaneshwar M. Mulay."
We found that the viral video was created after joining three different parts of the original video.

Part 1:
Nitin Gadkari begins by recounting an incident that occurred in 1996-97, when he was the Maharashtra PWD Minister and Manohar Joshi was the Chief Minister. He was describing how he had assisted in building roads in approximately 450 villages in Melghat when no one has backed him up. That is when he said that he does not care if his Ministership goes while helping the needy.
He said, "I was the PWD Minister in Maharashtra; I had this beautiful experience then. There was a tehsil named Melghat in the Amravati district where 2500 kids had died due to malnutrition, and there were a lot of talks at the international level during that time. This incident must be around 96 or 97. Our then CM, Mahohar Joshi, told me, "Nitin, what is this situation, these kids in Melghat died and there are no roads in this area. How will these people survive?' I was the PWD minister; I used to conduct meetings about this. The chief Conservative officer used to come to these meetings Manohar Joshi used to tell him about the situation 4 to 5 times. I was listening when one day Joshi ji asked the officer, 'Don't you feel anything or what, so many people died, this village does not have roads, the kids do not go to school, the farmers can't go to sell their agricultural yields in the market, the electricity line has been stopped under the Forest Environment Act.'
The chief conservator of Forest stated, "Sir, I am very sorry, but if I must respond, I can only say that I am helpless and cannot do anything."
I could not stop myself, so I said sir, this job is not for you; I am an expert in such work. You do one thing, leave it to me. I am not worried about what the results will be and I will do this work. If it is possible for you, please stand behind me and have my back. If not, then also it is not a problem. If my Ministership goes, then it will go I don't care much about it. "
Part 2:
Gadkari then proceeds to give details on how he managed to build the roads in this tehsil. Describing the details in the letter and the order passed by him, he said, "These people deserve a road as a basic human right. I ordered them to build a road in every 450 villages in the Tehsil and in the future, if anybody raises a question under the Forest Environment Act, now and in the future I will solely be responsible for it. "
He said that he had handed over this response to his secretary named Tambe, who in returned question Gadkari whether he should have written this letter or not.

"It doesn't matter. I am not a political professional. We will see what happens," Gadkari responded.
Part 3:
Later at the timestamp of 19 minutes, Nitin Gadkari says that Dr. Dnyaneshwar M. Mulay's experience can be very useful to learn a lot, which is why his book is people- oriented and sensitive. Gadkari then goes onto saying how he likes to live a simple life by eating street food, watching movies, watching dramas from behind the stage.
Below you can watch the comparison between the viral edited video and the original video.
Thus, it is clear that the viral video depicts Nitin Gadkari speaking about an experience in 1996 when he was the PWD Minister of Maharashtra under the Shiv Sena-BJP rule. He was not talking about his Ministership position after he was dropped from BJP's parliamentary board.
Conclusion-
Fact Crescendo found the claim made along with the video to be misleading.The video is edited. Nitin Gadkari was talking about an experience in 1996 when he was the PWD Minister of Maharashtra. Union Minister Nitin Gadkari has also clarified the same. There is no news of BJP leader Nitin Gadkari leaving the BJP.

Title:Edited video of Nitin Gadkari claims that he is leaving the BJP
Fact Check By: Drabanti Ghosh
Result: Misleading