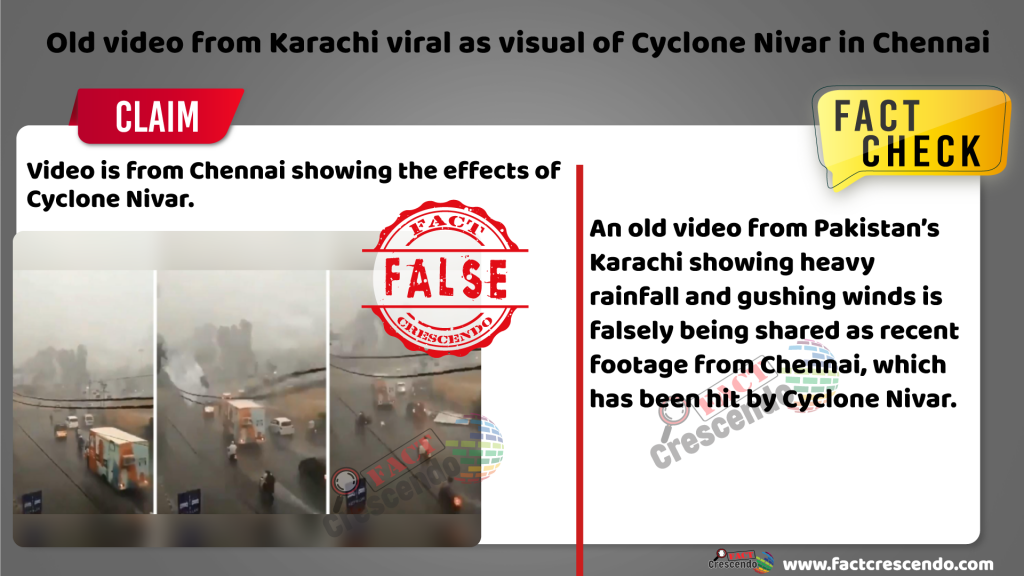 Cyclone Nivar hits Tamil Nadu due to which airport and metro services have been suspended from 7 PM on Wednesday, 25 November. Amidst this a 19 second long video showing a billboard flying off a wall and falling on the two motorcyclists in the middle of heavy rainfall and gushing winds is going viral on social media claiming that the video is from cyclone hit Chennai .
The caption of the video mentions "A very scary video from #Chennai, where a signboard fall upon a rider . #StayHomeStaySafe #NivarCyclone."
Fact Check-
We started our investigation by running a simple keyword search on Google which led us to a similar video published by Pakistan daily The Express Tribune on 7 August 2020 on their Facebook Page with the caption "A billboard on Shahrae-Faisal road falls, injures bike riders. As Karachi witnessed heavy rainfall yesterday, wrecking havoc for many, a billboard near Avari Tower fell because of the storm, injuring bike riders."
The Express Tribune has also reported the same on their website on 7th August 2020. According to the report, two motorcyclists were injured when a large billboard came loose and collapsed on them near Metropole Hotel during heavy rainfall in Karachi.
We also found that the Gulf News also reported a similar incident on 8th August 2020. According to the report, Karachi's Commissioner Iftikhar Ali Shalwani had ordered various municipal and civic agencies to immediately remove billboards all over the city to "save human lives."
Conclusion- Fact Crescendo found the above post to be False. An old video from Pakistan's Karachi showing heavy rainfall and gushing winds is falsely being shared as recent footage from Chennai, which has been hit by Cyclone Nivar.

Title:Old video from Karachi viral as visual of Cyclone Nivar in Chennai
Fact Check By: Aavya Ray
Result: False