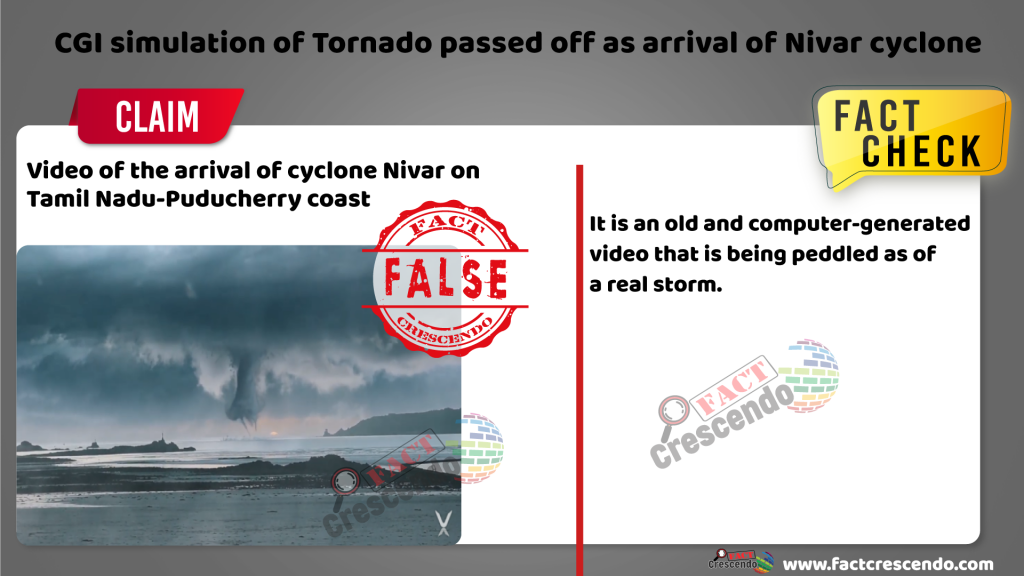 As the cyclone Nivar hit along the Tamil Nadu-Puducherry coast, social media is abuzz with videos of its drastic visuals. One such video of a heavy cloudburst into the sea is being shared as the arrival of cyclone Nivar.
Fact Crescendo has received this video on our WhatsApp Factline (9049053770) for a fact-check. We found that the viral video is, in fact, not of a real storm. It is just a CGI simulation of a tornado.
WHAT'S THE CLAIM?
Original Video – Facebook | Archive
A 13-second clip shared on Facebook and Twitter shows dramatic visuals of cloud bursting into the sea against the backdrop of the setting sun. The caption given to this video reads: Human life is gonna end soon. One after another, bad things happening to humans. Advance RIP humans. #ChennaiRain #ChennaiFloods #CycloneNivar #CycloneNivarUpdate #Chennaiweather
FACT-CHECK
To determine the authenticity of the viral claims and video, we selected a few key-frames and performed a reverse image search upon them. The Yandex search led us to a video uploaded on YouTube in 2018.
According to the uploader, Alexandru Dineci, it is a 'Tornado CGI simulation'.
Alexandru seems to be a computer special effects or VFX artist. He has shared various CGI simulations on his YouTube channel.
Upon sifting through his account, we found a demonstration in which he had shown how this 'Tornado CGI simulation' video was created.
CONCLUSION
Thus, we can conclude that the viral video is not of cyclone Nivar. It is an old and computer-generated video that is being peddled as being of a real storm.

Title:CGI simulation of Tornado passed off as arrival of Nivar cyclone
Fact Check By: Mayur Deokar
Result: False