The World Health Organisation (WHO) has declared Novel Coronavirus as a public health emergency of international concern. There are several false narratives providing cures and causes of how the disease originated and spread around the world.
A report by news agency Press Trust of India on Thursday, 13 of February 2020 said that two passengers who arrived at NSCBI Airport from Bangkok have tested positive for the Novel Coronavirus.

The PTI Headline reads "Two more passengers test positive for coronavirus during thermal screening in Kolkata airport."
PTI further states
"with this, three passengers have tested positive for the novel coronavirus in Kolkata. It also added a passenger called Himadri Barman tested who positive on Tuesday, and Nagendra Singh who tested positive on Wednesday."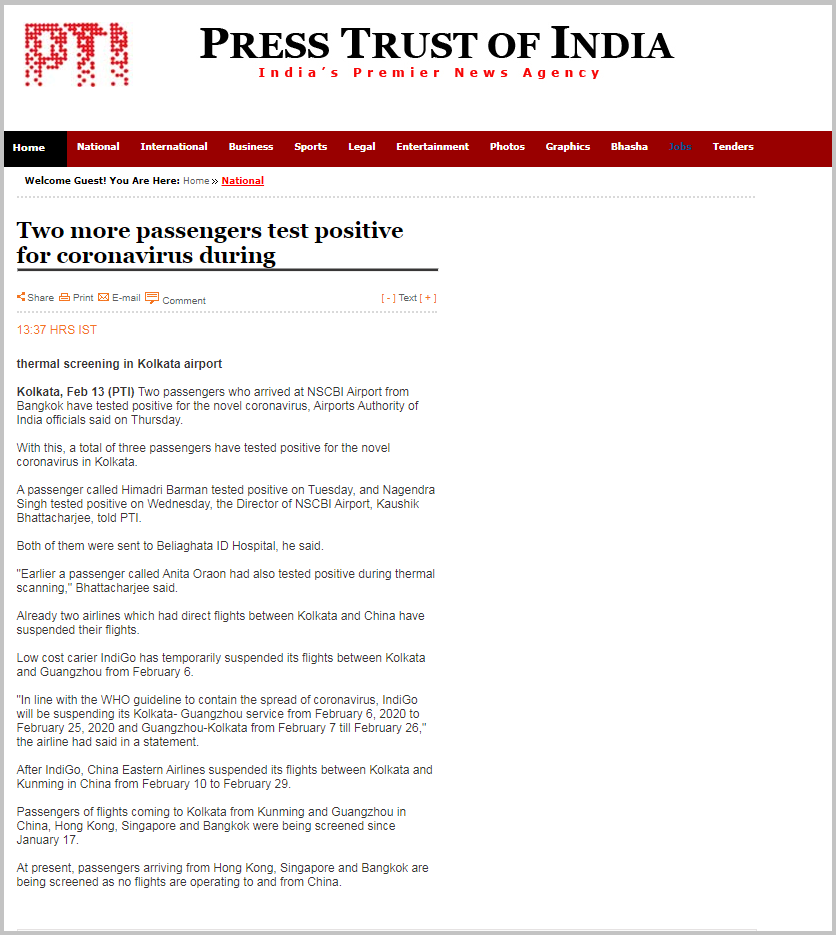 This news report was carried by major Indian media houses such as Moneycontrol, ThePrint The Statesman, FirstPost India TV and Outlook. All these reports mentioned that two people in Kolkata, both passengers who arrived from Bangkok at the city's Netaji Subhash Chandra Bose Airport, had tested positive for the virus (Coronavirus).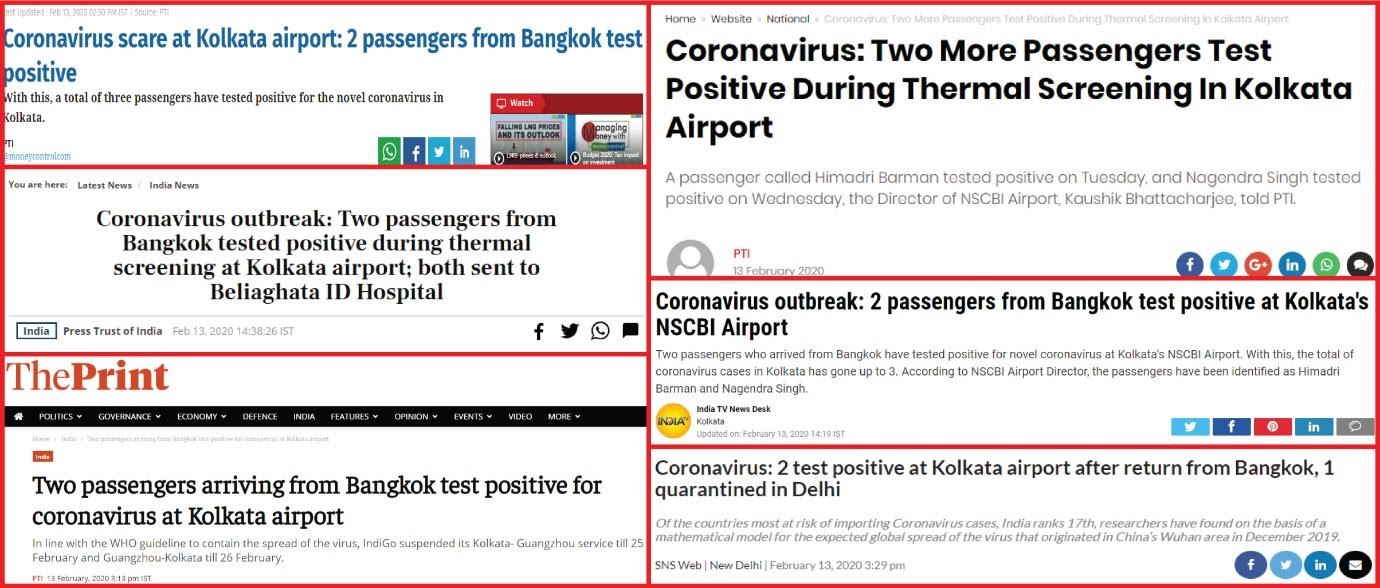 Journalist Faye D'Souza also posted the same news on her verified Instagram profile, where she spoke about two cases having been confirmed in Kolkata, but did not name the people allegedly diagnosed. She has also added that now there are a total of 6 confirmed cases in India.
Fact Crescendo searched for Kolkata Airport's Twitter handle and found that they have tweeted an update regarding the two alleged cases, and have termed it as being false news and completely baseless. The tweet read "#Coronavirus Update: Media reports mentioning about Coronavirus positive cases detected at NSCBI Airport is totally wrong & baseless. 3 passengers traveling through #KolkataAirport were referred to ID Hospital, Beliaghata by Airport Health Office as suspect cases."
Fact Crescendo contacted one of the passengers Himadri Barman who confirmed to us that he has not been tested positive for Novel Coronavirus. He added that he himself had volunteered to be tested after he had returned from China via Bangkok as he was suffering from mild cough. He had been cleared during the screening at the Kolkata Airport on Tuesday, but told authorities that he should nonetheless be tested. From there, he was taken to the Beliaghata ID hospital, where the requisite tests were done. He was admitted on the night of 11th February 2020, his tests were done on the 12th February morning and on 13th February he was discharged around 1 pm with a report that confirmed that he tested negative for Coronavirus." 
He added, that he was shocked to find out the news mentioned that he had tested positive of Coronavirus. He said, "Despite highlighting the misreporting, even now, media houses are spreading fake news, because their articles said that he had been quarantined, whereas he had been allowed to leave the hospital after the tests came out negative. I was never quarantined the airport authority or the Beliaghata ID Hospital. There is no quarantine facility in Beliaghata ID Hospital for that matter. I was advised by the doctors to stay in home in isolation for 14 days just as a precautionary measure and I choose to do so. It does not mean that I am positive for Coronavirus."
He specifically said that one of his main concerns was that PTI had quoted an airport official, who confirmed to him that they had never given any such information to the news agency.
Mr. Himadri Barman has posted the Negative test results on Facebook claiming that the news published by various media houses is False.
These are the test reports-
Next, we accessed the latest Situation Report Published by WHO. The Situation Report published on 14th February 2020 clearly stated that there are 3 confirmed patients in India. There has been no new added cases as on14th February 2020.
Fact Crescendo also accessed WHO's Situation Report for India which further confirmed that between 30th January and 03rd February 2020 The Indian Ministry of Health and Family Welfare (MoHFW) reported three cases of coronavirus disease (COVID-19) in Kerala. Thus, there are no confirmed Coronavirus patients in Kolkata.

Conclusion– Fact Crescendo found the above-mentioned news to be False. This is a clear case of misreporting done by PTI. There are no confirmed Coronavirus patients in Kolkata.

Title:PTI Misreports 2 confirmed Coronavirus cases at Kolkata Airport
Fact Check By: Aavya Ray
Result: False