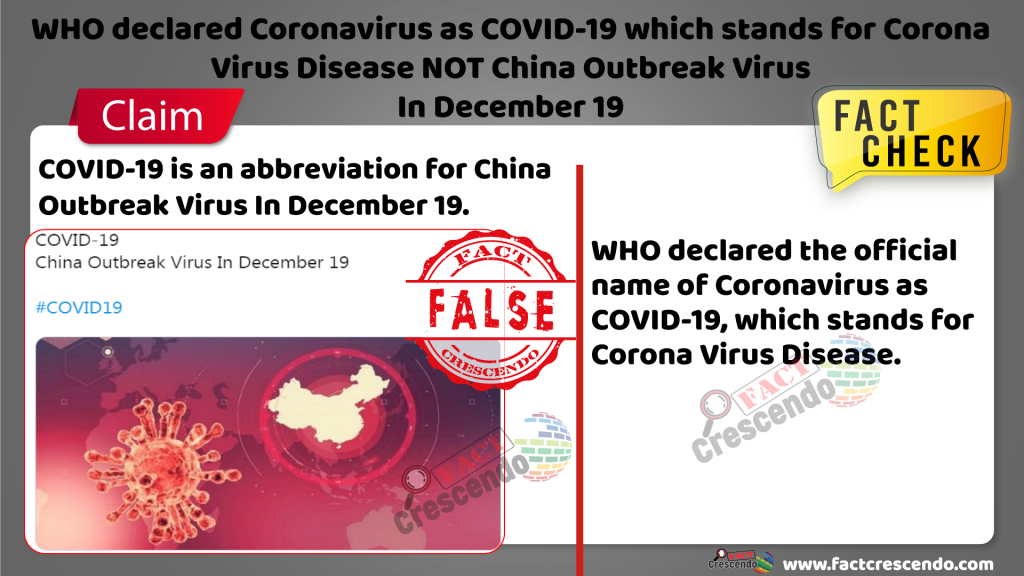 The World Health Organisation (WHO) has declared Novel Coronavirus a Public Health Emergency of International Concern. Scientists have mapped the genomic sequence of the virus but are still researching the source of the virus.
In light of the health emergency, social media is filled with several false narratives claiming to have found the source and cure to destroy the coronavirus, which is creating panic among the citizens of different countries.
World Health Organization (WHO) created a name for the deadly novel coronavirus that broke out in China. WHO named Coronavirus as COVID-19 on 11 February 2020. Now, several Twitter users are claiming that the COVID-19 is an abbreviation for China Outbreak Virus In December 19. 
Fact Check-
We started our investigation with the help of a simple keywords search on Google, which led us to the press briefing on the 2019-nCoV outbreak on 11 February 2020. WHO Director-General Tedros Adhanom Ghebreyesus can be seen speaking in the press conference where he clearly states that "CO, C-O, stands for corona, 'VI' stands for virus, 'D' for disease, so 'COVID'."
We can also hear Mr. Tedros say that it did not refer to a geographical location, an animal, an individual or a group of people, and which is also pronounceable and related to the disease. Having a name matters to prevent the use of other names that can be inaccurate or stigmatising. It also gives us a standard format to use for any future coronavirus outbreak."
We also found a Guideline document published by WHO mentioning the Best Practices for the Naming of New Human Infectious Diseases. This clearly mentions that geographical location such as cities, countries, regions, and continents; people's names; species/class of animal or food; cultural, population, industry or occupational references and terms that incite fear should NOT be included while naming a New Human Infectious Disease.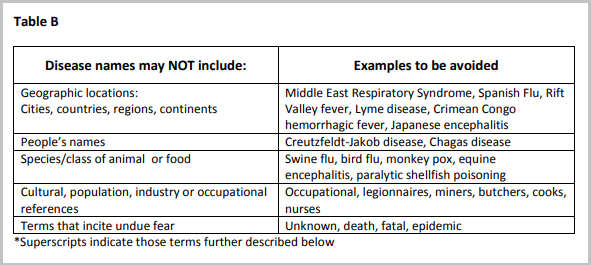 We also found another tweet where WHO has mentioned the new name of the disease as COVID-19, which stands for Corona Virus Disease.
Conclusion– Fact Crescendo found the above claims to be False. WHO declared the official name of Coronavirus as COVID-19, which stands for Corona Virus Disease. It has been falsely claimed to be an abbreviation for China Outbreak Virus In December 19.

Title:WHO declared Coronavirus as COVID-19 which stands for Corona Virus Disease NOT China Outbreak Virus In December 19
Fact Check By: Aavya Ray
Result: False