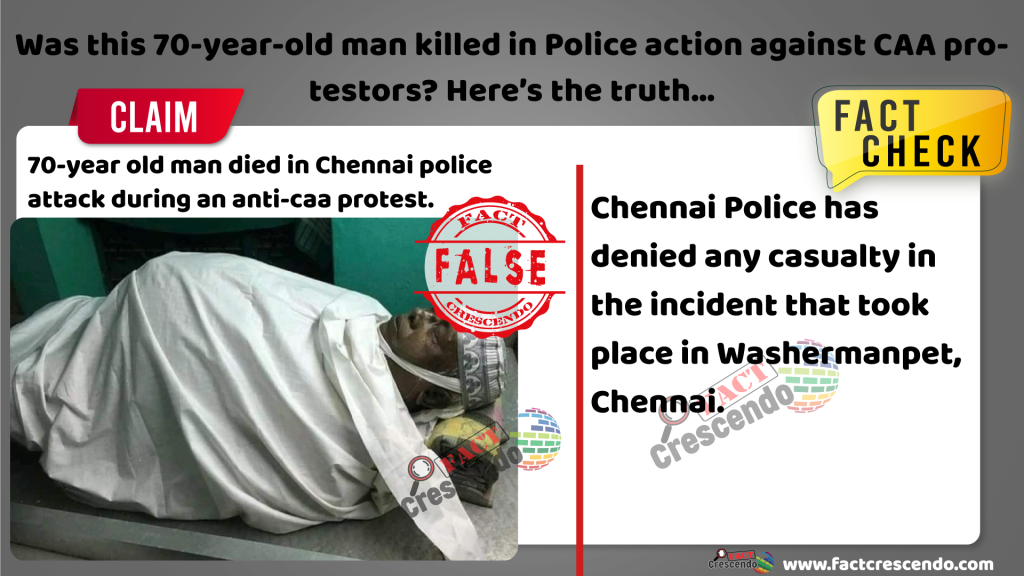 Ever since the nation-wide protests against CAA and NRC have begun, social media has been inundated with a multitude of posts. Some posts condemning the protestors while some are expressing solidarity with the protestors. Tamil Nadu has also seen a flurry of posts regarding Anti-CAA protests which has been a hot topic of political discourse in the state. Given this backdrop, a couple of Facebook posts have been shared with an image of corpse of an old man the caption of the posts reads as follows: ''A 70 year old man was beaten to death by Chennai City police during Anti-CAA protest at Washermanpet''. These posts garnered a lot of attention on social media with many social media users engaging with the posts. However, when we investigated the post, we found that the claim is baseless. Let's see the contents of the post and the minutes of our fact finding.
Narrative: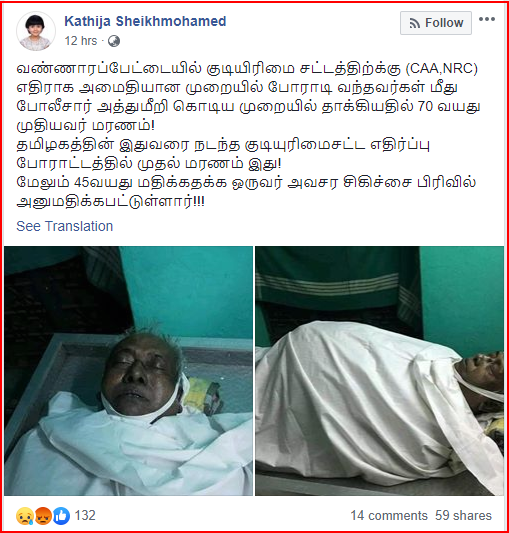 We can see many FB users sharing the same narrative, reference screenshot attached below.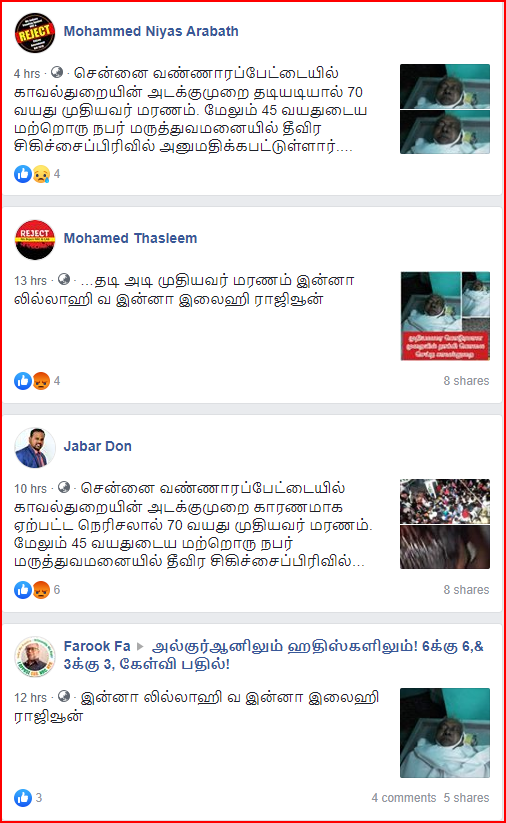 Fact Check:
On February 14th 2020, various Muslim organizations and their supporters had gathered in Washermenpet, Chennai to protest against CAA, NRC and NPR. The situation escalated after the police allegedly took away some protestors. Apparently, this agitated the protesters who resorted to violence.
Following which the police lathi-charged the protesters to disburse the crowd and clear the area when the demonstrators did not budge.
Some of the protestors were detained, during the commotion four cops, including a woman deputy commissioner, two women personnel and a sub-inspector were injured in stone-pelting. Reports suggest that many protestors were also hurt during the stone pelting.
Based on this, many Muslim organization and opposition parties including DMK and Congress are holding protests across Tamil Nadu. Social Media users are also sharing various narratives with Anti-CAA campaign. Amidst all this, the above post is being shared on Facebook suggesting that the old man seen in the image is one of the people who died in the police action. As soon as this picture went viral, Chennai City Police's cyber team sprang into action. Chennai City Police categorically denied the allegations made in the viral posts and posted the same on their official Facebook page as well. We have attached the reference screenshot and links below.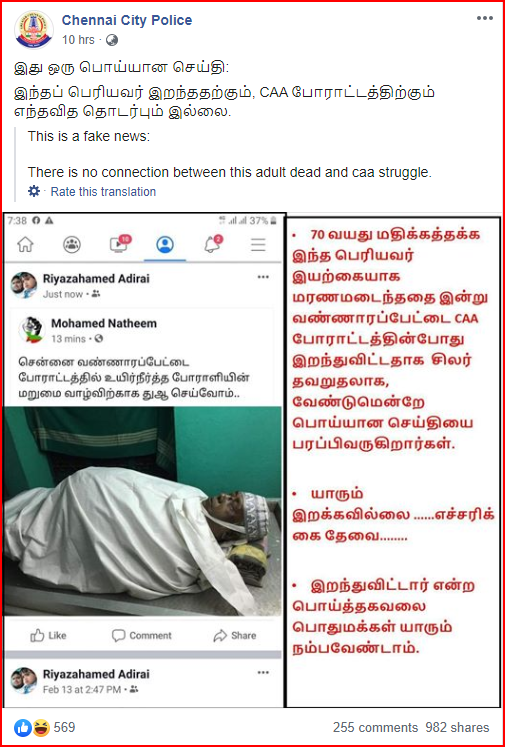 Hence, it is evident that the Facebook post carrying the image of the corpse of an old man alleging that he died in police action is not verified and police has also denied the allegations.
Conclusion:
The viral image circulated as being that of a man who died in police action is shared with an unverified claim. Prominent media reports and police have not reported any casualty during the police action in Washermanpet. Hence we would advise our readers to refrain from sharing any unverified information on social media that could possibly lead to harm.

Title:Fact Check:Was this 70-year-old man killed in Police action against CAA protestors? Here's the truth…
Fact Check By: Pankaj Iyer
Result: False