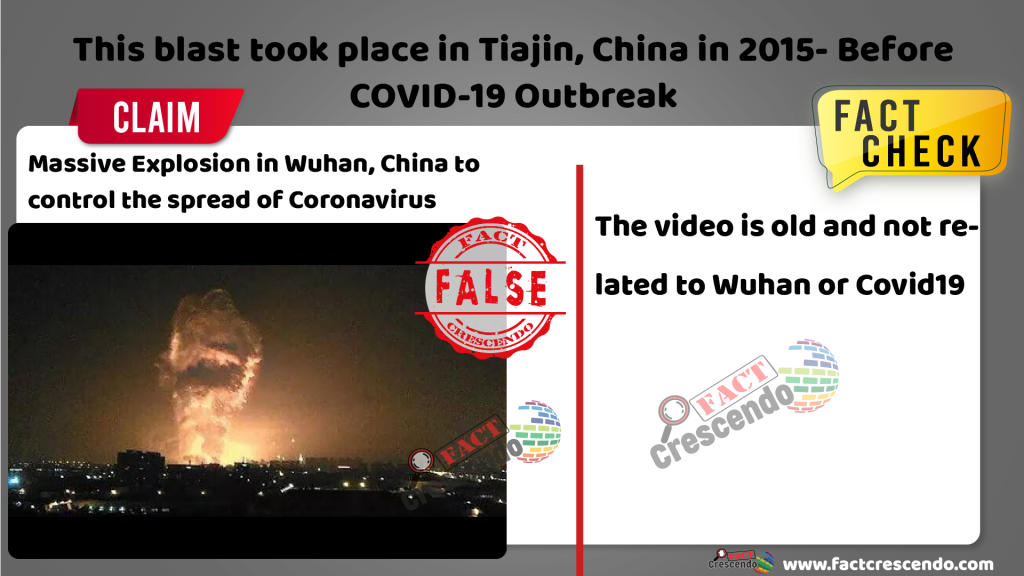 Ever since, the World Health Organisation (WHO) has declared Novel Coronavirus as a public health emergency of international concern, the internet is flooded with old and unrelated content adding up to the chaos among the masses. Social media is overflowing with several false narratives providing cures and causes of how the disease originated and spread around the world. There are several rumors claiming the Chinese Government is slowly burning down the infected people and city in order to control the infection.
Amidst this a video showing a huge explosion is going viral on social media claiming that this explosion took place in the city of Wuhan, China which is suspected to be the epicentre of the disease.
The post reads, "Large Explosion in Wuhan, China just happened about an hour ago #Wuhan #WuhanCoronavirus 1/24/2020." 
Fact Check-
We started our Investigation by using Google reverse image search on the key frames provided by InVid Tool. We came across the longer version of the video posted on YouTube on 22 August 2015 by Bernardo Werneck. The headline of the video read as "Massive EXPLOSION in Tianjin (CHINA)."
We also found a similar video with the headline that reads, "Tianjin, China Chemical Explosion at Tianjin Port. RAW FOOTAGE" .This video was uploaded on 12th August 2015. The description of the video mentioned that a gas station exploded, igniting two nearby oil tanks which ignited chemical caches at the shipping port in Tianjin, China.
Next, we ran a keyword search on Google using the above-mentioned information; we found a news report by BBC published on 13th August 2015, which had a similar video. According to the news, massive explosions hit China's northern city of Tianjin, leaving at least 17 people dead and hundreds more injured.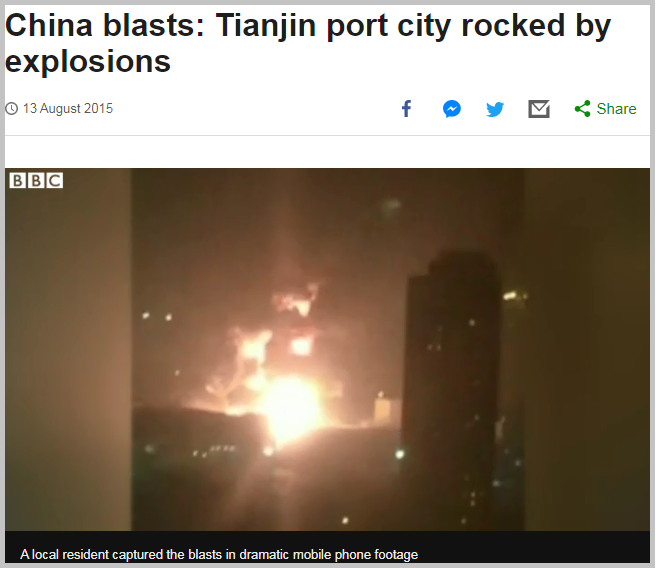 We were unable to find any news about a massive explosion taking place in Wuhan, China  on 24th January 2020. 
On 12th August, 2015 a Chinese media company, China Xinhua News reported this story mentioning about a massive explosion that rocked N China's #Tianjin, cause & casualties unclear yet (web sources).
We also found another news by AFP published on 16th August 2015, which mentioned that hundreds of tonnes of highly-poisonous cyanide was being stored at the warehouse which was devastated by two giant explosions in the Chinese port of Tianjin which killed 112, including a senior military officer.
Conclusion- Fact Crescendo found the above post to be False. The viral video on social media dates back to 2015 when there were giant explosions at the Chinese port of Tianjin. This video is old and has no relation with Coronavirus. 

Title:This blast took place in Tiajin, China in 2015- Before COVID-19 Outbreak
Fact Check By: Aavya Ray
Result: False