A Facebook page named 'News Gadi' shared a post on 6 June 2019. The post had a link of an article from 'Dainikbharat' with the title as translated from Hindi – Sidhu get out – Amarinder Singh has dismissed Sidhu from the Panjab Cabinet Ministry, Sidhu's political career is over. As per this post's claim, "Navjot Singh Sidhu sacked, not the minister of Punjab anymore, Amarinder Singh throws out from the cabinet ministry." Let us see what the facts are!
NARRATIVE ON SOCIAL MEDIA:
FACT CHECK:
It is not a small matter to remove a leader like Navjyot Singh Sidhu from the Cabinet Minister. When we read this publication, the news said that Sidhu has been removed from the cabinet. However, there was no evidence or any link given in the publication. Due to this, our suspicion increased and we started investigating this matter.
We searched on Google with 'navjot singh sidhu cabinet minister kicked out' key words. What we got in the search is below: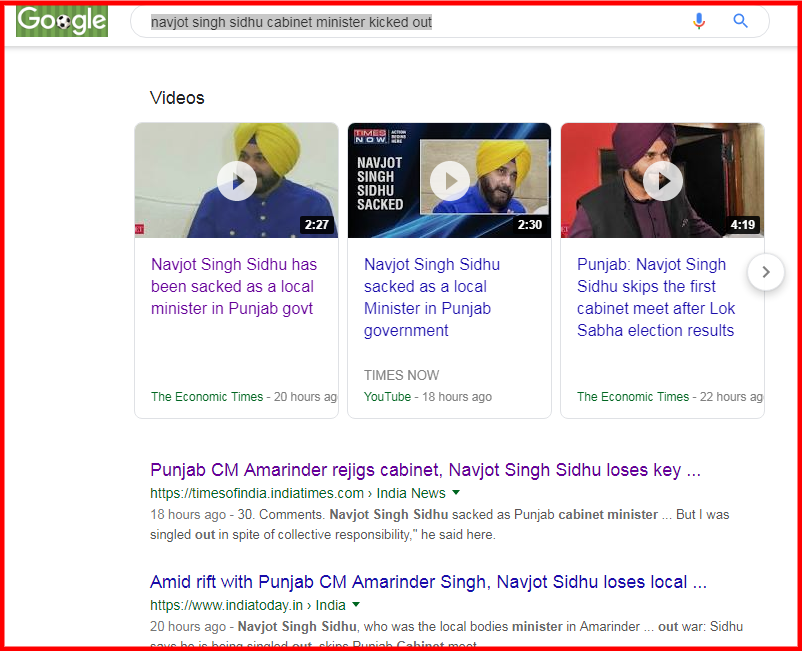 In this search, we received news related to the above claim broadcast by 'TOI' and 'ET'.
According to TOI, Punjab Chief Minister Amarinder Singh changed the cabinet listing and Navjot Singh Sidhu's portfolio changed. According to this news, Amarinder Singh made Sidhu the Minister of Power and New and Renewable Energy. Earlier Sidhu was a local government and minister of tourism and cultural affairs. To read the full news, click on the link below.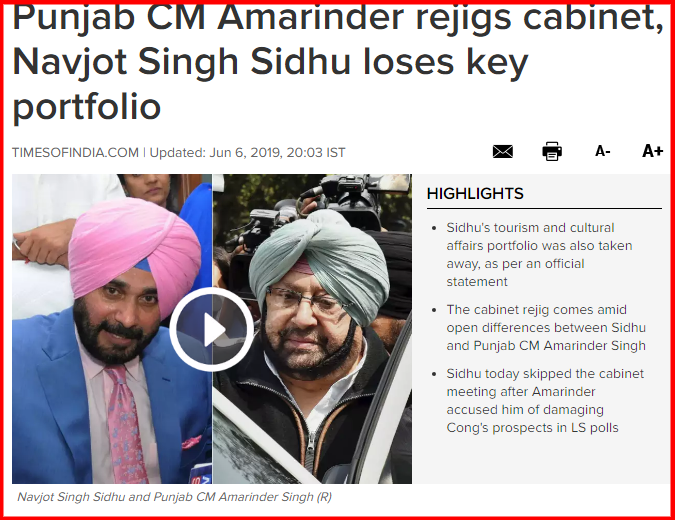 According to EconomicTimes; Navjot Singh Sidhu has been sacked from the local minister in Punjab govt. and is made the minister of power and new and renewable energy. To read the full news, click on the link below.
EconomicTimesPost | ArchivedLink
After this, when we searched on the official Twitter account of Captain Amarinder Singh, we got a tweet dated 6 June 2019. In this tweet, Captain Amarinder Singh has released a new list, in which he has written the names of his cabinet members, their department and responsibility given to them.
Navjot Singh Sidhu's role and responsibility has been given in the 3rd point.

His name would not be in the new list, if Sidhu was sacked from the Cabinet. Our search clearly shows that Sidhu's portfolio has changed in the list of cabinet ministers. However, he has not been sacked from the cabinet.
IN CONCLUSION:
Fact Crescendo has fact checked and confirms that the photograph is being share in the post with a wrong narrative. We categorise the story as FALSE.
FactCrescendo advises its readers to refrain from sharing such misleading and communally biased photographs and do a self-check on the true narrative of such incidents before believing them.

Title:Did Captain Amarinder Singh kick out Navjot Singh Sidhu from the Ministry? Fact Check!
Fact Check By: Nita Rao
Result: False